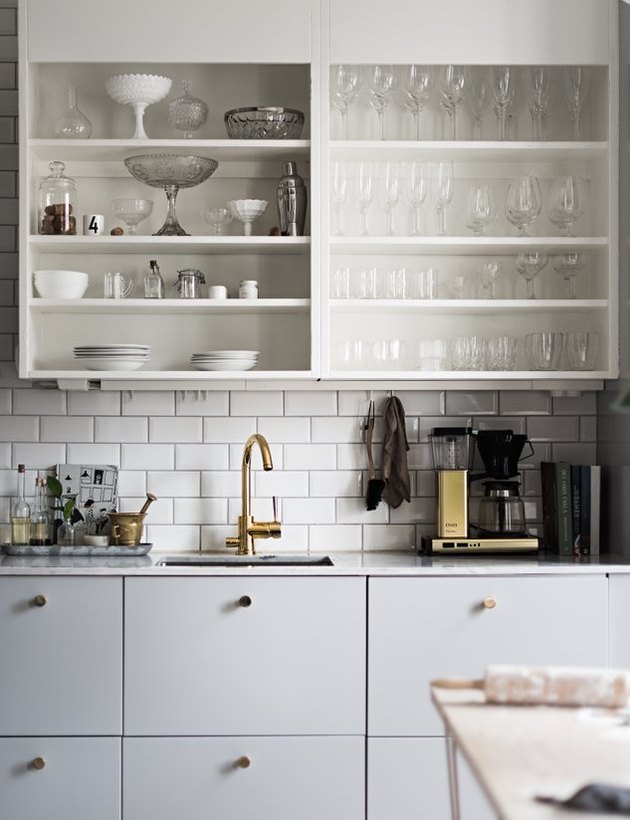 Between the limited space to store your pots, pans, and non-perishables and even less space to prepare mouth-watering five-course meals, small kitchen designs get a bad rap for being a complete pain. But the truth is that spatially challenged cook spaces aren't all bad. Although your kitchen may be small, its design potential is anything but.
From smart storage ideas to design inspiration, and everything in between, we're dishing about all of the ways you can make your small kitchen a place you actually want to cook in.
The Best Layout Ideas for Small Kitchen Designs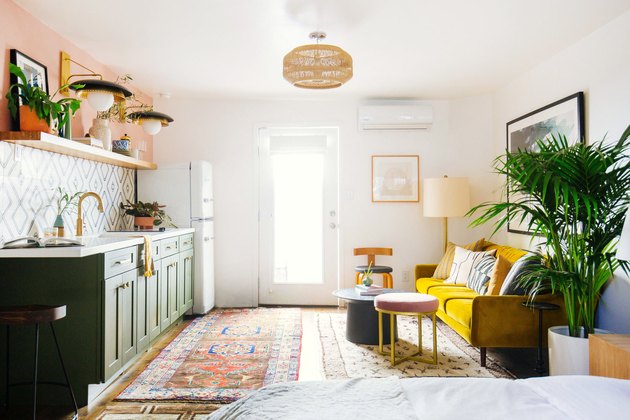 Unfortunately, anyone who is living in a rental apartment — you know, complete with a landlord and a security deposit that you'd very much like to get back — can't reconfigure the layout in their small kitchen. But if you're in the midst of a renovation project, or planning one, you have the unique opportunity to make the most out of every square inch.
When it comes to finding the best layout for your small kitchen, storage is a big factor. After all, where else do you expect to place your colanders and food processors? With two parallel rows of cabinets and counter space, galley kitchens offer plenty of storage while giving you a well-defined area to whip up something delicious. However, if this layout feels too claustrophobic, a U-shaped kitchen can offer the best of both worlds.
Another factor to consider is where you want your kitchen to be in relation to the rest of your home. As a small space dweller, your pint-sized cook space will likely be located in the middle of your home, blending into the other rooms. However, if you have a choice, maybe you want to locate your culinary station in a corner with an L-shaped kitchen. Or, you can also focus your efforts along one wall á la Dabito from Old Brand New.
All this talk about small kitchen layout ideas has us face-to-face with the design elephant in the room: Kitchen islands. Sure, this feature is all the rage, but is it really the best idea for anyone struggling with square footage? The good news is you don't have to sacrifice style in a small kitchen. Not only is there plenty of proof that islands can work in small kitchens, but you can also invest in an island on wheels so you can move it aside when you need to get cookin'.
The Best Storage Ideas for Small Kitchen Designs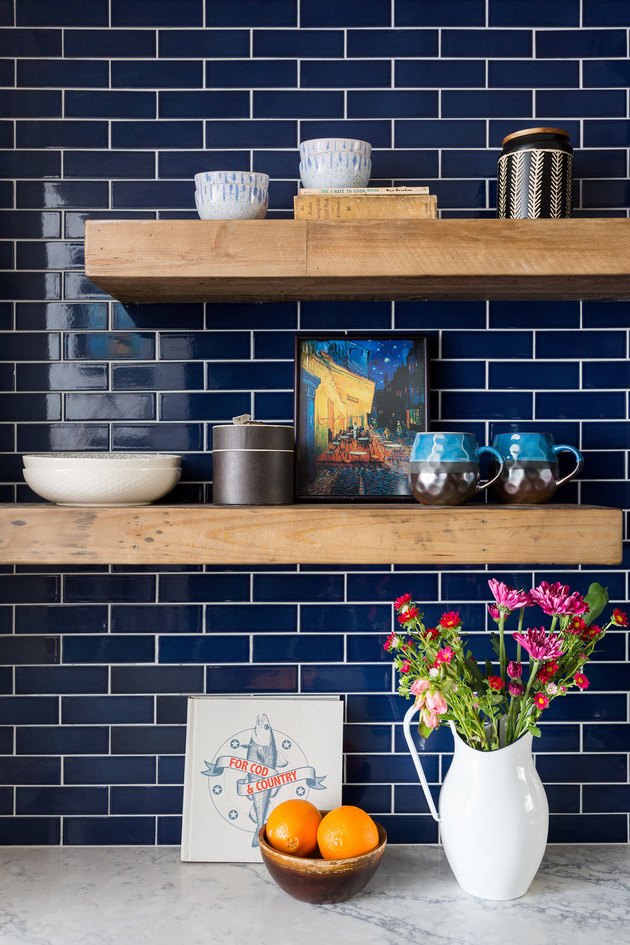 We're not going to sugarcoat it for you: Finding a storage system that works for you is difficult in any sized kitchen, but it's especially true in a small space. Not only do you have to deftly create room for both your groceries and cooking gadgets, but you're bound to accumulate more stuff over time.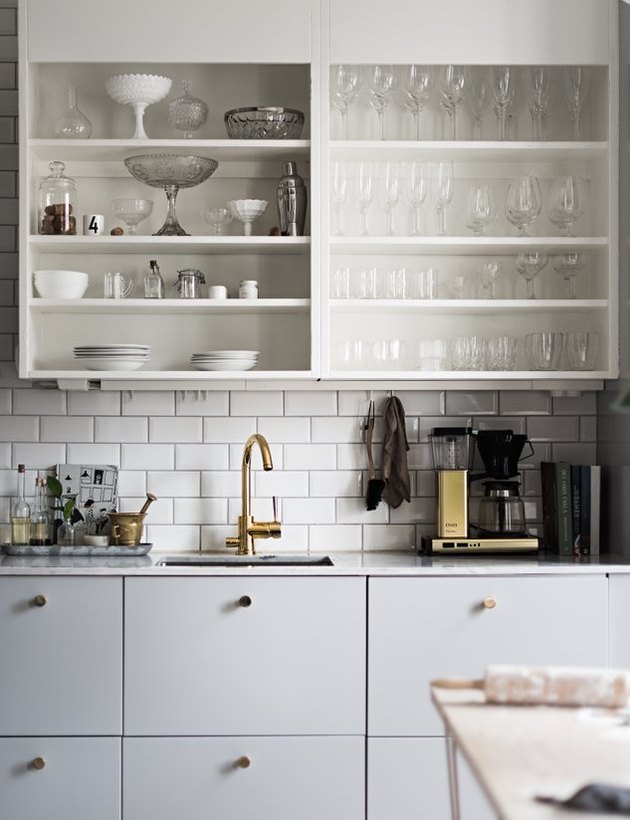 However, finding space to stash your cookware and bakeware is another story. Unlike your pretty melamine plates and spare wine glasses, you should have quick and easy access to your pots and pans in the event your recipe calls for another saucepan. From installing a 'gram-worthy pegboard to hanging your pots on a towel rack (really!), it is possible to keep your cooking essentials close by without compromising the rest of your kitchen's design. (Psst ... you can check out our favorite small kitchen storage ideas here.)
Okay, now that you have plenty of options for storage, how do you organize it all — and keep it that way? After all, storage and organization are two very different things. Once you find a small kitchen storage system that works for your space, you can invest in drawer dividers and cabinet risers to keep your belongings tidy. Our roundup of small kitchen organization ideas proves that staying neat doesn't have to be a pain in the neck.
The Best Style Ideas for Small Kitchen Designs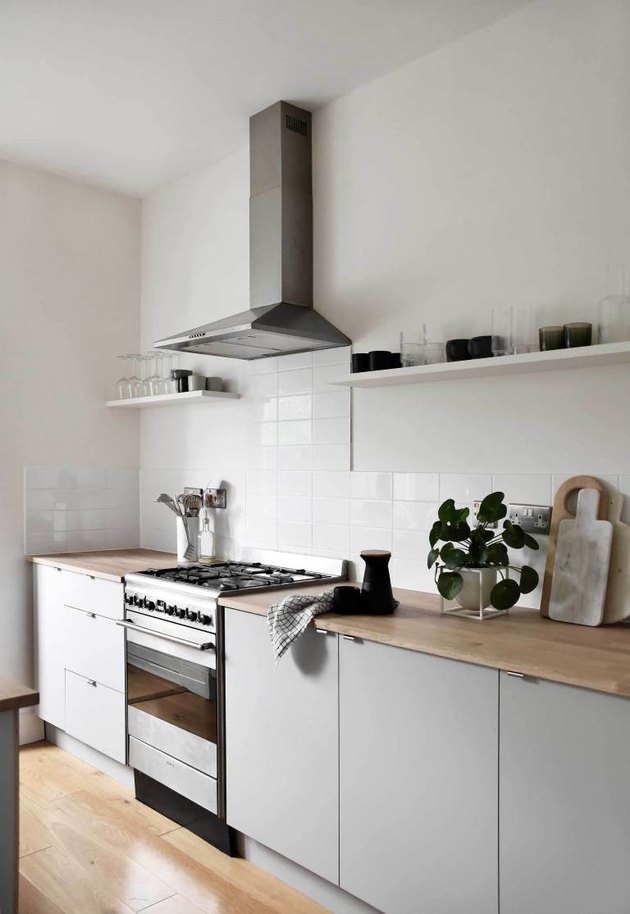 Just because the kitchen has to be practical and space-efficient doesn't mean you can't add your own stylish spin. If we're being totally honest, adding some personality to your culinary corner is the best part about having a small kitchen in the first place.