Second to the living room, odds are the kitchen is where most of the action happens in your home, whether you're into extravagant cooking and meal planning or not. So having a space you love — that's totally functional and fits your aesthetic — is a must. Luckily, with so many culinary decor ideas on Pinterest, there is plenty of design inspiration. Ranging from open shelving and bold islands to patterned floor tile and butcher block countertops, you can pick and choose the various design elements that work best for you and your home. So if you're considering a kitchen makeover or simply searching for some inspo, look no further than this roundup of 12 stunning contemporary decor ideas for your kitchen that we're pinning right now.
1. Open Shelving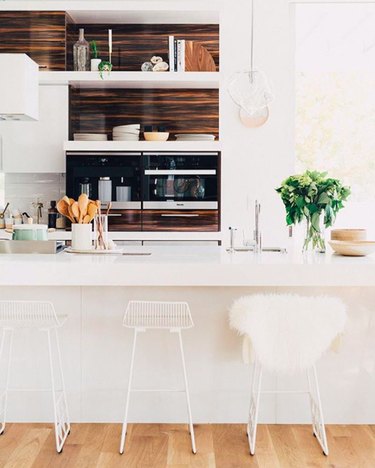 If Instagram is any indication, this contemporary decor idea is here to stay: shelves in lieu of upper kitchen cabinets. This trend can make your culinary domain feel more open and exude a minimalist aesthetic — a life-changing solution for small, cramped spaces.
2. Butcher Block Countertops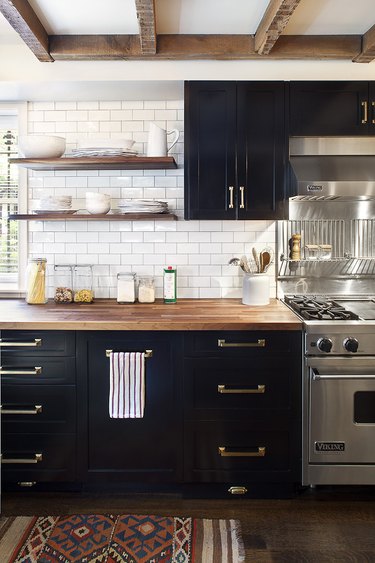 Butcher block countertops, inspired by farmhouse style, are an affordable way to modernize a dated kitchen. When paired with black cabinetry, white subway tile, and open shelving — like this townhouse designed by Blair Harris Interior Design — the look is equal parts polished and practical.
3. Eye-Catching Backsplashes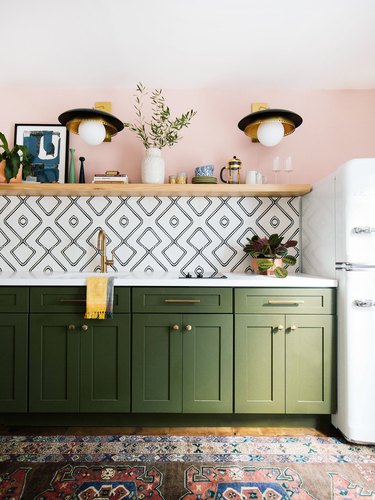 A backsplash is one of the most visible features in a kitchen. Which is exactly why it's a great opportunity to make a statement using a cool, contemporary pattern. A geometric backsplash can add a punch of personality to a space, as exemplified by this tiny kitchen designed by Dabito from Old Brand New.
4. Contrasting Islands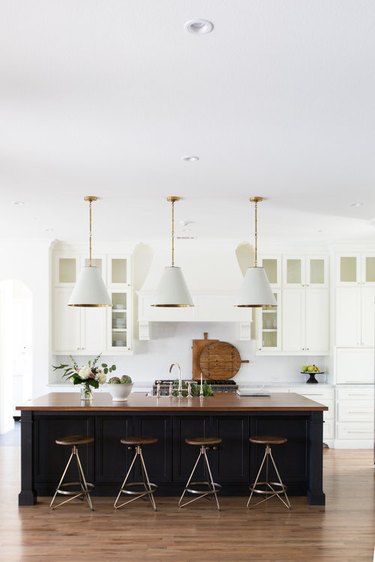 Bold kitchen islands are popping up on feeds everywhere — and for good reason. They wake up your space by adding some much-needed contrast. Case in point: Christine Zeiler Interiors incorporated this black island amid an otherwise all-white room which adds a punch of drama. Plus, when painted a contrasting color, your island suddenly feels more like a decorative accent and less like a way to sneak in some extra counter space.
5. Black-Framed Windows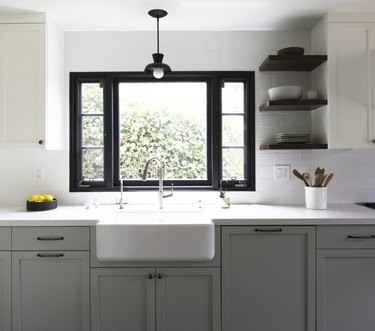 6. Wood Accents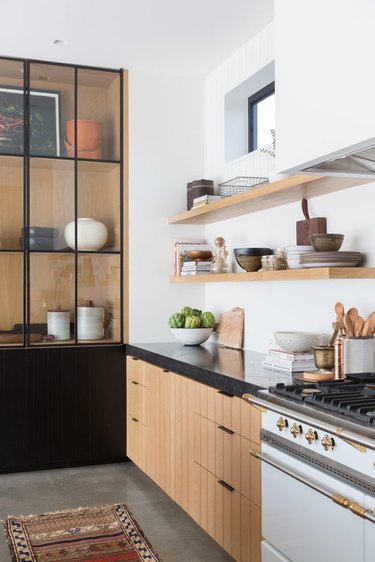 Wood has the ability to bring warmth to any room in a modern, organic way. Keep the look contemporary by pairing it with crisp white walls and dramatic, black accents, like the sleek built-in cabinet and polished countertops in this oh-so-cool cook space designed by Amber Lewis.
7. Colorful Cabinetry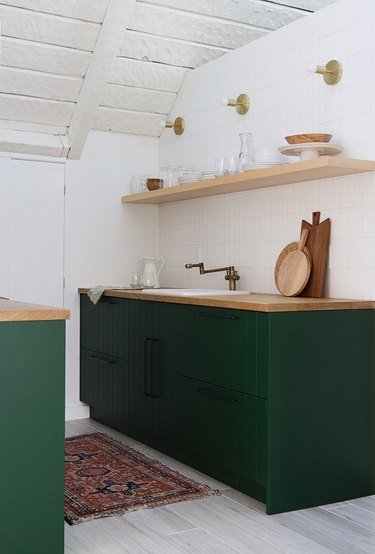 Admittedly, this look isn't for the color-averse. But if you're courageous enough to commit to bold green cabinetry, you won't be disappointed. And Sarah Sherman Samuel made this look even easier by designing these doors with Semihandmade to fit with IKEA cabinets.
8. Oversize Backsplashes
Why not go big when it comes to your kitchen backsplash? Oversize backsplashes are a contemporary decor idea that we don't see going anywhere anytime soon. Not only are they ultra-functional and super easy to clean, but they add even more style to your space. Whether you use the same material as your countertop for a more seamless look, like in this Belgian home designed by Peter Ivens, or you switch it up with tile, your options are endless.
9. Patterned Flooring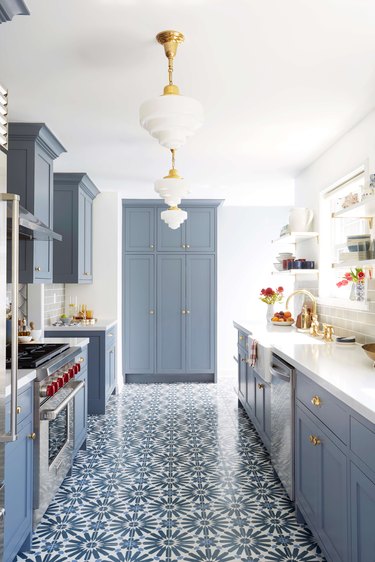 Nothing packs a punch quite like a patterned floor, and this tile design by Emily Henderson certainly makes a statement. In this contemporary kitchen, soft blue cabinets help bring the floor color up and throughout the space to balance the look.
10. All-White Aesthetic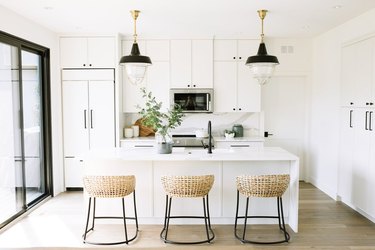 All-white kitchens never go out of style, so if your decor preferences change with the seasons, this could be the way to go. Not only does white make a small space look bigger, but it also makes it easy to mix in statement pieces — the way Jaclyn Peters does with these rattan bar stools and mod black pendant lights — that can be easily switched out as your aesthetic evolves.
11. Farmhouse-Inspired Style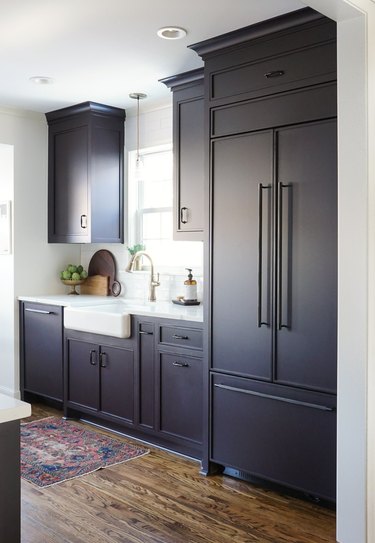 In this St. Paul, Minnesota home captured by Erin from Francois et Moi, wood floors and an oversize farmhouse sink give this contemporary kitchen a rustic edge, while the bold, black cabinetry anchors the look.
12. Two-Tone Cabinetry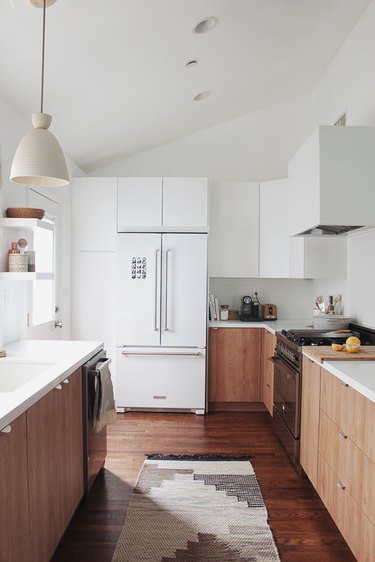 Despite being a small space, this kitchen belonging to Molly from Almost Makes Perfect has a light and airy feel thanks to its white walls, white fridge, and sleek white upper cabinets. When paired with warm wood cabinets below — complete with understated hardware — all the smooth lines of this space come together for a seriously streamlined look.