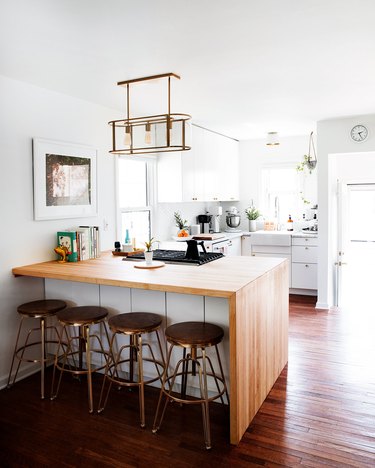 Do you have champagne taste on a beer budget? You're not alone, and lucky for you, a kitchen makeover doesn't have to break the bank. To prove it, we've rounded up a collection of clever ways to revamp the heart of your home that look like a million bucks, but are surprisingly affordable. Scroll on for eight ways to remodel your kitchen on a budget.
1. Consider Ikea.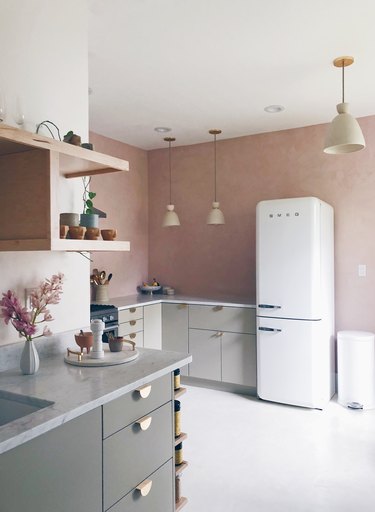 Custom cabinets come with a hefty price tag. Wellness guru Alison Wu opted for IKEA Sektion cabinets and Semihandmade doors to mimic a high-end look at a fraction of the cost — saving dough to splurge on lust-worthy items like a SMEG fridge. Open shelving and a beautiful blush hue extend the soft, airy feel in this kitchen remodel on a budget.
2. Purchase a portable island.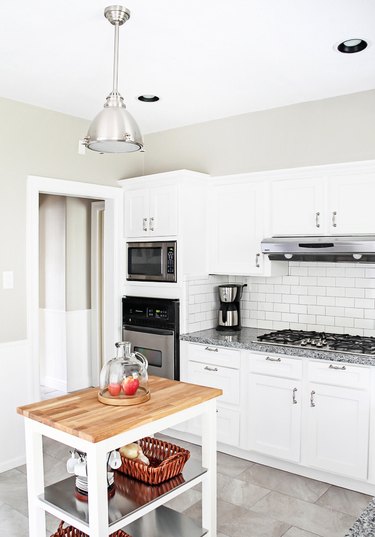 There's something so appealing about a large kitchen island. That said, a built-in doesn't come cheap — not to mention it takes up precious space to move around. The solution? Rachel from Maison de Pax purchased a portable option that's less pricey and can be moved out of the way when not in use. Bonus points if it has extra storage.
3. Get creative with customization.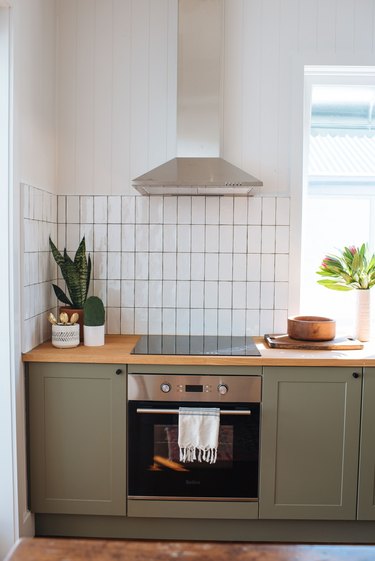 A bespoke kitchen that's a bargain? Sounds too good to be true, right? Wrong. Take a cue from this kitchen remodel on a budget belonging to Geneva Vanderzeil over at A Pair & A Spare. Choose a distinct design for cabinet doors (perhaps recessed panels?), give 'em a coat of pretty paint, and layer in stylish extras like one-of-kind hardware to create a contemporary effect all your own.
4. Clip coupons.
When you don't have tons of cash to toss around, being thrifty should be a given, but Jess McGurn of Bright Green Door took it to the next level for her budget kitchen remodel with ways to save that we hadn't even considered. Such as selling old appliances, buying new stuff on Craigslist (like her new cabinets), and clipping Lowe's coupons. How smart is that?
5. Refurbish existing cabinets.
Instead of blowing a major chunk of the budget on new cabinetry, why not rehab what you've already got? That's what Holly Marder from Avenue Lifestyle did in her gorgeous kitchen thanks to new oak cabinet fronts that worked perfectly with her IKEA base.
6. Have fun with accessories.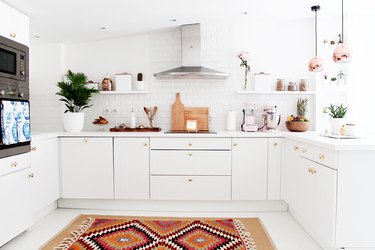 7. Add metallic hardware.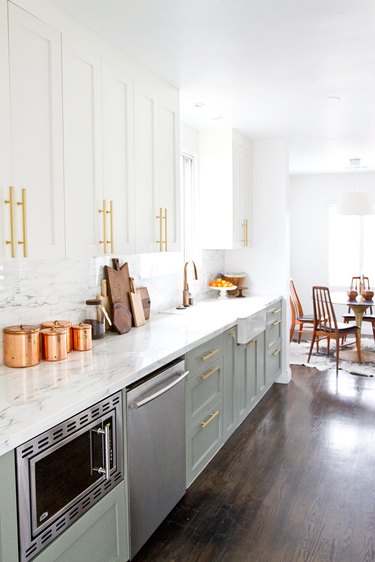 Want to up the glam factor in your gourmet oasis? Upgrade run-of-the-mill hardware with a new set in a gorgeous brushed gold finish like Sarah Sherman Samuel did on her white and green cabinets. And, we'd be remiss not to mention the stunning farmhouse sink. It's from IKEA and it rings in at less than $200.
8. Keep it classic.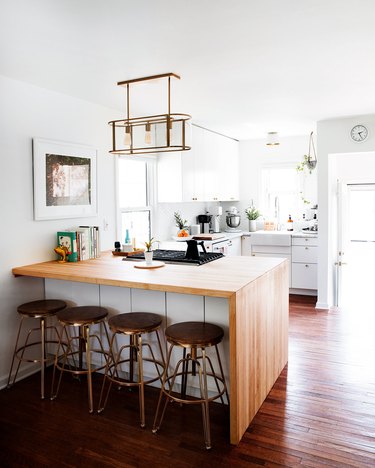 No matter how tight you hold the purse strings, a kitchen reno is still a big investment. After spending so much time and money, the last thing you want is to fall out of love with your space in a year or two. Follow the lead of Better Happier's Jillian Guyette, and stick to the classics — white walls, stainless steel and/or white appliances, a white hexagonal mosaic tile backsplash, and dark floors — for a timeless look.