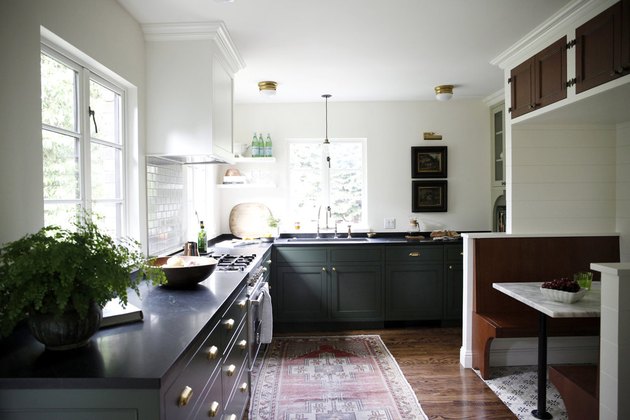 Renovating a kitchen can be a massive headache — you know, the kind that tears families apart? That's why you call in the pros. Case in point: When a young family was looking to transform the dated kitchen in their Seattle home, they turned to architectural designer Katie Hackworth to create a space that would be intimate and cozy — the spot in the home that would bring everyone together. So Hackworth worked to open up the room and bring in elements of warmth. She omitted upper cabinets and instead installed windows to give the kitchen a new feeling of spaciousness; custom booth seating and clever hunter green accents create a homey vibe.
What we love most, however, is the amazing amount of storage in a kitchen that, while not teeny, isn't huge, either. Note the built-in surrounding the fridge, which manages to provide extra space while naturally integrating a bulky appliance. The result is a place where you can cook, socialize, and comfortably dine as a family.
---
After interning at Dwell magazine in San Francisco, Kate began writing about arts, design and culture for other national publications. She is based in Los Angeles and San Francisco.
View Work