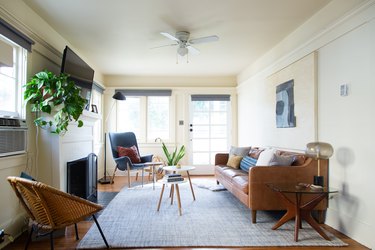 Curating your dream home doesn't have to be a pricey proposition. Thanks to the internet, we have a decor trump card: Craigslist. This lo-fi website combines your grandma's basement, a sprawling antique mall, and your favorite thrift store — and you can browse forever without stepping on any toes. But landing a sweet Craigslist score isn't always easy. These 15 tips will help you get the best deals without the stress.
1. Don't limit yourself to your general neighborhood or city.
Take the time to search surrounding neighborhoods and cities. You might have to do a little extra driving, but you'll be surprised with the deals you find. Besides, the selection might be a little less picked over which is always nice. Consider neighborhoods that you feel are hip and stylish, and would most likely yield great finds.
2. Know a few key 'style' terms.
Narrow down the hunt by looking for a specific design style. A few basics to consider are: midcentury, Danish, vintage, regency, mcm (midcentury modern), farmhouse, and industrial. This will save you loads of time and help you find the exact look you're searching for.
3. Try searching "estate sale" or "garage sale".
Don't forget to search "estate sale" and "garage sale". You never know what treasures could be waiting for you at one of these sales, so it might be worth the extra time and a few additional keystrokes.
4. Search "furniture" section and "antiques" section.
Another helpful search tip: Be sure to explore both the "furniture" and the "antiques" sections. Again, you never know where your dream piece of furniture or decor might be hiding in this maze known as Craigslist.
5. Filter your search to either include "dealer" or "non-dealer".
This is a little known fact, but so helpful. And, if you find something you know is from a local thrift store or vintage dealer take the time to do your due diligence — email them asking to see additional photos or inquire about a specific detail. Not only will this give you a better understanding of the piece you're interested in, but it also ensures that they really have that item, and they're not just trying to get you in their doors.
6. Save your searches.
Take advantage of a little known Craigslist feature in the top right corner that lets you save your searches. This allows you to keep tabs on a number of different queries, so you can hunt for a new vanity, a milk-glass vase, and a new ski rack at the same time.
7. Expand your keywords.
You may think you're looking for a nightstand — but you might also be looking for a side table, a bedside table, or an accent table. To get the most results, expand your search criteria to include all related keywords. Keep in mind that some sellers use brand names like "West Elm" or "Urban Outfitters" in their listings to attract buyers, even if the items aren't actually from either of those places.
8. Know your dimensions.
Working hard to make your small home glorious? Understand precisely how much room you have to play with before you start searching. Otherwise, you risk falling in heart-pounding, unadulterated love with a vintage midcentury hutch ... only to discover it doesn't fit.
9. Look at the bones.
Hunting down stellar finds on Craigslist takes a bit of imagination. Most sellers aren't professional photographers, and you might find yourself wondering how that dumpy-looking cabinet would make sense in your airy home office. Dream big: Everything can be transformed with some sweat, sand paper, and new hardware (just like this rustic cabinet that Marian from the blog Miss Mustard Seed beautifully refurbished).
10. Know what problems you can fix (and which ones you can't).
Expert Craigslist buyers can easily answer one simple question about themselves: How handy are you? If you're able (and willing) to repair a broken drawer, it vastly expands the number of items you could purchase. And if a loose screw scares you off, make sure to limit your search accordingly.
11. Move quickly.
If you're hunting for a blanket ladder, or a farmhouse table, or something else you've spotted on Craigslist, prepare to pull the trigger quickly once your ideal piece appears. Two dozen other buyers may be on the prowl, and in the Wild West of Craigslist's most desirable, the fastest emailer wins.
12. Psych yourself up to say 'no'.
Just because you've expressed interest, withdrawn cash, and driven across town, that doesn't mean you have to buy a piece of furniture. If you show up and realize that the seller's pictures were entirely misleading — or it just won't work in your space — there's no shame in refusing to pay.
13. ...But accept imperfections.
Still, never forget you're buying used. Your new Craigslist friend's home isn't West Elm — the furniture has been loved and adored and, well, used, potentially for decades or more. Backing out of the sale because of a small scratch or a finicky door isn't fair.
14. Start low (but be willing to pay more).
Just because the seller asks for $200 doesn't mean you need to pay $200. Negotiation can feel terrifying, but it can net you a fantastic Craigslist score. Just remember the basic premise of bargaining: you'll want to meet in the middle.
15. Bring a friend.
Craigslist may be the land of opportunity, but it can also be a land of danger. Keep yourself safe by bringing along a friend every time you go deal-hunting. Even if you're dealing with perfectly kind and normal sellers, a second opinion is always worthwhile.