Trying to execute a flawless face or a sexy, smokey eye in a cramped bathroom with dim lighting is the opposite of enjoyable. So, rather than throwing your hands up in the air, why not channel that energy into a dedicated spot for primping? From preening stations piled high with products to more streamlined setups, there's plenty of inspo to go around. Scroll on for 14 Insta-worthy vanities that are total #goals.
1. Create a diva den.
Unleash your inner diva! Embrace fabulosity with a gilded mirror, tufted gold seat, spotted wallpaper, and gold vanity to display for all your beauty supplies and jewelry.
2. Blend different decades.
Why tether your setup to a single era? An ornate, vintage-style mirror and modern vanity like this gorgeous number from Anthropologie, slay no matter the time or the place.
3. Or, keep it all white.
A makeup table for minimalists. Every detail is carefully considered. The result is an all-white space that's striking in its simplicity.
4. Opt for oval.
This marble-topped, oval design from West Elm is glam without being over the top. Pairing it with a versatile flip mirror and stool creates a stylishly cohesive concept.
5. Infuse femininity.
Soft hues, scented candles, and florals exude femininity, while a stellar system of organization keeps all of your fave products tidy.
6. Let there be light(s).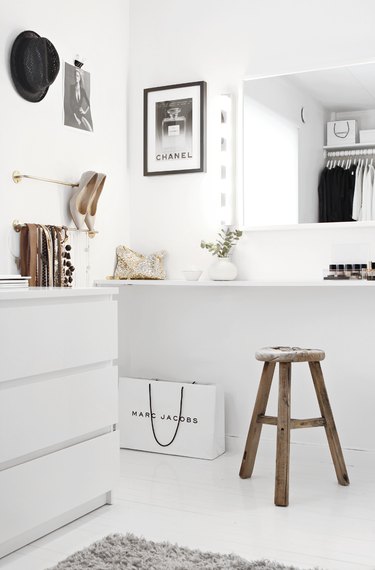 Take a cue from the blog Stylizimo and execute an A-list level nook with a Hollywood-style mirror. Did we mention this beauty oasis is located inside her walk-in closet?
7. Remember, budget-friendly can be beautiful.
Doll up an Ikea wall shelf with tapered legs and a few choice accessories a la the blog A New Bloom. A cozy throw, comfy pillow, and circular wood-frame mirror add warmth without breaking the bank.
8. Adopt Scandi style.
This Scandi-inspired setup screams sleek and chic. A soft, fluffy, sheepskin stool lends a welcome dash of whimsy.
9. Consider scale and proportion.
This compact primping nook from the blog Money Can Buy Lipstick is downright adorable. This tiny desk from West Elm is a genius alternative to a traditional vanity, while a hand-tufted rug and faux fur ottoman impart a boho sensibility.
10. Streamline your station.
This minimalist workspace, that doubles as a beauty zone, takes full advantage of its neutral surroundings. The white walls and natural light act as the perfect backdrop to provide minimal distractions from the important tasks at hand. The table's clean lines paired with a white, wood-frame chair extend the dreamy aesthetic.
11. Viva la vacation vibes.
This bright and cheery vanity will turn every morning (yes, even Mondays) into a day at the beach.
12. Find your throne.
The posh, pink velvet armchair will make you feel like royalty every time you take a seat. Plus, the natural light from the window is perfect for applying foundation, blush, bronzer, and so on.
13. Get creative.
Tiny bedroom? No problem! This primping station is proof that you don't need a lot of square footage to achieve something pretty special.
14. Inject midcentury charm.
A round brass mirror and curated selection of storage items transforms this midcentury mini desk into a dressing table. This is a great option for gals who prefer a pared-down daily routine (AKA don't have tons of stuff to stash).