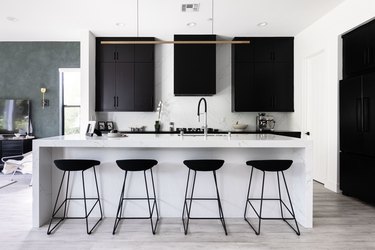 The kitchen. Also known as the heart of the home. It's where you nourish your family, sneak a midnight snack, refuel after a long day, brew your morning coffee, make school lunches, and prepare holiday dinners. Considering how much we depend on our kitchens, it's no wonder we want to do our research to find the best possible ideas.
There are countless questions to answer once you've decided to update your kitchen space. What style kitchens are currently popular? Will wood countertops last as long stainless steel ones? What light fixtures work best over a kitchen island? Open shelves or traditional cabinetry? Do I have room for a breakfast nook? It can all feel overwhelming, but with our help you can get answers to all your questions without consulting an interior designer.
Also, did you know: Upgrading your kitchen is one of the most effective ways to increase your home's value! It's far more important to buyers than your living room or dining room. So take the time to create something you absolutely love.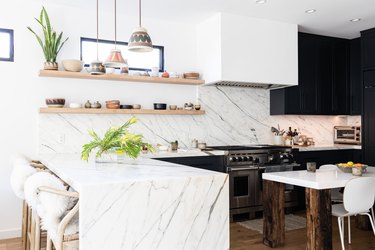 Ahead, our editors have compiled a comprehensive guide to kitchen design ideas that covers all of the latest kitchen trends (farmhouse kitchens aren't the only thing trending!). We address everything from tile backsplashes to storage space to decorating ideas so that you can create the best kitchen for you. Each section below contains additional stories and original photography to help inspire and walk you through everything you need to know to create the perfect modern kitchen.
One final note before moving on. This guide is for kitchen design ideas. If you're looking to do a full-scale kitchen remodel, check out Hunker's Guide to Building Your Dream Kitchen: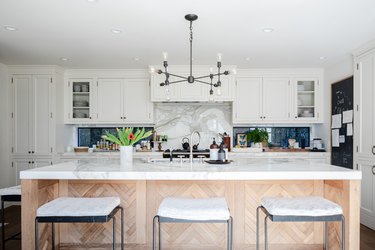 Lighting is a make or break feature in just about any space, but this is especially true in the kitchen. And surprise: There's a lot more to lighting than picking out light fixtures. Whether you're looking to go boho, midcentury, or farmhouse, you need lighting that is functional and bright enough to prepare meals, yet ambient enough to feel peaceful and inviting. You'll also have to consider your kitchen layout and pick an aesthetic before exploring your all of your lighting options. Check out our kitchen lighting guide below to learn more:
No matter how beautiful the rest of your home may be, it's a fact that nine times out of 10, all of your guests will end up gathered around the crown jewel of your kitchen: the island. More than a focal point, you need to think about the functionality of this impromptu dining table. Key decisions include whether you want a freestanding or built-in, what countertop to go with, and how much storage to include (this can be a game changer in a small space). Check out our kitchen island guide below to learn more — we can even help with selecting bar stools.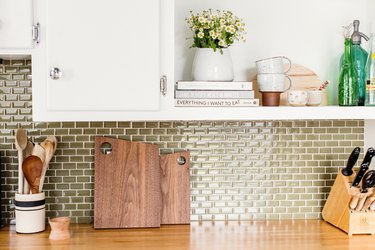 The kitchen backsplash can be one of the most defining elements of your cooking space. From classic, clean white subway tile to a bold herringbone to a creative and unusual patterned tile, there's no shortage of ideas, along with a myriad of things to consider: budget, durability, and style, to name a few. When done right, a backsplash can create the exact kitchen look you're going for. Check out our kitchen backsplash guide below to learn more: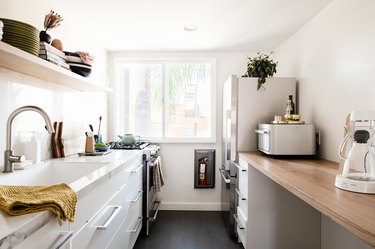 It's true that grand, stately kitchens often get all of the attention, but there's plenty of beauty to be found in pint-sized spaces, too. Small kitchens need to prioritize storage space and layout and there are plenty of creative ways to handle both. Galley kitchens are just one option to consider here. Check out our small kitchen guide below to learn how to create a beautiful kitchen when space is at a premium: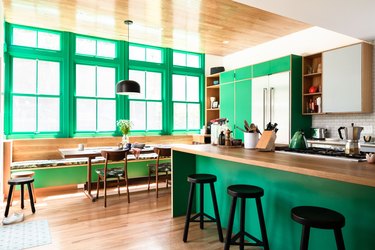 White kitchens may have reigned supreme for the last decade, but that doesn't mean there aren't plenty of (arguably better) color palettes to choose from. From verdant green to chic black to vibrant yellow to moody blue, you might be surprised by which paint colors win you over. After all, 2020 kitchen color trends were quite different than 2019's. Check out our kitchen color guide below to learn more about how to select the right color for you. It's also got a handy gallery to help provide inspiration: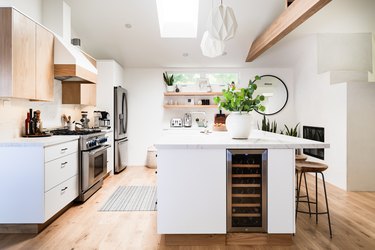 The style of kitchen you choose is the unifying thread between all of the other decisions you make. Picking a style helps inform everything else and ties it all together. Homeowners have dozens of options to choose from. And although farmhouse style has increased in popularity over the last decade, it's certainly not the only popular option today. Whether you go with a country kitchen, a minimalist or a modern one, or even a shaker style, it's possible (and important!) to inject your own unique flair and personality into it. Check out our kitchen style guide below to learn more: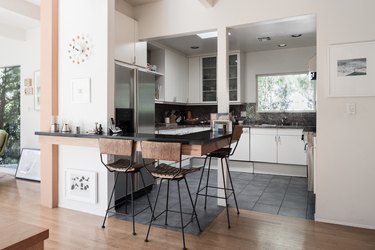 Flooring is one of the most impactful makeover options at your disposal. In our humble opinion, you just can't go wrong with classic wood floors. When it comes to flooring, there's a lot to know. The most popular options are: hardwood, cement, marble, laminate, and ceramic. But within each of these are multiple options to choose from and all have different levels of durability and require varying levels of maintenance. But fear not! Our kitchen flooring guide below has everything you need to know: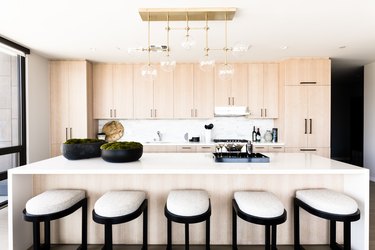 Kitchen cabinets are likely to be one of the biggest investments you'll make in your kitchen, and for good reason. Even on the days when you trade cooking for takeout, chances are, your cabinetry will still see a lot of use. From open shelving to built-ins, there's no shortage of options when it comes to storage space. As a major investment piece, it's important to feel confident in your knowledge about all of the possible options, from materials to colors to style to hardware. And if your budget is tight, you always have the DIY option of giving those wood cabinets a new coat of paint to create a new kitchen look without changing anything else. To learn more, check out our kitchen cabinet guide below: