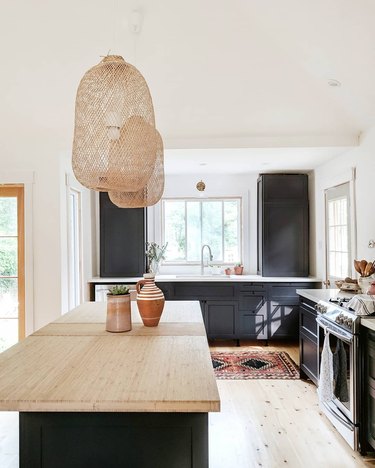 Bohemian style has made its way into free-spirited homes and hearts for many decades, from the early Bohemians of the Victorian era who didn't do things quite like anyone else, to the flower power-loving hippies of the 1960s and '70s. Today, the aesthetic is just as popular as ever, especially among those who adopt a more relaxed approach to decorating their homes. These boho spaces brim with untamed houseplants, natural materials, vintage decor, throwback artwork, global patterns, fiber wall hangings, and last but certainly not least ... lighting.
Bohemian kitchen lighting can help reflect the easygoing vibe you're looking to accomplish in your kitchen. When searching for your boho fixtures, be on the lookout for macrame, beads, and vintage options with earthy textures and materials. Here are seven oh-so-boho culinary spaces that display gorgeous, laid-back kitchen lighting. Then, read on to find out where to shop for some bohemian masterpieces for your own digs.
1. Represent your color palette.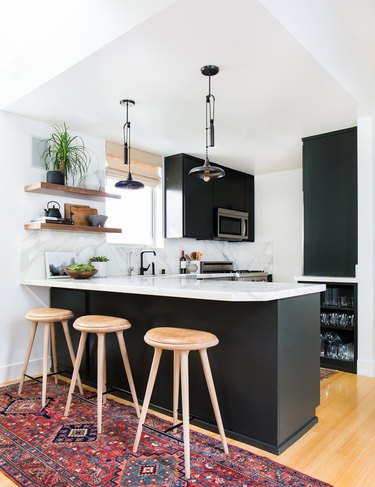 2. Track down amazing vintage lighting.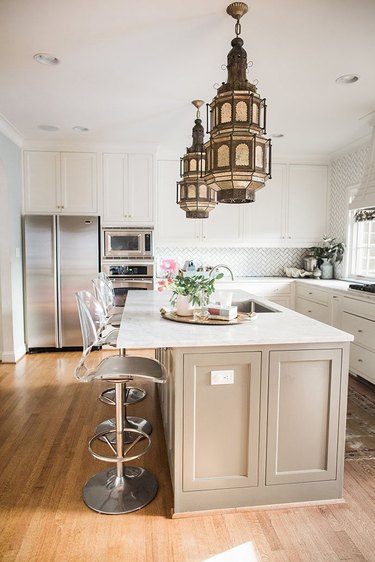 Vintage and bohemian kitchen lighting go hand in hand, particularly when you're capturing 1970s ambiance. Visit a salvage shop, flea market, or antique store and score some large-scale, ornate vintage fixtures — just be sure to check the wiring or have it rewired by a pro. We adore these oversize vintage lanterns in this kitchen belonging to Flea Style founder Brittany Cobb.
3. Choose unexpected silhouettes.
4. Create a surprising mix.
An "anything goes" philosophy is right at home in a bohemian kitchen, and you can apply this avant-garde way of thinking to your lighting, too. Mix metal finishes, shapes, styles, materials — the world is your oyster when it comes to boho kitchen lighting. For instance, in this chill cook space created by Kimberley Kay Interiors, a geometric flush mount is attention grabbing alongside globe-style pendant lights.
5. Go big or go home.
Since boho style can be larger than life, your kitchen lighting should reflect the same joie de vivre. Don't be afraid to go big and bold, and opt for extra-large pendant lights in a natural material. That's exactly what Ky Drury did in this hip boho kitchen and the end result is simply dreamy.
6. Embrace whimsy.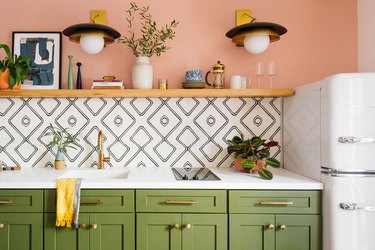 Fussy, overly traditional, unnervingly perfect — these are words that have no place in a bohemian kitchen. Our advice is to welcome whimsy into your cook space, and sometimes, that can mean hanging quirky (and incredibly cool) wall sconces. At least that's what Dabito of Old Brand New did in this feminine-meets-boho kitchen with green cabinets and a patterned backsplash, and we wholeheartedly approve.
7. Incorporate natural materials.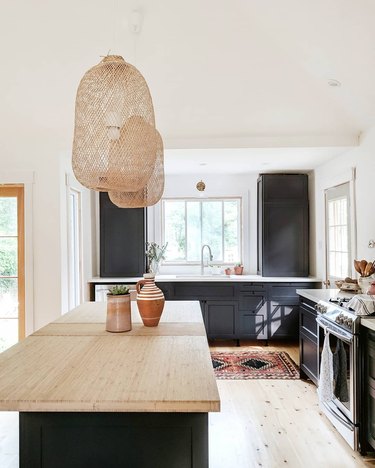 Woven pendant lights are all the rage right now in the land of bohemian kitchen lighting. And this cook space belonging to Kirsten Diane is picture-perfect proof that the textured fixtures are a flawless touch in any boho kitchen. Plus, the lights pair up perfectly with the light-toned wood used throughout.
Get the look:
Now that we have you feeling those groovy vibes, it's time to discover some laid-back bohemian kitchen lighting for your own space.
Urban Outfitters: Buying vintage lighting is amazing, but if you'd prefer to purchase new kitchen lighting that "looks" vintage, Urban Outfitters is your best bet. Look for retro wall sconces, wicker lighting, and lights shaped liked animals.
Lulu and Georgia: Lulu and Georgia is known for its easy, breezy decor pieces and lighting is no exception. For fun and relaxed lighting for your boho kitchen, comb the website for lighting made up of tassels, jute, and rattan.
World Market: If you're vying for an international vibe in your bohemian cook space, this is the destination: lanterns in natural materials, seashell chandeliers, and wall sconces draped in beads, all looking as if they were discovered in a faraway land.
Anthropologie: For a really, truly unique look for your kitchen, some lighting from Anthro will do the trick. Yes, they often carry hefty price tags, but we like to think of these lights as investment pieces that make a statement — and we bet you'll love them for years to come.
Candelabra: For some cutting-edge, right-this-minute bohemian kitchen lighting, Candelabra is a fabulous destination. Look for eye-catching shapes and silhouettes, unexpected materials, and organic visuals like brass palm leaves and glass bubbles.