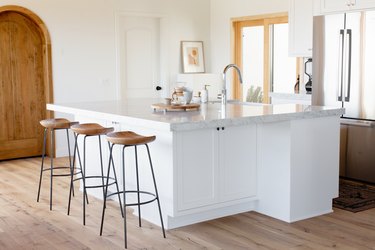 Many people refer to the kitchen as the heart of the home. If that's the case, then undoubtedly the heart of the kitchen is the island, which is also known as the spot where your loved ones gather to chat and nibble on appetizers during parties. It's your chopping, slicing, and dicing headquarters as you prep meals. And more than likely, your kids do homework there, or you might find yourself pulling up a chair as you sneak in a midnight snack.
An island can be defined as a stand-alone feature that's centered in the cook space and can be built-in or freestanding. Islands first became popular in modern homes during the mid-20th century, and today, they're very nearly standard in most kitchens. With their countertop, cabinet storage, and sometimes sink, they can serve a multitude of purposes including cooking, organization, and dining.
Homeowners tend to enjoy kitchen islands because they provide a focal point in their culinary space, anchoring the overall design through material and color choices. And it doesn't hurt that they're practical as well. An ideal location for spreading out ingredients, bowls, and cooking utensils, kitchen islands can also act as a social hub in the home, suited for impromptu meals, family game nights, and casual gatherings.
If you're considering an island for your kitchen, look to our tips, tricks, and advice to help you prepare for the newest addition to your home.
To Build, Or Not to Build?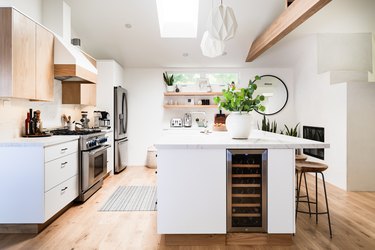 So, you're renovating your kitchen, and considering an investing in an island ... congrats! The first decision you need to make is, do you want a freestanding or built-in island? Both options have their benefits.
A built-in island will allow you to make your own design decisions, which is especially important if you're seeking a very distinctive look for your kitchen. An island can pull together the overall design and showcase your unique tastes. You can select your own countertop material, shade of paint, and hardware finish, and you can customize your island's storage layout as well.
On the other hand, a freestanding island — like the hunter-green beauty in this kitchen styled by Jenny of Juniper Home — has its pros, too. If you're sticking to a budget, purchasing an island will be much friendlier to your wallet. And they tend to work better in small spaces. If it has casters, you can move it out of the way whenever you need additional room to maneuver. Plus, if you want to make it look one-of-a-kind, you can always challenge yourself to a little DIY project and repaint it or top it off with a new countertop.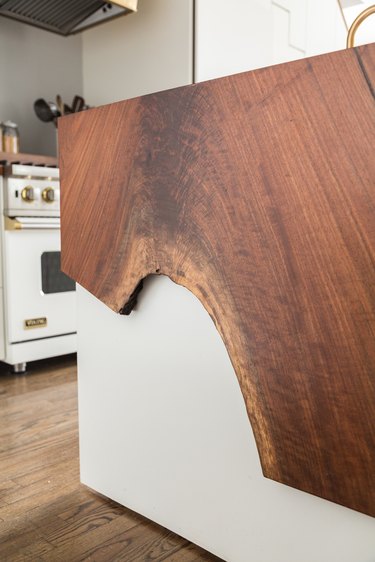 As for the style of your kitchen island, you can look to current trends to help drive your decision. There are some varieties and accents that have proven to be popular as of late. Designers have been gravitating toward islands with waterfall countertops, which don't stop at the top of the island and continue over the edges and down the sides, creating a "waterfall" effect.
As for specific style approaches, we can guarantee that there is a kitchen island for every aesthetic out there. Farmhouse kitchens look lovely when they're showcasing an island in wood, shiplap, or reclaimed materials. Midcentury kitchens — like this subtle green design by Nune — look the part when islands mirror the other retro and sleek elements seen throughout the space. Kitchen islands covered in natural stone and warm wood finishes are just the right fit for a bohemian setup.
Simply put, nowadays, you can always track down the right color, material, or tile to create an island that complements your style and completes the look of your kitchen.
Bonus Details to Consider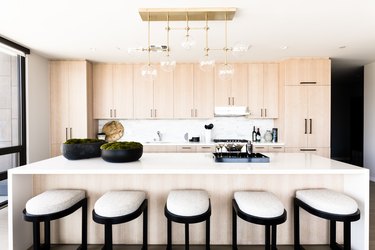 After you've chosen the style of your kitchen island, you're not quite done. You still have a few more things to think about.
For example, would you like to install a sink? A kitchen island sink can be a helpful addition — it provides you with an opportunity to have not one, but two sinks, and create a full-on meal prepping area. You can work on dishes while you visit with family or friends.
Kitchen island storage is something to ponder, too. How much space in your island do you want to devote to organization? You can go with several cabinets and drawers, tucked-in cubbies, open shelves, or even install wine rack or a bookshelf like this Scandi-chic space designed by Cantilever Interiors.
Now here's a decision that's always fun to make: kitchen island lighting. It's quite literally the cherry on top of the proverbial cake that allows you to add a dash of personality and eye-catching flair to your kitchen. Pendant lights are a customary choice, since they fill the space nicely and provide even downlight where you need it most. You can also opt for track lighting, suspension lights, or a chandelier to frame your culinary hub.