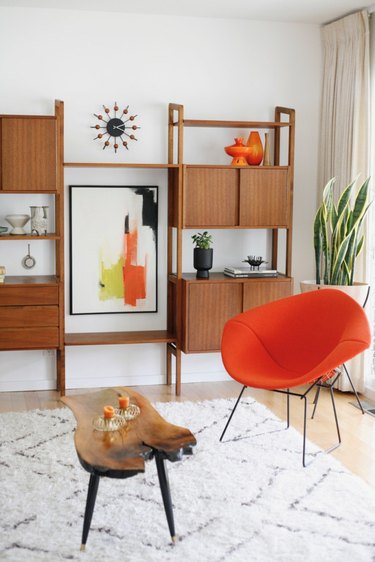 Midcentury modern design is known for a lot of things. Sputnik chandeliers. Walnut finishes. Abstract wall art. And color. Lots and lots of color. Back then, mid-mod palettes would gravitate toward hues that were punchy, vibrant, and joyful — colors that can still be seen in homes today. Orange and yellow tones were top choices, along with saturated blues, bubbly pinks, and daring reds. All of them created a beautiful juxtaposition when paired with rich wood finishes on the furniture, built-ins, and wall paneling.
You can go authentic, with colors that were seen in many 1950s homes, or you can choose a more au courant direction with neutrals or even a pop of black here and there. In an effort to help you decide, here are some of our favorite midcentury modern color palettes, showcased by designers and homeowners who clearly have an eye for all things retro.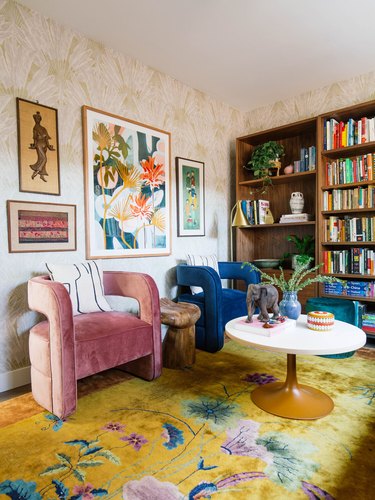 Jewel tones are frequently seen in contemporary spaces, but they also happen to have roots in the midcentury modern era. When setting up your space, weave in jewel-inspired shades, like emerald and mauve, along with rich colors like navy blue and mustard, a palette that's been perfectly captured in this home office by Dabito of Old Brand New.
2. Turquoise, Pink, and Brass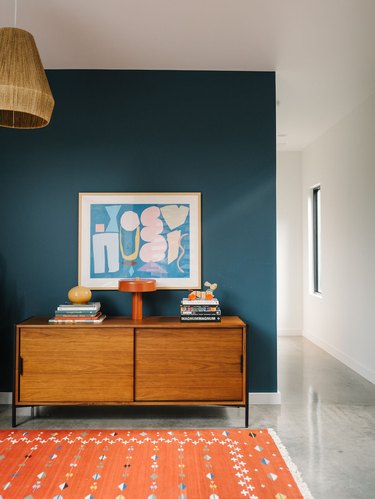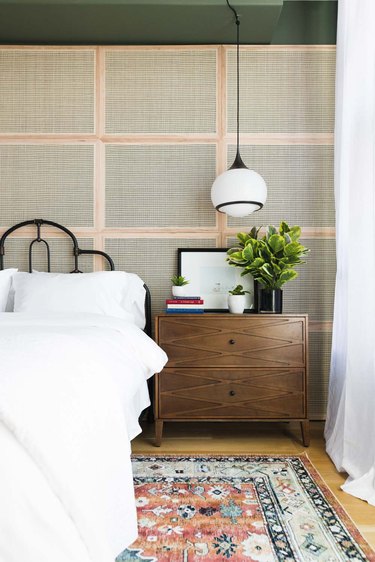 We'll let you in on a little secret — you don't ​always​ have to go with bright colors for a mid-mod space. In fact, many midcentury homes back in the day embraced a neutral color palette, displaying whites, creams, and subtle greens. If citrusy hues just aren't for you, opt for something a little less flashy marked by cane, warm wood finishes, and crisp white, an aesthetic Mandi of Vintage Revivals chose for this bedroom.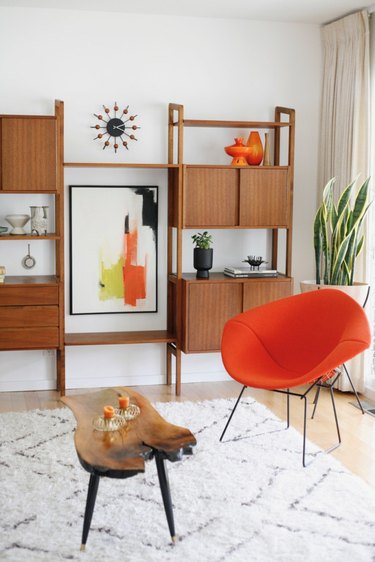 Midcentury modern colors are typically bold and brave, never shying away from hues like orange and yellow. You can bring those hues into your space, like Jenny from Suburban Pop did in her den, but tone the palette down a bit with the addition of white and dark wood finishes.