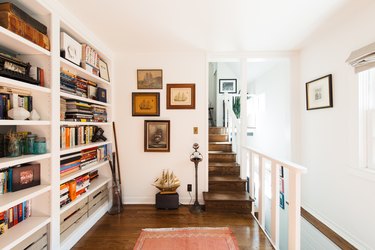 Thinking of revamping your pad? You don't have to go it alone. An interior designer can be an invaluable ally when you want to transform your house or apartment into a dream home. But, if you've never worked with a pro before, the process can feel intimidating and a bit overwhelming. Safe to say, you probably have a lot of questions. So, we've compiled a list of helpful tips and advice — basically, everything you should know before embarking on your inaugural journey working with an interior designer.
1. Do your research.
Your best tool? Knowledge. And that means doing your research. Arm yourself with info about the process (by reading this article, you're already off to a great start) and prospective interior designers. We're not saying walk into your initial meeting like a complete know-it-all and start barking orders, but do come prepared. "I love when clients have a good idea on what they are trying to accomplish and what their budget and timeline is. Any pictures, floor plans, or inspiration ... that they have are great to see in advance as well," explains interior designer Emma Beryl Kemper of Emma Beryl to Hunker.
2. Have an idea of what you want ... but be realistic.
Come to bat with an idea of what you want. It could be as simple as pulling a few paint swatches that showcase your color palette preferences, creating an inspo board on Pinterest, or just jotting down a few things that you like (e.g., midcentury furniture, neutral hues, boho style, potted plants, etc.). This will help steer the ship in the right direction. On the flip side, as with anything, you also need to be realistic. If you have a modest budget, elaborate crystal chandeliers and 24K gold hardware may not be in the cards. The timeline is another area where realism needs to come into play.
"I love HGTV and design shows but think that it has ruined realistic project timelines for a lot of people. I think as a culture we're so used to instant gratification and TV shows — that show complete home transformation[s] within a week — that people can be really shocked by timelines. It's very common for a large renovation to take around a year from the initial consultation all the way through to finishing up the final details and accessories," says Beryl Kemper.
3. Shop around.
Shopping for an interior designer is a lot like dating — while someone might sound good on paper, your personalities might not click. This person is going to be in your life — and your home — for a while, so it behooves you to shop around for someone that you mesh well with and can trust. Meet with different folks and see what they can offer in terms of vision, timeframe, budget, and personality.
But how do you go about finding an interior designer? Good question. "Two places. First is friends and family. This is a word of mouth industry and it's critical to get opinions from folks who have worked with the designer to get a sense of the big picture. You want to know what the experience was like from start to finish, how problems were solved and issues mitigated," explains Becky Shea, interior designer and creative director of Becky Shea Design to Hunker. "And the second place is Instagram. This is a perfect place to find a designer, engage with them personally and get an inside look of their showcased work, as well as what they find inspiring."
4. Review their portfolio.
This sort of falls within "shop around," though deserves its own section because it's so darn important. You're probably familiar with the phrase, "past behavior is the best predictor of future behavior," and it applies here — you should always look at their completed projects. Do you like the overall aesthetic? Do they have a proven track record? Furthermore, it's always smart to ask for client references.
5. Agree on a budget that works for you.
Unless you're one of the few people on the planet who has unlimited resources, price matters. It's critical to take a look at your finances and come up with a realistic budget. And while we totally understand that discussing money can be awkward, it's imperative. After all, this is a business transaction, and you both need to be clear about the cost and the services that will be included. Will this cover everything through the installation process? Will they be ordering all of the furniture, decor, and materials? Once you both come to an understanding, make sure it's spelled out in a contract.
"The price of working with a designer is a complete spectrum, you have everything from quick one shot e-design consulting all the way up to a full service experience. Like many things however, some designers are overpriced, while others are grossly underpriced," explains New York-based interior designer Megan Hopp to Hunker. "You can have a fruitful experience with someone more junior who comes at a lower fee, but don't expect decades of experience from them, meet them where they are. Finally remember that once you hire a designer you also need to purchase the furnishings and materials, be sure to take this into account in your overall budget."
6. Follow your instincts.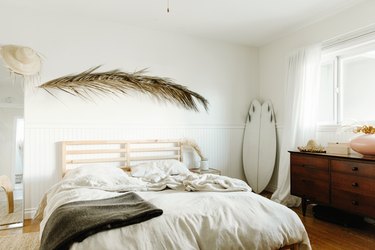 You know that feeling in your gut that tells you when to be wary of someone or something? Listen to it! We can't stress this enough. Bringing someone into your sacred space is a big deal. So, you want to make sure it's a good fit. If your instincts are telling you to go in another direction, do it.
7. Ask questions.
There's no such thing as a stupid question. And in the case of selecting and working with an interior designer, that's most certainly true. If you're curious or concerned about something, speak up. According Beryl Kemper, a good place to start might be, "Have you done projects similar to mine before? Do you have vendors that you regularly work with who can accomplish the goals that I'm looking to achieve (such as millworkers, upholsterers, general contractors, etc.)? Who handles project management? Who handles procurement? What visual tools do you use to share presentations and design ideas? How frequently will you visit the job site? What happens if the job takes longer than we anticipate or the scope changes?"
What about certifications? Is this important? "If the designer makes great spaces, I wouldn't care if they had zero technical certifications and were from the moon. You want a designer who is currently producing good work, has clients who are satisfied, and a good personality. For me it's that simple," explains Hopp.
8. Remember, you're the boss.
You hired an interior designer for a reason but, at the end of the day, you're the boss. You're the one who has to financially back the project and, ultimately, live with the result. If you aren't aligned with certain aspects of your designer's vision, make your voice heard. With that being said, it's also important to trust your designer, and not be a micromanager or second guess every decision they make.
"New clients should be prepared to let go, and open to having their minds changed. A good designer is not interested in giving you something that will not suit you or ultimately make you unhappy. If a designer is pushing back on something, there's a reason and it's not just to be difficult or use your home as a testing ground," says Hopp. If you're feeling unsure or nervous about something, communicate that to your designer, and give them the chance to explain their thought process. At the end of the day, you both want the same thing — for you to love the space you live in.