Introducing Hunker House, Our New IRL Space
We may earn compensation through affiliate links in this story. Learn more about our affiliate and product review process
here
.
Here at Hunker, we like to say that your space is a reflection of your identity. So it's not surprising that we've spent a little time thinking and talking about what our space would be like.
We're pretty excited to announce that the answer is finally here. Welcome to Hunker House, our very own real-life space in Venice, California, where we get to bring our design obsessions, conversations, and ideas to life. From intimate shindigs and overnight guests to collaborations with beloved partners like Blu Dot, it's a spot for learning, creating, experimenting, and celebrating. (Also, it's everyone's new favorite place to do happy hour.)
When our team scouted the trilevel loft right off the famous Abbot Kinney Boulevard, we knew the first order of business would be to soften the ultramodern bones to give the space a more home-like, Cali-meets-Scandi vibe. "It was essentially a concrete cube; a very industrial work-live loft," says Paul Anderson, Hunker's creative director, who oversaw the build and design. "In order to completely change the feel of the space, we looked to texture and material, which is where the custom shelf came in — that's the centerpiece of the main room. Bringing in plywood in that type of large-scale installation completely warmed things up."
The plywood shelf connects Hunker House to our brand's aesthetics and storytelling: the custom piece is inspired by the building's own lines and angles, and also acts a showcase for highlighting brands and makers close to the Hunker family. "Every item on the shelf is tied back to a piece of content we've run on the site," says Leonora Epstein, senior content director. "We wanted to make sure that we could find lots of opportunities in the house to bring Hunker's online presence into the IRL."
In order to give the exterior some distinction, Anderson commissioned Los Angeles- and Portland-based artist Buckley to create a mural on the street-facing wall. "I thought her organic style would contrast well with the sharp edges of the house's architecture," he explains.
Making the house feel like a truly livable space was a priority: "We created all sorts of little custom touches unique to the space, like candles, tote bags, bath robes," says Anderson. "We want people to feel like they're at home." Above, the Hunker candle hangs out with a Bend Goods wire basket and ceramics by Sanso, a Los Angeles-based company featured in Hunker's "Uncover" series.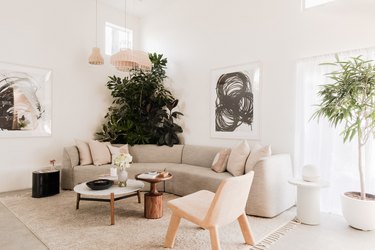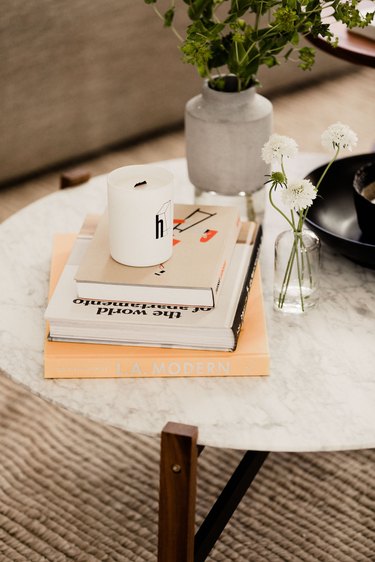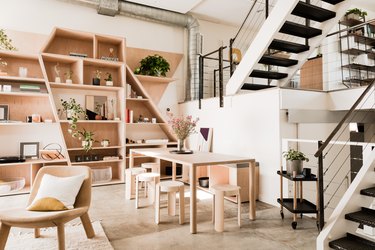 In the main space, Hem's Log table, surrounded by Pal stools, can become a workspace for events or a gathering place for an intimate dinner.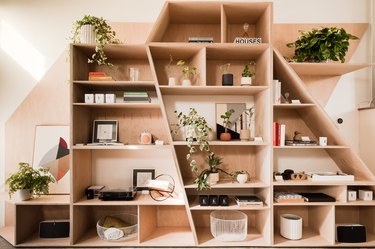 "So far, we have some type of relationship with all of the brands featured in the house, and that's intentional," says Epstein. "We want the space to feel like it's retelling some of Hunker's stories. With Hem, for example, we did a piece where we sat down with the brand's head of design. With Blu Dot, we went inside their office and workshop to see how their pieces are crafted. You'll find Sonos products throughout the house — we reference them frequently on the site."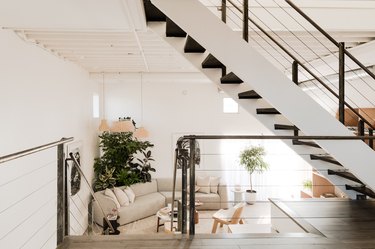 A staircase leads to an open second floor completed with a small library and galley kitchen.
The library is filled with books on design, as well as Hunker's quarterly print publication.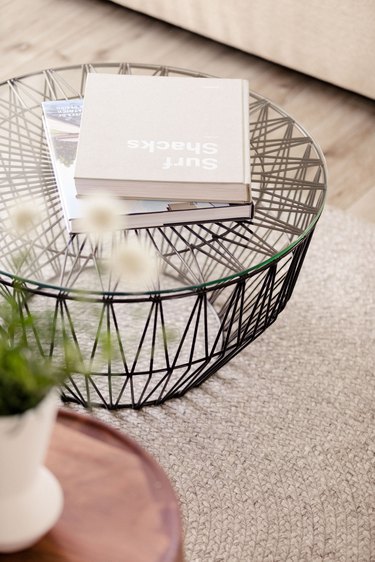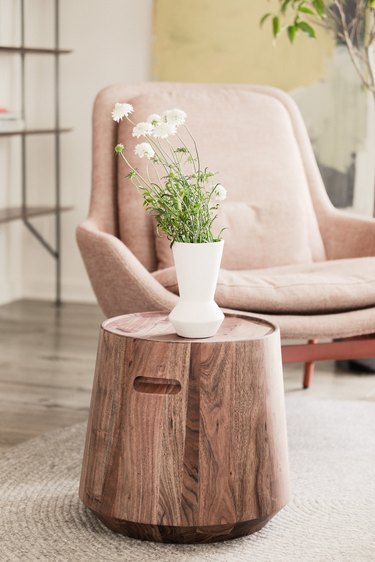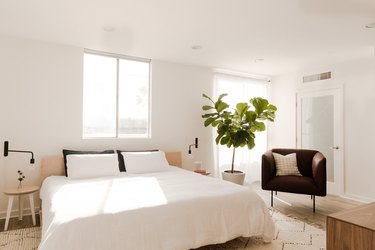 Ettitude crafted custom robes and towels for our guests — all made of 100 percent lyocell (made with organic bamboo). Dims, an independent company making "new century modern" furniture, provided their Caldera coffee table — but we thought it worked just as nicely as a nightstand. And finally, we opted for Luma Sleep's Hybrid Slumber System mattress — which we can tell you is just the right amount of firm.