Hunker may earn compensation through affiliate links in this story. Learn more about our affiliate and product review process
here
.
Whether you're settled in an airstream or you dream of living closer to the mountains, desert decor can help bring the outdoors in. When it comes to a desert-inspired look, it's all about getting in tune with nature. Think about spaces like Joshua Tree, which constantly inspires artists and designers. Here, we're looking at some ways to bring desert decor into your home.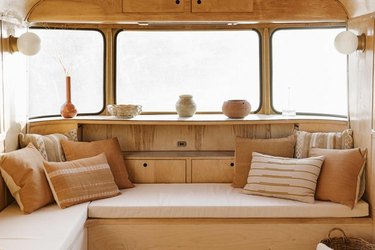 Replicate the feeling of nights spent under a desert sky or early mornings watching the sun rise with a few major elements of desert decor. For starters, bring that cozy feeling inside by layering textures — use blankets, pillows, and rugs in the same color palette. Try a neutral palette to keep everything simple and minimal. See if you can find reclaimed wood items to include; look for woven furniture at retailers or antique stores to tie the look together.
And last but certainly not least — incorporate lots of greenery. Make cacti and succulents a part of your decor as well. If you're into statement pieces, consider a large cactus for a space where you entertain often. Incorporate other decor items like vases, table runners, baskets, and wall hangings to complete the style.
Mix and match all of these elements to try different takes on the desert style and find one that fits your home best.
A lot of the main elements of desert-inspired decor work well for various rooms in your home. If you're decorating a living room, consider using the space to show off your favorite cacti or succulents. Consider neutral tones with pops of color. Play with textures — mix reclaimed wood pieces with rope decor and soft blankets for a rustic look.
When it comes to your bedroom, pile on the blankets and pillows and keep the color palette minimal. Light a candle or two with a nature-inspired scent to really set the mood. Even unexpected items like dowels can make for great DIY projects like hanging planters, wall hooks, and more that will fit right into the minimal desert aesthetic.
And while it might seem unexpected, your kitchen can also join in the desert-inspired fun. Use open shelving and stock it with ceramics, small planters, and kitchenware in natural materials. Be sure to let in the natural light to accentuate the look.
Where to Shop Desert Decor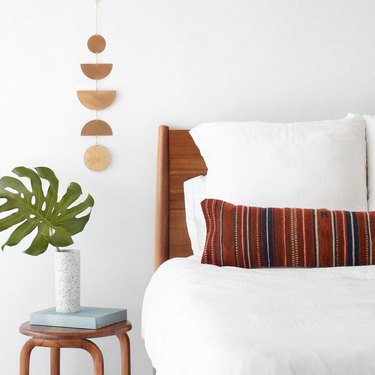 And if you want to get crafty, try your hand at some DIY projects like a raffia mirror, these door tassels, and this geometric wall hanging. No matter your approach, have fun bringing the outdoors in and creating a welcoming and relaxed setting.
For a full list of retailers, check out our shopping guide here.