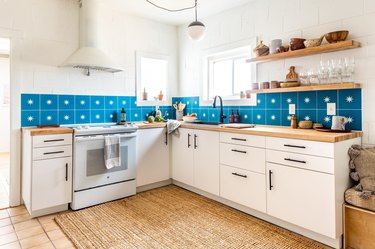 Airbnbs can be hit or miss when it comes to design. But when artist and designer Lindsay Hollinger and her best friend and business partner, furniture maker James Burial, joined forces to create a rental property in Joshua Tree, California, they wanted the interior to be as beautiful as the desert surroundings. That property, Casa Joshua Tree, quickly amassed thousands of fans on Instagram and plenty of design-savvy renters looking to unplug in the desert.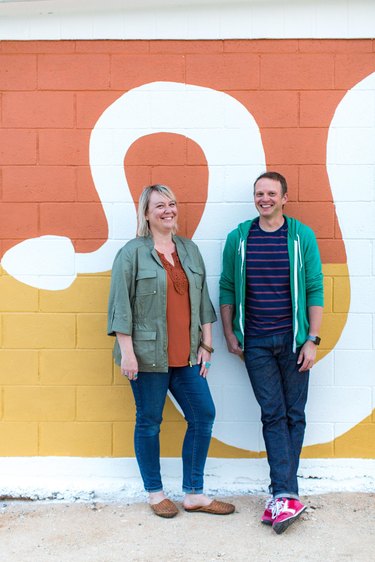 So how do you follow up an Instagram sensation? For their latest collab, #ThatDesertHouse, they overhauled a 1958 house in Twentynine Palms, a town near Joshua Tree National Park, over the course of six months. The centerpiece of the home is the bright and airy kitchen and dining nook, which took five months (and lots of online shopping) to complete. The just over 200-square-foot space needed a major makeover, so Hollinger and Burial tore out everything except the flooring and windows and started over from scratch.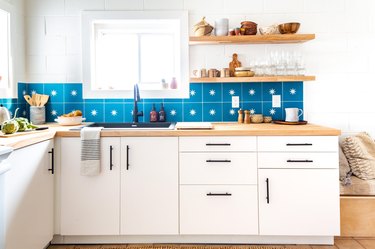 To stay within budget, they did most of the work themselves (even tile installation!) and opted for IKEA cabinets and butcher block countertops. "Our timeline for renovation was fast, and countertop fabrication is costly and time-consuming because it has to be measured once the cabinets are installed," Hollinger explains. "Not to mention we are located very far from the nearest fabricator (almost two hours away). We were able to compress the time frame significantly by ordering prefabricated butcher block slabs that were delivered via UPS."
The kitchen renovation was done in gift-in-kind partnership with Wayfair, and Burial and Hollinger sourced everything from furniture to appliances on the site. "One of the biggest struggles of desert living while renovating is access to shopping options," says Hollinger, who relied on online sources, local artisans, and custom-made pieces by Burial to furnish the space.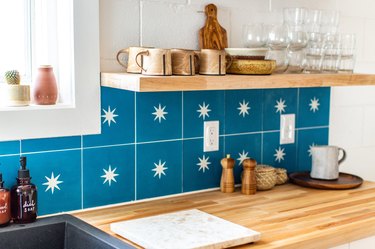 The design of the kitchen was inspired by the home's desert surroundings. Hollinger used natural colors and textures to evoke the landscape, and the backsplash tile gives a nod to the area's star-filled night sky.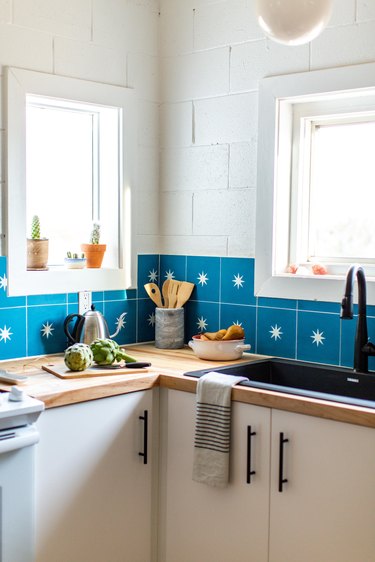 "My favorite element of the kitchen is the tile," she says. "The blue is so dreamy, and the star reminds me of my favorite painter and desert lover, Georgia O'Keeffe."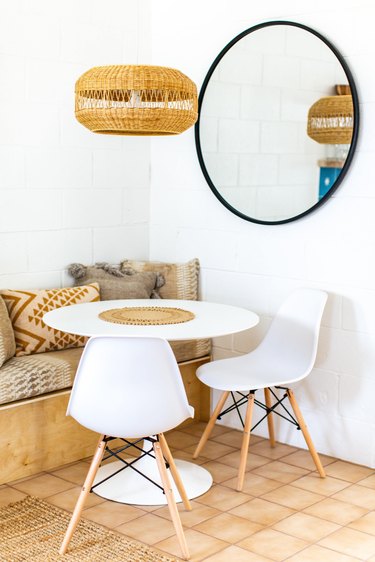 They incorporated a cozy dining nook into the space, featuring a bench made by Burial. "I bought some of Justina Blakeney 'Birds Jacquard' fabric online and had a local upholsterer make a bench cushion and pillows," Hollinger says. "Supporting other women artists and local craftspeople was great." The nook is the perfect spot for guests to curl up with a morning cup of coffee and is roomy enough to fit a crowd for dinner.
Hollinger tried to fuse her love for organic style with Burial's fondness for midcentury polish. "The tulip table and chairs fit perfectly and are a nod to midcentury modern," she says. "I love how the round shape of the table is also echoed in the mirror, which also allows people sitting at the table to see out the windows." The woven pendant light brings in a natural element, while also complementing the shapes of more modern pieces.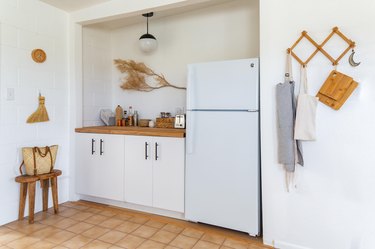 The kitchen's built-in pantry was a major sore spot for Hollinger, who wanted it gone ASAP. "It took some convincing for me to get James on board with tearing it out, because it was going to involve quite a bit of drywall work for him." (According to Hollinger, Burial hates drywall.) She was able to get him on her side and the pantry was replaced with cabinets and the refrigerator — a much better use of the space.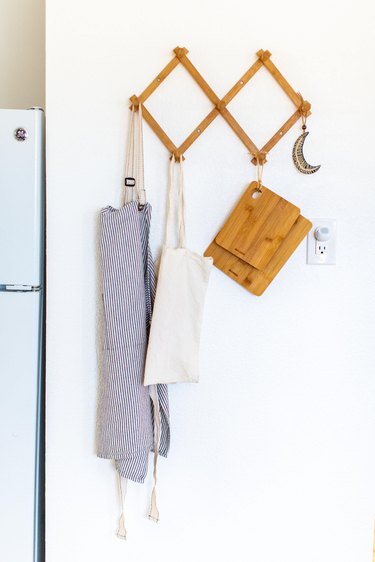 Hollinger kept the accents and materials practical — this is an Airbnb, after all. But she also incorporated natural finds from her walks through the desert. "I love decorating with natural elements like rocks, branches, and tumbleweeds." The handpicked treasures and pieces from local artisans, such as the mugs by Hollinger's friend Elizabeth Einsenstein of ZZIEE Ceramics, make the space feel personal and lived in, like you're crashing at a friend's desert retreat and not a stranger's rental property.
What's the only problem? You may not want to return to your own kitchen.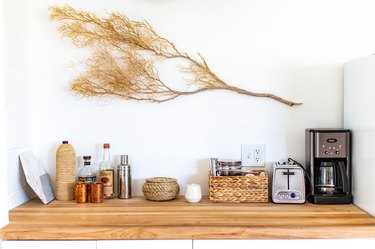 Get the Look
Love this eclectic desert style? Hollinger shared the pieces that brought this project together, so you can bring #ThatDesertHouse to your home ... right down to the saltshakers!
James Burial Custom Dining Bench
ZZIEE Ceramics Short Mugs