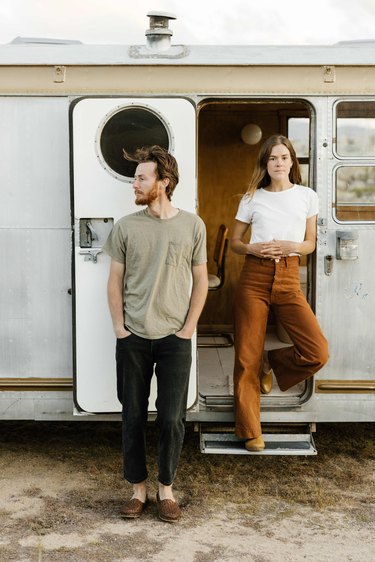 Who: Kelly Brown and Bryce Ehrecke
Where: Yucca Valley, CA
Style: 1950s trailer and earthen house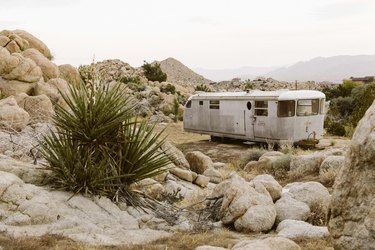 When photographer Kelly Brown and builder Bryce Ehrecke set out to find a desert retreat, it was the surrounding landscape of Joshua Tree that inspired them. Full of striking boulders and native plants, it was their love of the terrain that drove their approach to the interior spaces. "It's such a stunning and interesting place. We feel immediately relaxed and connected to it," Brown explains.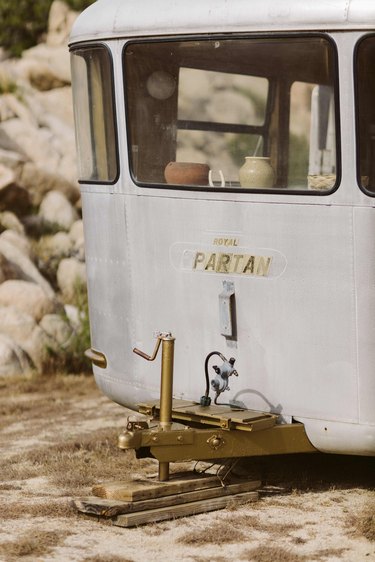 First they found a fixer home, yet their vision for the ultimate retreat was to add a vintage trailer to the property "that has lots of character, but also needed work so we could really make it our own," says Brown. The minute they saw Dixie — the name they gave the trailer — Brown and Ehrecke knew she was the one. The idea was to fix it up first and live in it while they did renovations to the house. Both 250 square feet, the home and trailer are where they spend six months out of the year, while the rest of the time they live on Vancouver Island, BC.
The Trailer: A Peek Inside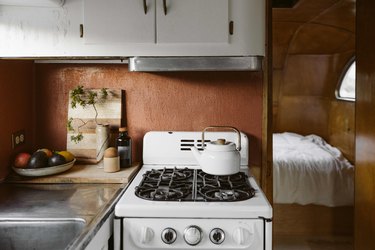 With Dixie's rounded edges and original wood paneling, Brown felt the bones were in solid shape. "We could tell there was so much potential behind the grime," she says. They kept the 1950s paneling, appliances, and cupboards in the kitchen but changed pretty much everything else. The goal was to keep the trailer as simple as possible. "We both really like a natural feel and always try to mix some rustic elements in with clean and minimal designs," Brown shares. Ehrecke built a bed frame with sliding drawers for storage underneath, a maple dining bar, a small desk where Brown can work, and a built-in sectional for lounging.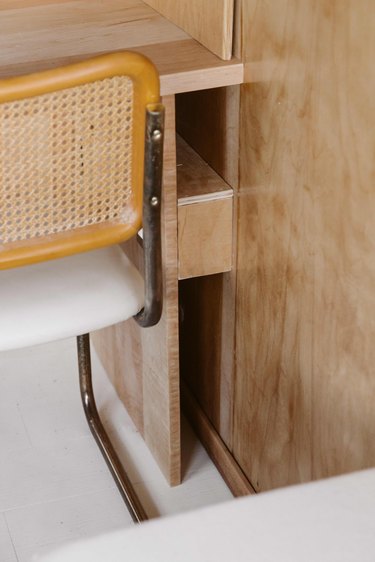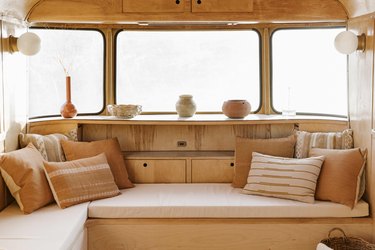 Pillows not made by Brown were purchased from Juneday and Acme5.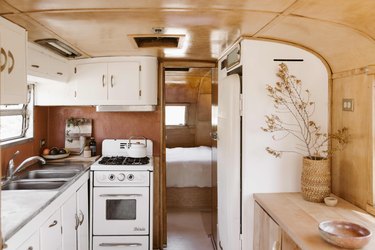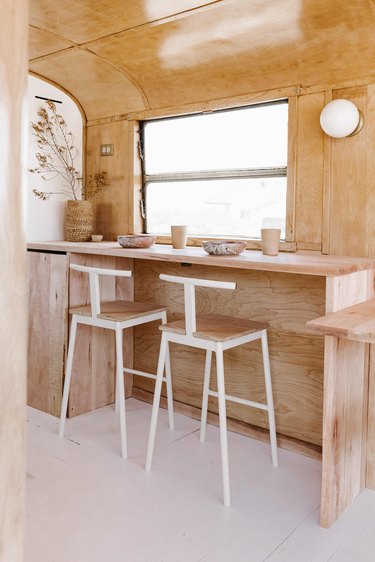 Custom bar stools for Dixie were made by their friends at Cast+Crew.
The House: A Peek Inside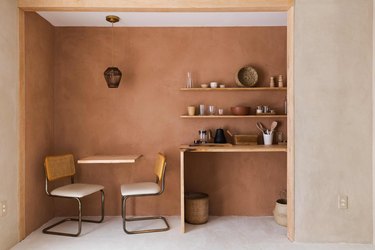 Since Ehrecke builds earthen spaces for a living using techniques such as straw bale, light clay, cob, adobe, and timber framing, Brown says they wanted to use all-natural materials and finishes in their home as well.
The interior comes literally from the surrounding earth. "We gathered sand from the wash and mixed it with local clays to make plasters, giving the walls similar tones and textures to the natural environment," Brown says. A work in progress, so far, they've taken out a closet and converted that space into a small kitchenette, built a bed frame, and even retrofitted a wooden trough into a sink, which is one of Brown's favorite design elements.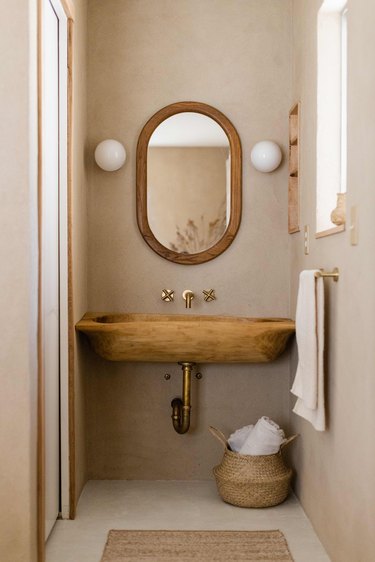 It was important they did all the work themselves, always trying to make or reuse things rather than buying them new.
Ehrecke built all the furniture and Brown wove most of the textiles. "We made the light fixtures out of baskets we found at a flea market and a lot of the decor was picked up at local thrift stores or made by artists," says Brown. If they can't make or upcycle it, Brown and Ehrecke always try to invest in — or trade with — artisans directly rather than big corporations.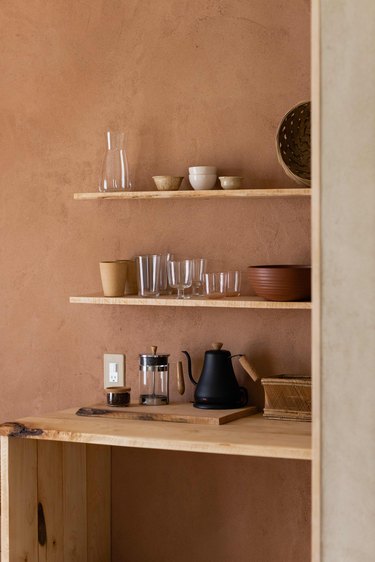 Pottery that coordinates with the interior walls is from Artisan Artifacts.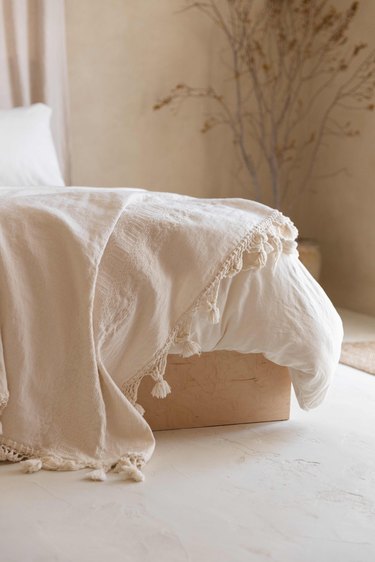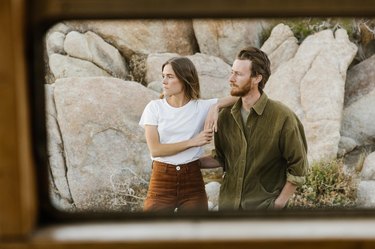 The talented couple even teaches workshops on natural building and spends lots of time on farms creating outdoor kitchens and wood-fired ovens. When it comes to walking the talk, it goes without saying Brown and Ehrecke are the real deal. "Our home is a direct reflection of the landscape around us," says Brown. "We love design that is intentional, low impact, and seamlessly blends with the natural world around us." But ultimately for Brown, "the house wouldn't feel like home without family in it." (Including their puppy, Sunny!)
Locals Know Best
Favorite Piece of Design or Architecture: A-Z West
Best Vintage Finds: Sky Village Swap Meet —"So many hidden treasures if you're willing to dig!"
Best Art and Culture: Compound Yucca Valley — "Every month a new artist has a show opening. It's a great opportunity to get together as a community and see some great art.
When People Come to Visit, I would take them to: "Head to Pioneertown through Pipes Canyon. It's a beautiful drive and we love getting out and walking at the Preserve. If it's a weekend, we would go for breakfast at Frontier Café and then head to the swap meet to see if we could find any treasures. After that, we'd swing by Joshua Tree National Park for a hike followed by dinner at La Copine and a bonfire at our place."