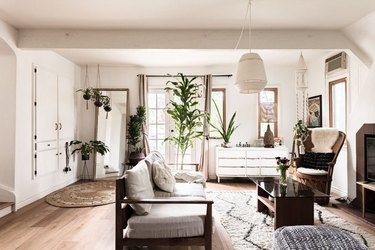 Hunker may earn compensation through affiliate links in this story. Learn more about our affiliate and product review process
here
.
If you're anything like us, you might spend a good portion of your day bookmarking interior design looks you love on Instagram. And after a while, you've probably noticed some styles coming up again and again. Take for instance, boho — a popular aesthetic that encourages layering textures and colors for a carefree look.
Boho is the perfect excuse to get eclectic — especially if you love mixing textures and patterns. Here, we're taking a look at some tips for bringing boho into your home.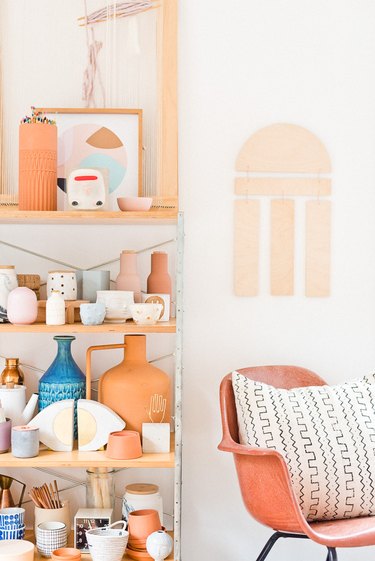 The Origins of Boho Style
Originally used as a term that has problematic undertones, "Bohemian" has since become a term adopted by writers and artists to describe a carefree lifestyle. The style had a heyday during the '60s and '70s in both interior design and clothing, thanks to the hippie look. Since then, it's evolved into "boho," with designers like Justina Blakeney putting their own twist on the term (she calls her plant-filled boho style "jungalow").
Boho style often involves greenery, natural materials, lots of pillows — anything that leads to a space with a laidback, creative look. Macrame is also a popular addition to boho rooms — and while you can find macrame wall hangings galore on Etsy, there are also plenty of easy macrame DIYs.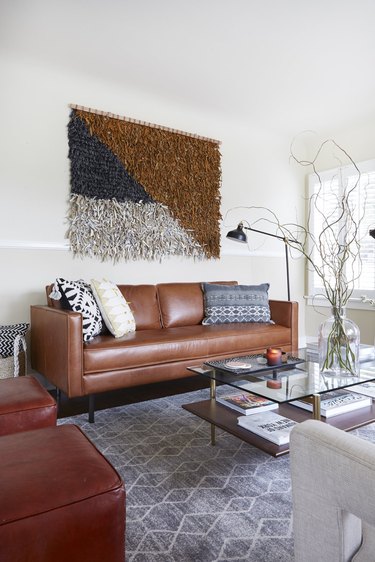 Bringing in boho decor — whether it's a full living room makeover or just adding a couple elements here and there — can result in lots of different looks. For starters, you might want to combine boho with other decor styles to create something like boho minimalism.
For a boho living room that's instantly relaxing, mix textures and layer rugs to your heart's content. Add faux or natural greenery to the space with bold planters for added effect. Consider adding a mirror as well, like this DIY fringed one. Pay close attention to seating — floor cushions and ottomans will make your space adaptable, casual, and inviting.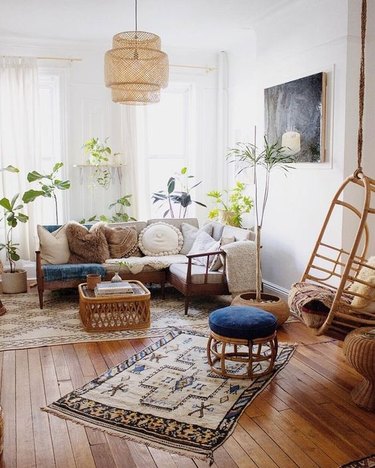 When it comes to your dining room, many of the same rules apply. Mix textures and plants and get creative with colorful table linens and plates.
If you want to keep the boho vibes going, think about ways to incorporate the style into your bedroom. If you're working with a small space, try vertical decor to keep your floor and bed uncluttered. Keep storage baskets nearby for odds and ends.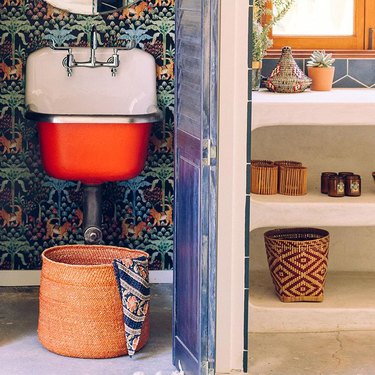 Where to Shop for Boho Furniture and Decor
Ready to embrace the boho style? We've got some tips on where to find your new favorite decor items and furniture. Big-name retailers like Anthropologie and Urban Outfitters, of course, carry plenty of items with boho vibes. We love the aesthetic of Justina Blakeney and her shop, Jungalow, where you can find everything from rugs to kitchen decor. You can also search through Etsy for handmade or vintage gems — try search terms like "boho," "rattan," "1960s," "wicker," and "cane."
If you're into a more hands-on approach, try finding low-cost items that you can DIY into boho decor. You can experiment with everything from a wood wall hanging to a chic side table. Look for ways to incorporate the style into your existing furniture and don't be afraid to mix decor styles. However you choose to decorate, let the materials and colors lead the way.