Here at Hunker, we believe that a living room should feel lived-in. Soft pillows, textured throws, ambient lighting, and well-loved pieces of decor each contribute to a relaxed aesthetic on their own — but one style in particular has an effortless ability to bring all of these accents together: the bohemian look. It's a versatile aesthetic that's evolved from free-spirited macrame and fringe to include modern, clean lines and simple silhouettes that equally exude laid-back vibes. In other words, it's an ideal mix for a cool, comfortable living room.
To learn how to nail the look, we tapped Meghan Malfatti, interior designer and founder of Malfatti Interiors, for her tried-and-true tips. "My whole design mission is to create perfectly imperfect interiors for a laid-back lifestyle," she tells Hunker. "For me, a living room should be exactly that, the place where you just live." Ahead are six bohemian living room ideas that'll inspire you to kick back, relax, and, as Malfatti says, just live.
1. Incorporate relaxed seating.
Furniture selection is key in any bohemian living room idea, according to Malfatti. "A couch is no good unless you can take a nap on it," she says, adding that proper furniture placement is also essential when creating a welcoming atmosphere. "I like to create a gathering place where all the seating is close enough for everyone in the room to feel connected — a sort of imaginary circle where everyone feels included."
2. It's all about soft lighting.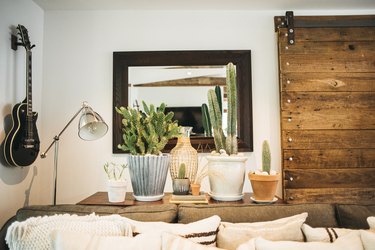 When decorating a bohemian living room, Malfatti recommends gravitating toward light fixtures that emit a warm glow rather than a harsh, bright light. "It's all about the ambiance," she explains. Bright overhead lights can instantly kill a bohemian vibe in any room, she adds. Layer lighting throughout a living room with floor lamps and table lamps to ensure optimal illumination. You can't go wrong with peppering the space with a few candles, too.
3. Decorate with plants.
"Plants bring life to any space and should obviously be part of a boho living room," Malfatti says. The design pro recommends real plants over faux greenery in the spirit of bringing signature bohemian authenticity into a room. Gain inspiration from this space, in which the designer brightens up an otherwise lackluster corner with an indoor-friendly fiddle leaf fig tree.
4. Weave in cozy textures.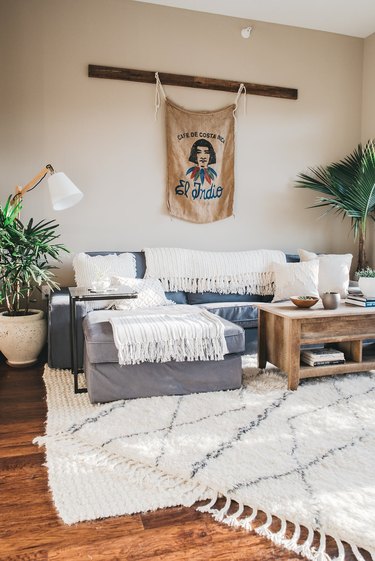 Accents that Malfatti always includes in a bohemian living room idea are snug blankets and decorative-yet-comfortable pillows. "Everything must be pretty but functional at the same time," she explains. "I will never use decorative pillows that I can't also use when lounging or napping." Take style notes from this interior, which boasts plenty of plush pillows and knit throws.
5. Burn boho scents.
"Bohemian is more a feeling or way of life than a style for me," Malfatti reveals, and it shows in the home fragrances that she chooses for her spaces. The designer swears by burning sage or palo santo in a handmade ceramic bowl to draw out all the senses and help create those laid-back, bohemian vibes.
6. Don't forget vintage pieces.
Bohemian living emphasizes originality and authenticity, Malfatti says, and with that comes a pull toward vintage decor. "Vintage pieces bring in that soul and character to an otherwise modern and cold space," says the designer. "I love a great vintage rug or midcentury modern club chair — anything with a story or a past." This nook shows how you can never go wrong with a vintage rattan peacock chair.