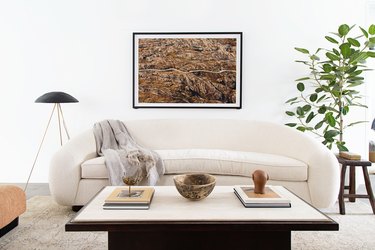 Simply put, living rooms are gathering places — and, as such, regardless of whether your design style is rustic, traditional, modern, or somewhere in between, you want the space to reflect your personality, be comfortable, and, most importantly, be practical. We admit that we love small living rooms in particular for the inherently warm and inviting feelings they evoke. There's something about cozy rooms that make people want to stay a while — which is what living rooms are all about, amiright?
That said, living rooms lacking in square footage do present a unique set of design challenges — chief among them being how to create functionality without sacrificing style. When you're dealing with limited space, every design decision really needs to be thought out, as smaller rooms are less forgiving. Ahead, we tap several professional designers to help us suss out some of the most common small living room decor mistakes (and, most importantly, how to avoid them).
Mistake #1: Choosing a rug that's too small.
According to nearly every designer we spoke to, this is the most common small living room decor mistake people make. It might sound counterintuitive, but don't think small when selecting a rug for a compact space. "One of the biggest mistakes people make when decorating their living room is choosing a rug that's too small for their space," confirms Los Angeles-based interior designer Joyce Downing Pickens of JDP Interiors.
The Fix: "The best rule of thumb is to make sure the majority of your furniture is at least halfway on your rug," Pickens shares. "For instance, I always make sure a rug is at least a foot underneath a sofa and extends at least 2 feet on either side," the designer notes. "Your armchairs should be either all the way on the rug or at the very least halfway on. When in doubt, go bigger." And to simplify things even further, she adds: "Very rarely do I ever use a 5-foot-by-7-foot rug in a living room of any size, so just default to anything larger than this." Noted.
Mistake #2: Selecting the wrong size furniture.
As with most things in design, scale is everything — and never more so than in limited spaces. "Too much or too little furniture can really throw off a space's ambiance," points out Studio Life/Style, a design firm based in Los Angeles. Bulky furniture can overwhelm a small space and make it feel even more modest, while a collection of diminutive pieces can make a room feel messy, like a breeding ground for castaway items.
The Fix: "The number and scale of the pieces you include in a living room should directly coincide with how much space you have," advises Studio Life/Style. "A smaller living room should prioritize pieces like low slung, wall-to-wall modular sofas that maximize seating capacity while opening up the room for circulation and negative space."
Mistake #3: Not planning your furniture layout.
Tempting as it may be to buy furniture as you come across it and hope it all works well together, your small living room decor is not the time to wing it. "When space is at a premium, it's even more critical to take time to space plan and try various furniture layouts on paper," offers Daleet Spector, an interior designer based in Santa Monica.
The Fix: "Once you've settled on an arrangement you think works best with the shape and size of your room, select hard-working pieces that are comfortable and multifunctional," says Spector. "For example, look for an ottoman that doubles as storage, a coffee table, and extra seating in a pinch. A two-tiered coffee table that provides extra storage for books and decorative accessories is also practical."
Mistake #4: Sticking to one design style.
This is an important small living room decor idea but it can be a bit tricky if you don't have much experience decorating, or are in a hurry to furnish your space: Refrain from buying all of your furniture from the same place or you run the risk of creating a one-dimensional (i.e., boring) room. "It's easy to gravitate toward just one aesthetic when designing a living room, especially if you don't have much space to work with, but that can often lead to a space that's lacking in richness and personality," says Cortney Bishop of Cortney Bishop Design.
The Fix: "To avoid a design that's a bit too cookie-cutter, try textural layering," offers Bishop. "Work around a foundational color palette, but incorporate a variety of materials within the design or pair larger, more modern furniture pieces with smaller, traditional accents," she adds. "I source vintage a lot for an extra touch of unique character in every room. It's all about the mix! A less decorated, more collected design creates a more welcoming space."
Mistake #5: Over-accessorizing.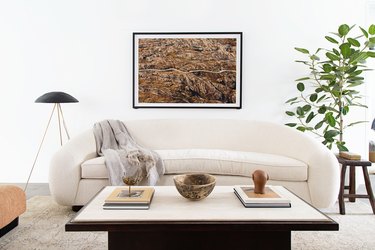 When accessorizing — especially when it comes to small living room decor — the line between curated and cluttered can be crossed very quickly. "Another huge mistake people make when decorating their living rooms is accessorizing with too many small tchotchke items," says Pickens. "Your accessories should fill the space they are intended for and feel purposeful and intentional."
The Fix: Choose multitasking accessories whenever possible. When styling a coffee table, "layer one medium-sized coffee table book on top a larger one on the left-hand side, top with a favorite box to hide remotes, then add a potted plant on the right side and voilà! You're done," suggests Pickens. "Nothing is too small and piece-y and the larger items will make it feel more complete and high-end."