When you hear the words "rustic decor," we're guessing that images of buffalo plaid upholstery, candelabra chandeliers, and log cabins immediately come to mind. And although that sounds pretty cozy, you can also achieve a warm, pastoral space by weaving in modern elements, too. In fact, the combo can result in beautifully unique rooms that are chock-full of texture and overflowing in rich character. To prove our point, here are 10 rustic living room ideas that will leave you craving a country retreat to call your own.
1. Stunning Fireplace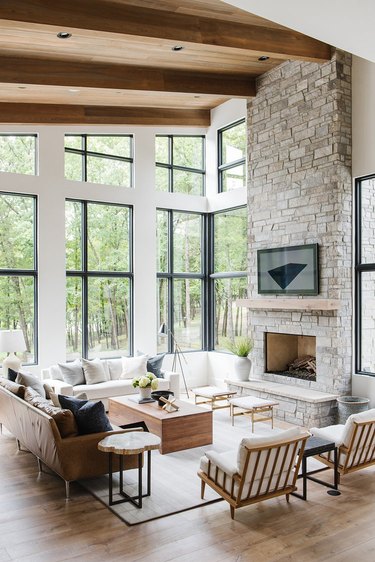 A carefully-chosen fireplace has the power to make (or break) a rustic living room. This space designed by Shea from Studio McGee features an impressive floor-to-ceiling fireplace clad in stone that complements the room's incredible view of the great outdoors.
2. Quirky Accents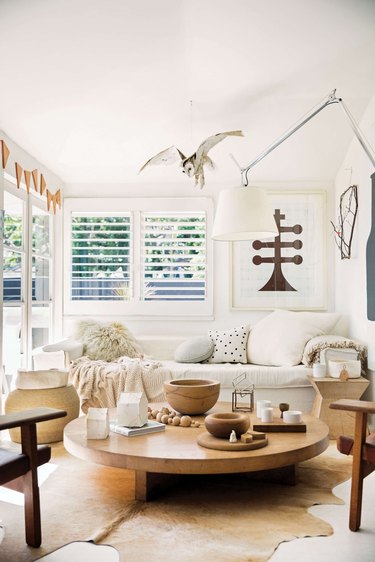 Another way to add modern flavor to a rustic-style living room is to choose objects and accessories that are unexpected. In this living room captured by Brittany Ambridge, there is no shortage of unique finds — from the cowhide rug, to the wood furniture, to the twigs on the wall. And let's not forget the paper owl hanging from the ceiling.
3. Firewood Niche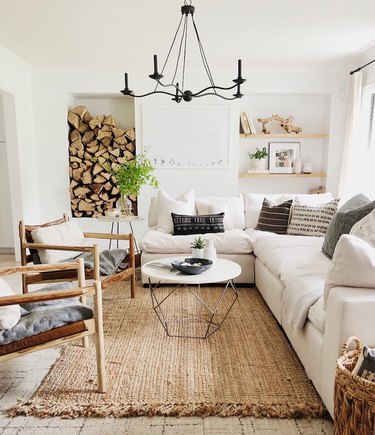 In order to create a truly modern, rustic living room, you need to carve out a dedicated nook to store chopped firewood like Anissa from House Seven Design. Her dreamy home features a cut-out in the wall filled with stacked logs, which also serves as a decorative element that adds warmth and texture to an all-white space.
4. Exposed Ceiling Beams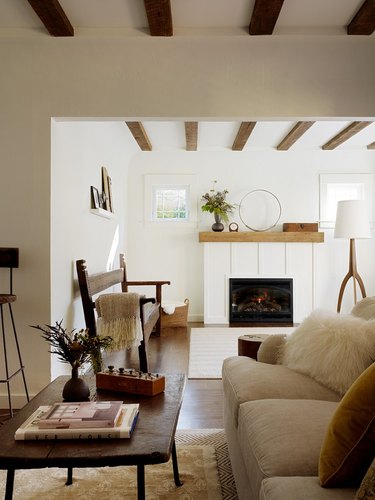 Exposed ceiling beams are a surefire way to transform a living room from basic to rustic in a flash. And bonus points if they were salvaged from a bygone era building. In this farmhouse bungalow designed by Jute Home, the beams continue from the sitting room to the living room, complementing the wood mantle and furniture.
5. Varied Textures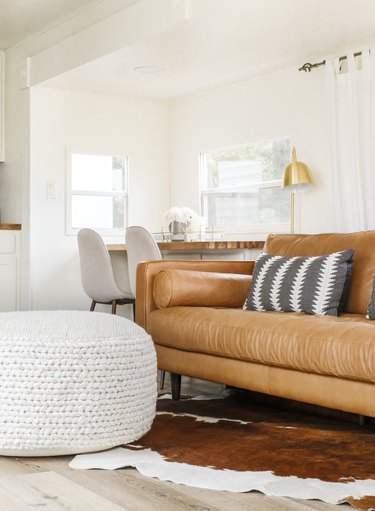 Consider texture when designing a rustic living room. An easy way to make things look modern and fresh is to bring together a variety of different surfaces, like Ashley from Joyfully Growing did in her living room. She cleverly combined a woven pouf, a leather sofa, a cowhide rug, and patterned throw pillows.
6. Modern Objects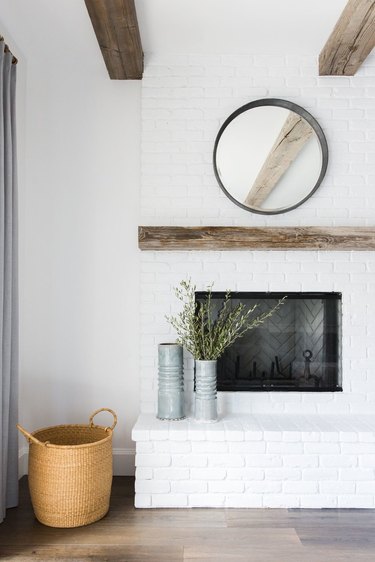 If your living room already looks rustic — a brick fireplace, exposed ceiling beams, a weathered wood mantle — focus on incorporating modern elements. In this nook designed by Shea of Studio McGee, modern-day objects punctuate the space, like a round mirror, stylish ribbed vases, and a woven basket.
7. Mixing Styles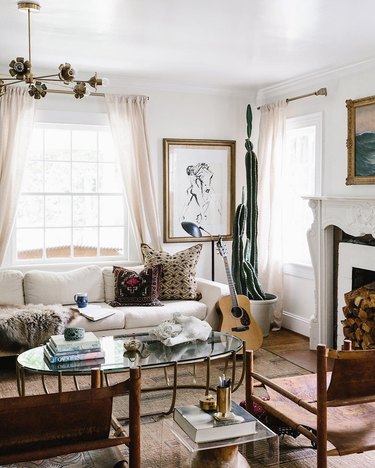 There's no rule that says you have to stick to only rustic. Add a hint of bohemian, or a dash of midcentury, like photographer Carley Summers who has mastered the eclectic look in her own living room. We adore the modernist artwork, the vintage floral chandelier, and the cactus in the corner.
8. Light and Airy Decor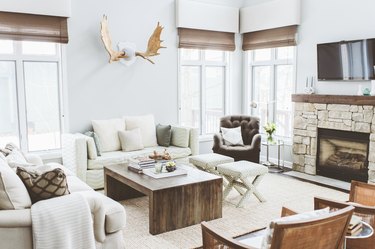 Another way to create a rustic yet modern space is to keep things light. Don't get carried away with bulky pieces of wood furniture, dark leather upholstery, and stone cladding. Follow the lead of Lauren from Deluxe Design Studio and dial up the breeziness with a whispery blue wall paint, white furniture, and plenty of windows.
9. Contemporary Light Fixtures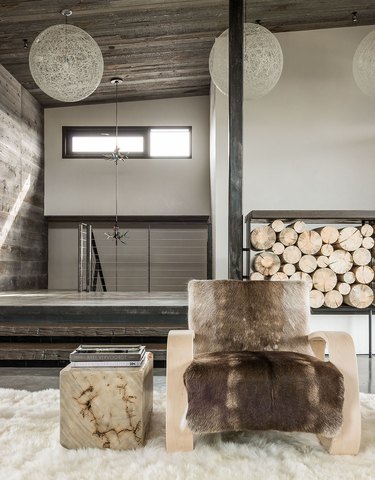 10. Natural Wood Elements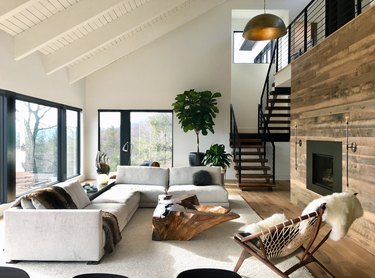 We love the way the team over at Dichotomy Interiors gave this modern living room some rustic charm by incorporating a few rugged accents. The fur throws draped over the sectional sofa and circle hoop chair, the potted trees, and the root coffee table all work to add balance to an otherwise sleek design.