If you're not a fan of super-polished, all-white spaces, a rustic kitchen might be right for you. This gorgeous — yet low-key — decor style brings to mind countryside cool: barns and wide open spaces and verdant green fields.
Expect to see lots of wood finishes and natural elements — especially ones that feel weathered and worn. The goal of these culinary spaces isn't to appear pristine: fresh-from-the-factory is not a rustic look. Instead, you'll see distressed farm tables repurposed as kitchen islands and vintage-inspired signs and decor alongside stone floors that bring back farmhouses of yore. Also, look at elements like milk glass, depression glass, and copper accents. And while neutral color palettes do play well with the aesthetic, bold colors blend even better.
But just because you like the rustic look doesn't mean your kitchen can't be sleek and contemporary. Incorporate hints of rusticity here and there — like a distressed tile or weathered wood beams — to create a kitchen that's all your own.
1. Opt for traditional farmhouse details.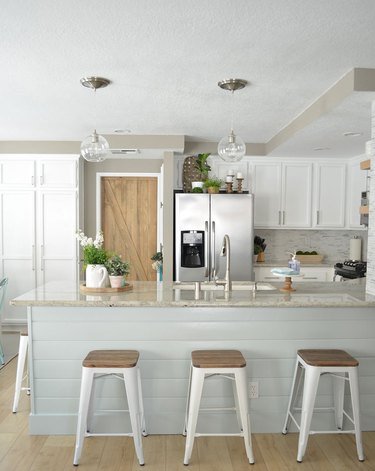 This rustic kitchen from Katy at A Shade of Teal is perfect evidence that you can create a bucolic vibe — without feeling like you live in the country. The key is a barn-inspired door in the perfect natural stain, which pairs beautifully with barely-there-blue shiplap around the base of the island to create an outdoorsy effect.
2. Throw vintage-inspired accessories into the mix.
Can't you hear the birds singing outside this white rustic kitchen by Amy from White Cottage Home & Living? Yes, the open wood shelving and glorious vent hood scream "country glam," but it's the accessorizing here that make this kitchen feel truly rustic. White and green milk glass and the precious tea tray all feel like they were purchased at a local estate sale.
3. You can never have too much natural light.
The sunny bay windows in this kitchen from blogger Liz at Love Grows Wild overlook an actual field — so it's no wonder the space feels rustic. But it's more than just the view. The country table, the vintage sign hanging above the window, and the metal factory pendant light work together to enhance the feeling of countryside bliss.
4. Keep it simple.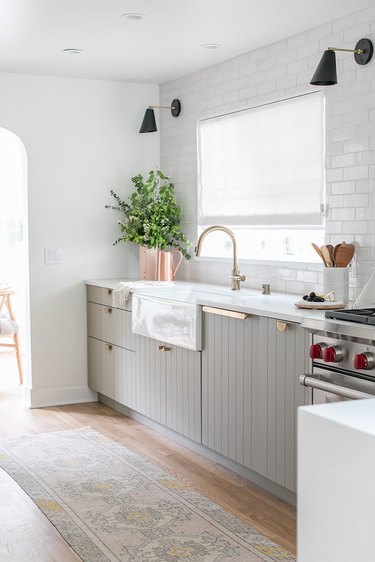 Sometimes, it's the little things that make a space feel just right. Eden from Sugar and Charm gave her rustic kitchen a simple bucolic vibe with the help of two key elements: the farmhouse sink and subway tile backsplash. The hand-glazed brick terra cotta comes with natural variations, imparting a distinguished and vintage look — like a very fancy farmhouse. The cabinet fronts mimic the appearance of shiplap to complete the space.
5. Add a hint of color.
In this colorful space, "busy" isn't a bad thing. The eclectic tile, wood elements, and casually cluttered shelves might remind you of your grandmother's country house, but the teal-blue cabinet adds a hint of modern color. The gorgeous oversize black clock, hung between the cabinet and the door, adds a dash of drama.
6. Add warmth with natural decor and accessories.
---
Jamie is a freelance writer based in Denver, Colorado, who writes about real estate and interior design.
View Work