There's a reason why you're seeing open shelving in kitchen design lately: it's a flattering way to infuse character and storage into this space without a lot of effort. And aside from giving you the opportunity to display your favorite dishes, open shelving will also make your kitchen feel more spacious, too. But before you simply nail a few planks to an open wall, get strategic — there are plenty of options to tailor this trend to your home. Read our collection of the 10 best arrangement ideas, and then pick one that suits your layout. Soon, this trend will be made for you.
Repurpose Your Pre-Existing Cabinets
If a renovation project just isn't in the cards, take inspiration from this modern kitchen designed by Shira Gill and create open shelving with the cabinets you already have. Remove the doors and hardware, and then give the interior a fresh coat of white paint. That'll make the dishes inside pop.
Draw Attention With High-Contrast Hardware
Make simple wood shelves stand out with bold black brackets. This kitchen designed by Joanna Gaines utilizes high-contrast hardware to command attention, which transforms this space into the focal point of the room. Plus, the single gold light fixture over the window ties the whole area together.
Incorporate a Window Into Your Design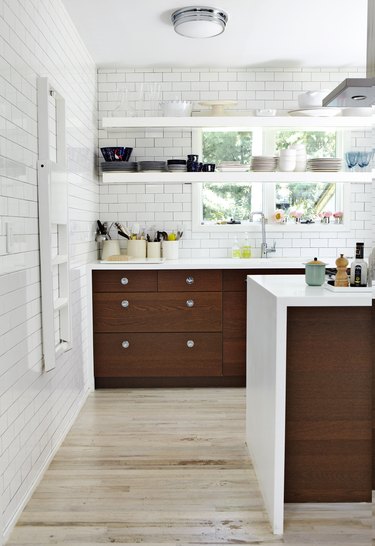 A large kitchen window doesn't have to come between you and streamlined shelving. Take a nod from this kitchen by Skona Hem and incorporate the window into your design with solid white shelves that extend from wall to wall. The wood of the lower cabinets also keeps the space from feeling too sleek.
Shelving Size Doesn't Always Matter
Even the smallest corner of your kitchen can be turned into a prime spot for chunky floating shelves, like in this open kitchen by Erica Chan Coffman. Fill them with an eclectic collection of dishes to give the tiny area some color and personality.
Create a Focal Point With Industrial Hanging Shelves
Actress Brooklyn Decker knows how to make a statement, and her kitchen decor is no exception. Use her modern industrial space as inspiration, and design a hanging structure from metal pipes and wood planks. The shelves also add functional storage without taking away from the open floor plan.
Rethink the Space Over Your Kitchen Sink
If your kitchen is lacking a lust-worthy window above your kitchen sink, fill the space with floating open shelves instead. This neutral kitchen, designed by Threshold Interiors NYC, uses shelving in this prime real estate to add depth and contrast to the design.
Don't Be Afraid to Style Them Like a Bookshelf
Open shelving in the kitchen isn't just for dishes — they're also ideal for cookbooks and a few decor pieces, just like these shelves from the blog The Inspired Room. Keeping your recipe collection within sight means you'll be more likely to use one for dinner, too.
Use Glass Shelves in Front of a Window
If you're ready to take a risk and go big, create a set of custom shelves that will become the showpiece of your kitchen. Michelle R. Smith, founder of Studio MRS, uses glass shelves and chic brass pipes to add attractive storage without infringing on the window's view.
Extend Shelves Along Two Walls
Take advantage of a bare corner in your kitchen with a set of floating shelves that wrap along both walls, as seen this space designed by Vanessa Alexander of Alexander Design. Not only will this give your kitchen a huge dose of visual interest, but the long lines of the shelves will also make your space feel bigger.
Add Shelves to the Bottom of Your Cabinets
Don't forget about the space under your cabinets! Take a nod from this minimalist kitchen by Canadian-based design firm Beauparlant and add sleek black metal shelves to the underside of your upper cabinets. The eye-catching display will add character to your kitchen while utilizing an often ignored area.