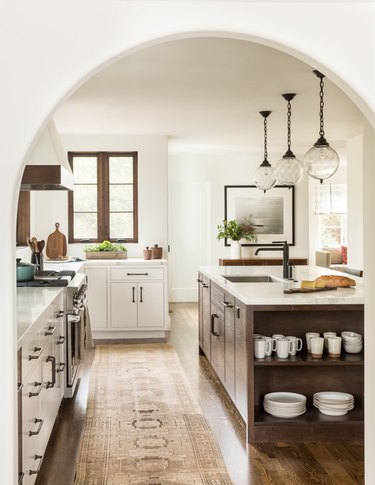 Imagine waking up in a remote countryside cabin and then preparing breakfast at a rustic kitchen island. Are you in heaven yet?
We wouldn't be surprised, because rustic decor is all about a no-fuss aesthetic that combines natural materials, rough textures, and a neutral color palette. So if you champion subdued hues and unrefined wood cabinetry, it's likely you've already thought about incorporating rustic design into your home. And the easiest place to bring in that aesthetic is the kitchen.
If you can't head to the wilderness, bring the wilderness to you. These rustic kitchen island ideas will have you feeling all kinds of cozy.
1. Champion natural materials.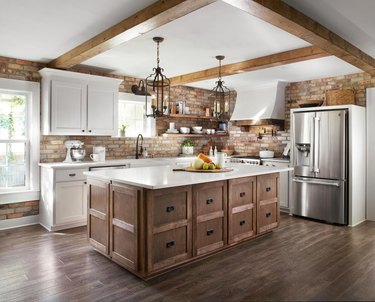 Natural wood is super popular in rustic kitchens. So whether you're buying a new island, DIY-ing one, or reclaiming an old piece of furniture, a wooden island will hit all your rough and ready goals. Joanna Gaines created a rustic coastal villa feel in this kitchen, topping the paneled rustic kitchen island with white marble countertops for an elegant touch.
2. Create a contrast between the cupboards.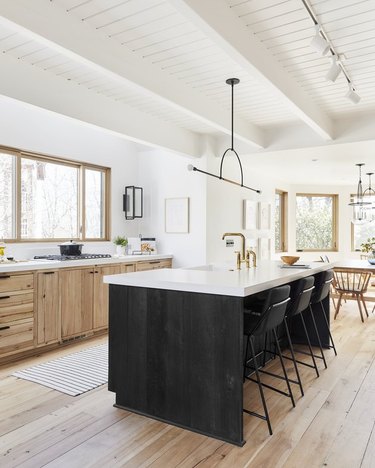 3. Consider concrete counters.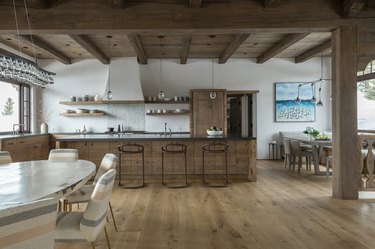 Concrete countertops can work in many types of kitchens, from farmhouse to midcentury. They're also a practical and visually interesting addition to a rustic kitchen. If you're worried about upkeep, fake it until you make it. The counter in this kitchen by Pearson Design Group is actually Caesarstone quartz in Sleek Concrete, which looks just like the real deal. A wooden ceiling, rough-hewn wooden cabinetry, and open shelving add to the overall rustic aesthetic.
4. Perfect your island lighting.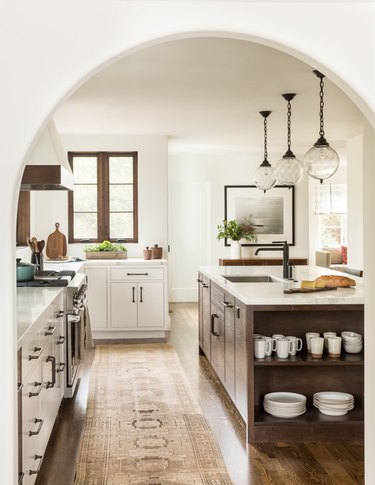 The lighting above your kitchen island is just as important as the island itself. It can add to the overall countryside vibe and bring in a new layer of design to the room. This charming island, in a kitchen designed by Jute Home, features metal and glass globe pendant lighting.
5. Don't forget the seating around your rustic kitchen island.
Your kitchen island seating can also help you integrate rustic elements into the design scheme. So don't leave it down to the wire to pick your perfect stools. The interior design team at Park and Oak opted for woven counter stools that add warmth to the traditional cabinetry.
6. Try out a two-tier island.
Looking for something different in your kitchen? Try out a two-tier kitchen island instead of settling for the norm. This rustic setup by Pavonetti Architecture features a tonal reclaimed wood counter with different levels to create a waterfall effect that's bound to wow.
7. Work an island in a small space.