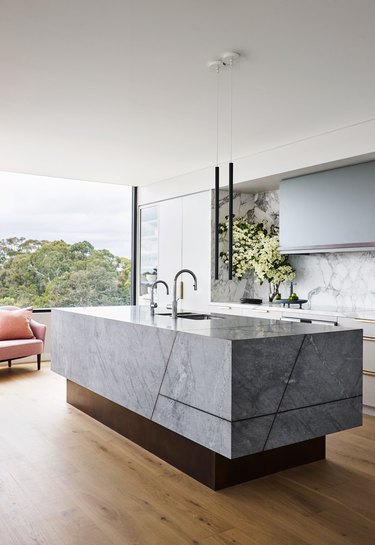 Blending in just so happens to be something that we're not fond of — and we feel the same when it comes to our home. We're not saying you should always make a statement, but instead find the moments where you want your design to speak for you. That's why we're currently into the modern kitchen look known for everything from sleek angles to industrial fabrications to artistic pops (color!), and, dare we say: slight irreverence. In case you missed it: Modern design speaks to the time period from World War I to around 1979, and Modernism itself tends to favor the socially conscious, utilitarian, and "new." This aspect of newness allows our creative juices to flow and take a design chance in a slightly subtle (or not so subtle) way. Below, all the various elements that will allow you to design the modern kitchen of your dreams.
Industrial Accents
A contemporary take on the chandelier? A skeleton-style wire light with orb bulbs will do the trick (and more). Pro tip: modern metal fixtures like this work best hung over an island or countertop to draw focus to the kitchen's gathering place.
A Monochromatic Palette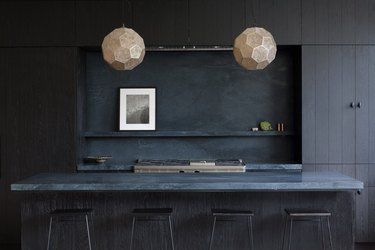 This historic home got a major facelift to bring it into present-day: a monochrome slate gray palette on the cabinets, walls, and even kitchen island is totally unexpected. Choosing similar hues allows a contrasting fabrication — like these orb-style pendant lights — to really pop.
Panel Detailing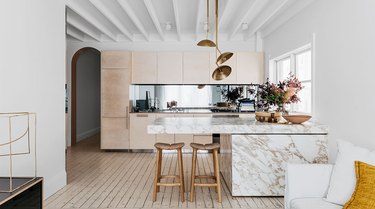 Why go for one take on an of-the-moment fabrication, when you can go for two? Start with the ceiling in painted white panels, and then go for a wooden-plank style on the floor. To keep things clean, stick with a neutral color scheme and carry it throughout like in this modern kitchen design (the marble countertop still counts!).
Sleek Angles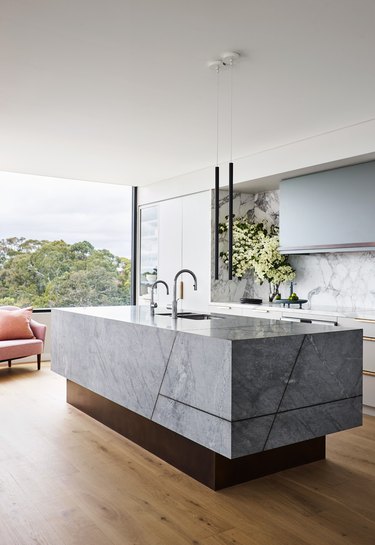 Modern kitchens such as this know how to work their angles. Enter: a geometric island that's anything but traditional with its pedestal base and exaggerated silhouette. The rest of the space is minimal, allowing the clean lines to really shine through.
Open-Concept Layout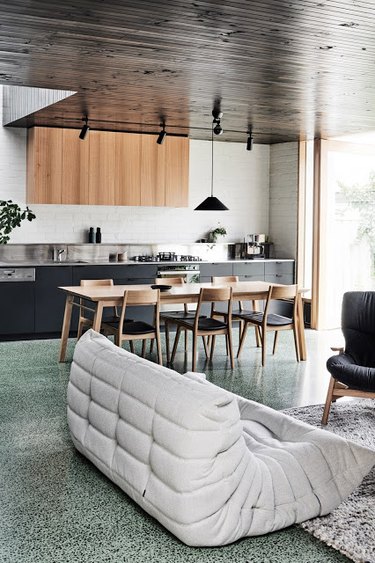 Worth noting: modern kitchen designs tend to favor an open floor plan. Strategically place your dining table to separate the rooms in a completely organic way. And, of course, we're digging this unusual wood panel ceiling, dark cabinetry, and interesting lighting (and did we mention the mod couch?!).
Fresh Pops of Color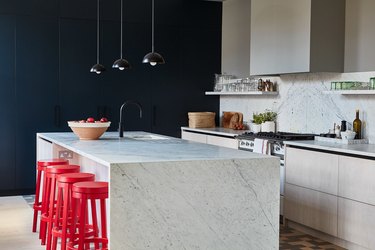 Although many modern kitchen designs rely on sleek neutral tones, there's always a reason to challenge the status quo. Cherry red island stools bring an instant cheerful vibe to this space. Bonus points that they encourage guests to sit and stay a while.
Natural Elements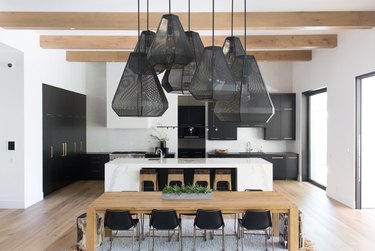 Overly ornate details aren't associated with modern decor, which is why the style relies on natural materials like wood and marble to be the stand-outs. Gorgeous grained beams grace the ceiling in this humble abode, with a smattering of the material in the form of a table and stools (note: the latter is a simpler way to incorporate the element if a total re-design isn't in the cards).
Horizontal Lines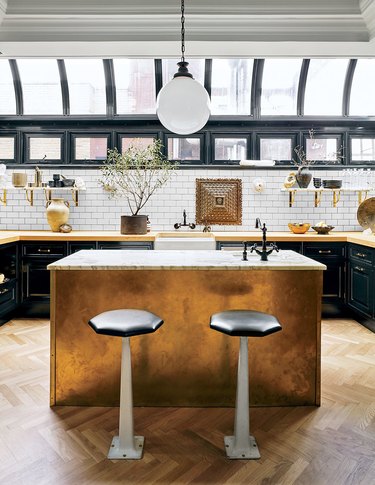 Even though it's not totally in your face, modern style tends to favor features that boast a horizontal orientation. Take for example a warm brass island, low cabinets, and subway-tile backdrop. For a little something extra, similarly shaped windowpanes keep your focus left-to-right and let in natural light at the same time.