Now that we've discovered the joy of open kitchens, how could we go back to awkward galleys and closed doors? Culinary masterminds shouldn't be cramped into a tiny space so they can chop, sweat, and stir while the rest of their family kicks back. An open kitchen combines the best of both worlds: enjoying the company of those you love and adventures in cooking — all at once. Clever design decisions can make the time spent in your open kitchen much more pleasurable. From smart color choices to useful storage tips, these 14 open kitchen designs are guaranteed to make any chef de cuisine shine.
1. Two islands are twice the excitement.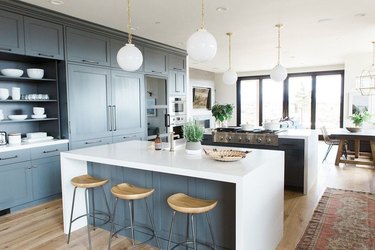 A large kitchen island dramatically increases your working space — so why not try two? If you're cooking with a large family or are working your way through Julia Child's oeuvre (all those pans, all that chopping!), double the space means half the stress. Twin islands also neatly complement a wall of full-height cabinets, dramatically increasing your storage space.
2. Keep it crisp and clean.
White kitchens may not be for everyone, but there's no better way to make an open kitchen feel truly grandiose than by keeping it smartly monochromatic. Throw in milk glass bowls on those white open shelves and add a few colorful accents — think pale pinks, teals, and lots of succulents.
3. ...Or go wild with color.
Not everyone adores the all-white trend. Colorful décor might be just what you need to spark brilliant culinary creations: A dash of paprika in your pasta (thanks, burnt-sienna Fiestaware) or super-blueberry breakfast muffins inspired by your cerulean teapot.
4. Stay natural.
Make your open kitchen feel even larger by bringing the outside in. Use your favorite planters to highlight succulents and ferns, or install a large window that overlooks your backyard garden. And last but not least, don't forget the fresh herbs.
5. Nix the clutter.
Nothing makes crafting your evening meal less thrilling than scrambling through a drawer in search of your favorite wooden spoon. Consider dramatically simplifying your collection — and then displaying it beautifully. Keep everything that's vital close at hand and tuck the rest away so your open kitchen feels airy and spacious.
6. Evaluate the ceiling height.
An open kitchen won't feel open at all if a low ceiling is cramping your style. This small Portland-based open kitchen feels downright cavernous thanks to an arched ceiling offset with modern wooden ceiling beams.
7. Make family time more accessible.
You took down the walls, so take advantage of your newfound freedom and merge your living spaces. Cooking is less stressful when you know your little one isn't toddling off — and it's more fun when you can watch Chopped while you're chopping.
8. Utilize those odd walls.
Not all kitchen renovations let us tear down every wall. (But oh, to dream.) Got any straggling bits of drywall in your kitchen? Don't despair — decorate. Add shelves for spices or copper rods to display pots and pans, giving every square inch a purpose.
9. Embrace your unique design sense.
After too many hours spent browsing Pinterest, it's easy to forget the unique quirks that make your décor style you. What fun is a trendy kitchen that doesn't feel personalized? If you adore tchotchkes, dream of plywood walls, or want to paint the inside of your cabinets bright gold, give yourself permission to go wild.
10. Keep it bright.
You shouldn't need to squint to slice your scallions. Open kitchens require task-specific lighting to keep every inch illuminated. Mount LED strips on the bottom of your cabinets, hang pendant lights above the kitchen island, and point bulbs at every workstation.
11. Give yourself a peek inside.
Open shelving and sheer minimalism aren't the only ways to keep track of what's where. Glass cabinet doors provide a quick overview of your plates and mixing bowls — without all that pesky dust. What's better than easy access when you're eager to whip something up ASAP?
12. Don't be limited by walls.
Small spaces don't mandate uncomfortable kitchens. Tips and tricks from large-scale open kitchens can apply to your tiny apartment too — and the added room will make cooking a breeze.
13. Integrate your home's unique features.
If your kitchen features a brick backdrop, don't bemoan your luck — embrace it. Painting over the brick keeps the space airy while retaining the historical feel of an older building. Layer rugs over hard, cold floors like concrete to warm up your chilly toes when you're cooking weekend brunch.
14. Embrace the drama.
Accentuating your open kitchen design can be a great way to exude a little drama and create a dreamy design moment. The contrast of black countertops and floating black shelves against a white tile wall makes an unforgettably bold statement.
---
Jamie is a freelance writer based in Denver, Colorado, who writes about real estate and interior design.
View Work