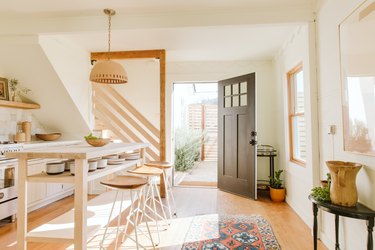 1. Define the kitchen in an open space.
If you have an open floor plan, with your kitchen tucked along one wall of your living/dining space, use a long island to help define the kitchen more clearly. (Pro tip: You can use a waterfall edge island as a faux half wall to provide extra definition.)
This type of layout lends itself well to extra seating, too. Just be sure to consider the height and the overhang of the island to make sure you can fit either counter height or bar height stools beneath it.
2. Create the perfect "kitchen triangle."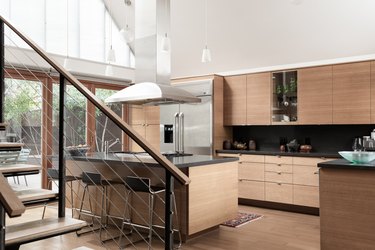 One of the most important things to consider when designing a kitchen is the famous "kitchen triangle," made up of the lines connecting your sink, refrigerator, and stove. Most kitchen designers suggest the distance between each appliance should be between 4 and 9 feet, with the total perimeter of the triangle coming in between 13 and 26 feet.
If all three of your appliances are in a line, that creates an inefficient workspace. You're best off adding an island that houses either your sink or your stove in order to create the perfect triangle.
3. Go for a square rather than a rectangle.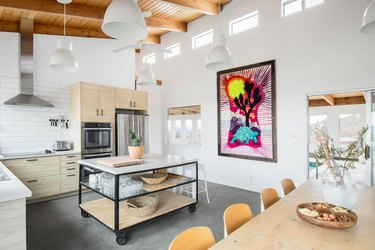 The majority of kitchen counters are rectangles, but if you have a very square kitchen, a square island might make the most sense, as it can fill the room without leaving any awkwardly shaped empty spaces. As with rectangular islands, you can easily add seating and storage here.
4. Maximize space in a smaller footprint.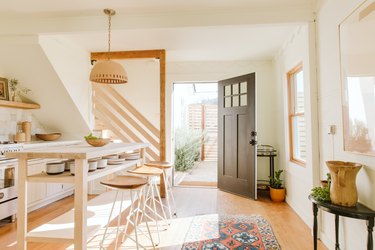 Islands aren't necessarily only for gigantic kitchens. While you do need a certain amount of space to install an island, you can go with a skinnier option — you'll still reap the benefits of more counter and storage space, as well as additional seating. We do suggest keeping your island open so as to keep your kitchen feeling airy and not cramped. Just be sure to style whatever you store beneath it!
5. Get creative with space for appliances.
Islands don't only need to be for sinks, stoves, and stools. Consider adding a wine fridge or a dishwasher into your island. Just make sure you don't block your perfect kitchen triangle! And be aware that such additions will need take a bit of work to install, since you'd need to wire your island for water and electricity.
6. Double it up.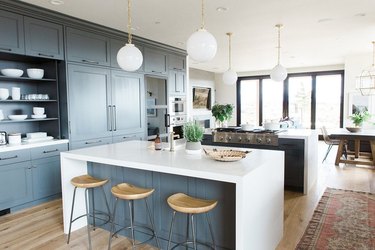 Granted, this idea will only work if you have a pretty massive space, but we love how Studio McGee used two islands in this kitchen. Not only does this layout create the perfect kitchen triangle, but it's also an extremely smart use of space — a long island running parallel to the walls would've made navigating the area awkward. Instead, the kitchen is now perfectly laid out to create a social atmosphere.