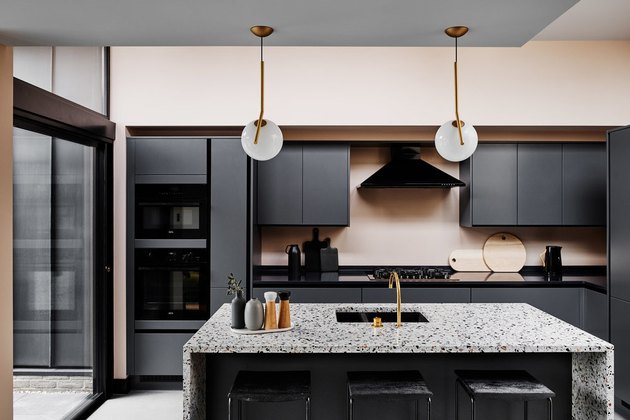 If you're a true gourmet chef, you should do everything in your power to make the kitchen a workhorse. Every square inch, fixture, and feature should be maximized, allowing you to put your mad cooking skills to the test. Even your sink is an important choice. What type of sink makes the most sense and would be the most practical? Will you require a single bowl or double bowl? Should you add one to your kitchen island? All valid questions. But much like anything in your home, the decision to add an extra sink to your space depends on your personal preference and needs.
However, there are some pros and cons to mull over. For instance, installing a kitchen island sink will permit you to wash dishes and rinse veggies simultaneously (a multitasker's dream!). And since most islands feature a sizeable workspace, you'll be able to visit with family and friends while you work. On the other hand, a kitchen island sink can take up valuable real estate; you'll have to keep clutter and dishes neat and tidy since it takes center stage. Additionally, water splashing will be a common occurrence, so you won't be able to leave important items or decor on your island.
Like we said, the choice is completely up to you and your lifestyle. In the meantime, get inspired by these kitchen island sinks and discover where to shop for them, too.
1. Go Down a Size
If you're concerned about saving space on your island, but a sink is calling to you, simply choose a smaller undermount option. In this cook space designed by Shea of Studio McGee, the diminutive, yet useful, integrated sink is an organic part of the marble countertop and doesn't use up tons of valuable square footage.
2. Think Big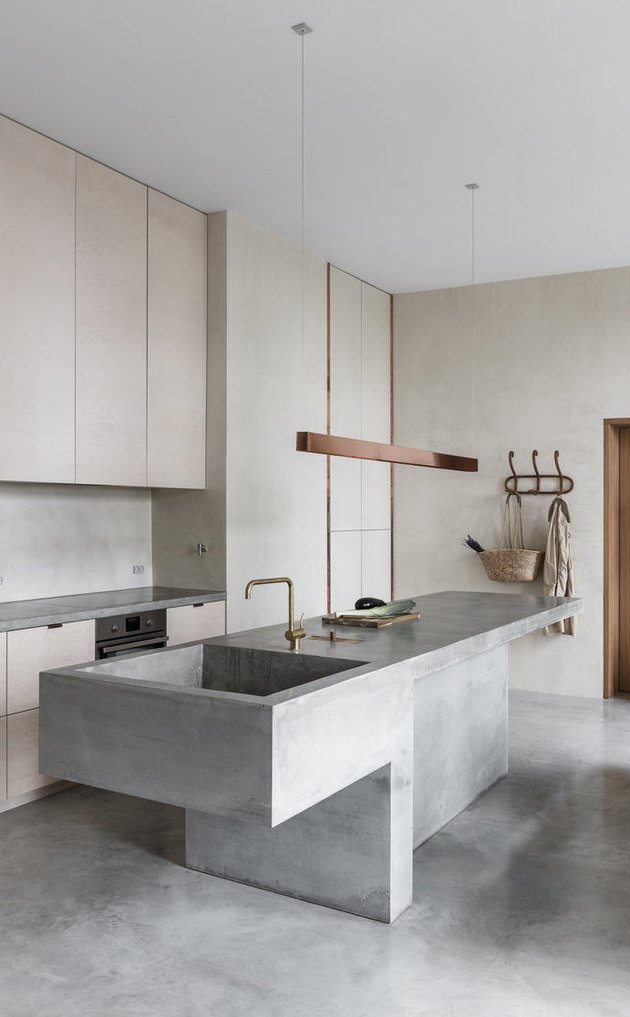 On the other hand, if you have the space, we say go for it ... sometimes bigger is better. Mar and Ask of German architectural firm Mar Plus Ask designed this slick concrete island equipped with a ginormous sink. It will hold mountains of dishes (which will come in handy after your dinner parties).
3. Mix Hardware
When installing a kitchen island sink, don't worry about coordinating with the fixtures in the rest of the space. In fact, mixing finishes, as seen in this kitchen designed by Renee and Christina of Park & Oak Interior Design, can create loads of visual interest.
4. Match the Palette
5. Create Contrast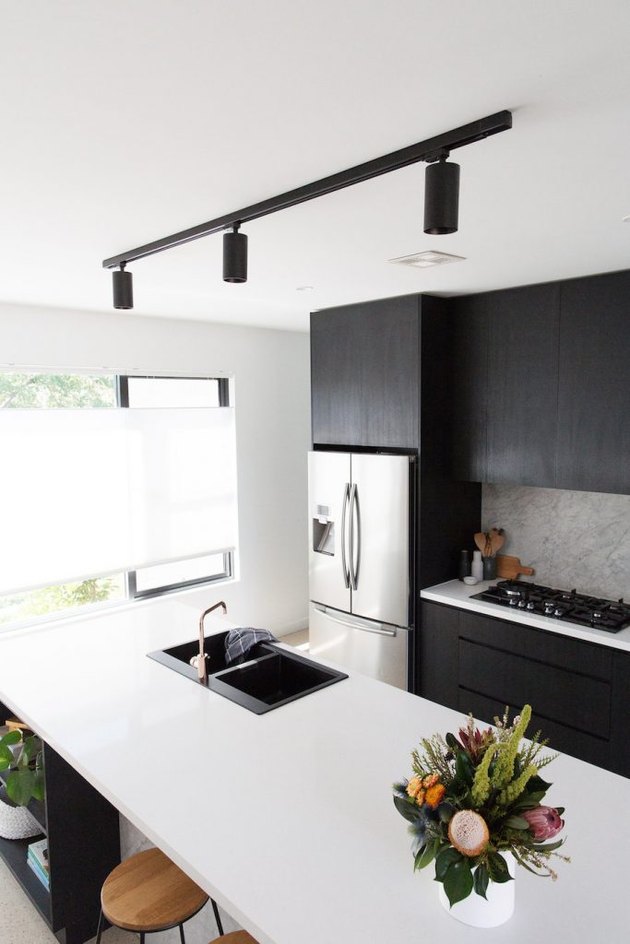 A kitchen island sink is an opportunity to create a bit of juxtaposition in your overall design. In this black and white space belonging to Gina of Style Curator, a jet black sink serves as a contrasting feature within the stark white countertop.
6. Mirror the Design Style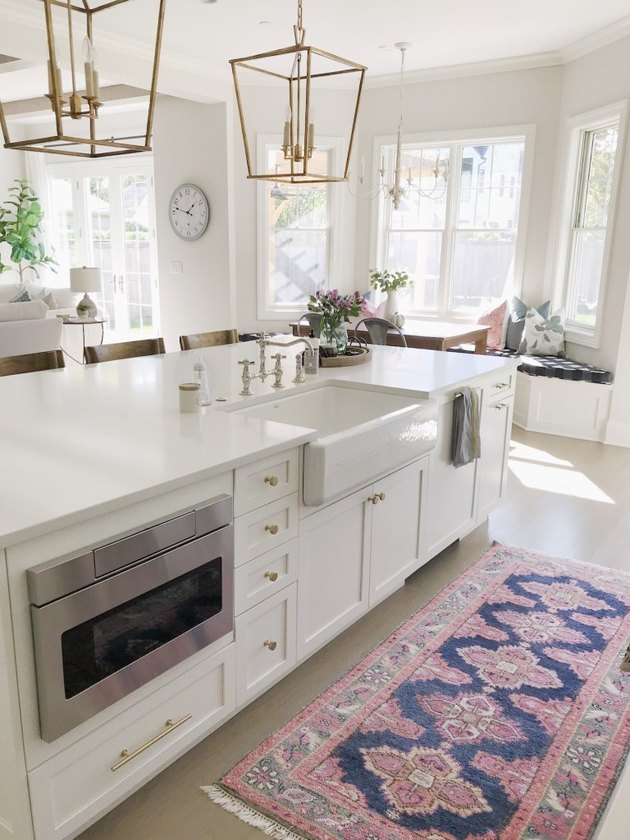 For your kitchen island, choose a sink that blends seamlessly with the overall style of your space. For example, a midcentury setup should have a modern, streamlined sink, while a bohemian kitchen would look fab with a hammered copper or natural stone option. A farmhouse design shines when it's outfitted with an apron front sink, like this space styled by Andrea of Life on Cedar Lane.
7. Make It a Focal Point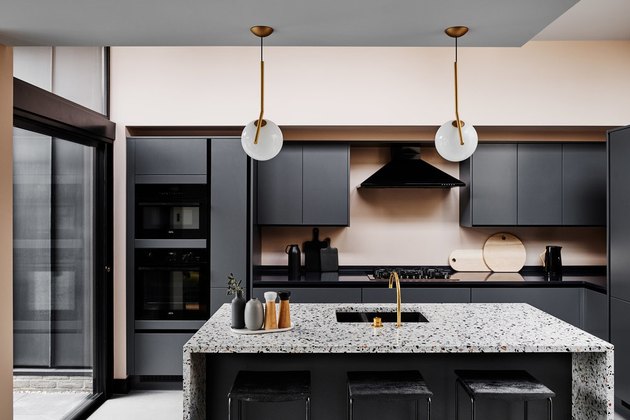 A kitchen island sink is an easy way to anchor your culinary design scheme. With the right elements, like a polished brass faucet, a terrazzo waterfall countertop, and black cabinets the sink suddenly becomes another artful and interesting piece of this beautiful dusty rose puzzle, designed by the team at House of Grey. Swoon!
Where to Shop for Kitchen Island Sinks
Now that you've weighed the pros and cons and envisioned your ideal cook space, here are some stylish retailers to shop for your new kitchen island sink.
Wayfair: If you're looking to save a few bucks (because a kitchen reno can get expensive in a hurry), cruise the sink deals and steals on Wayfair.
Rejuvenation: We believe that these are the best vintage-inspired kitchen sinks around. Your island will look as if it traveled through a time machine.
Signature Hardware: This website has an amazing array of choices for kitchen island sinks that fit several styles. It's not every day that you find a website where you can buy a stainless-steel gold sink for your kitchen.
---
Shelby Deering is a lifestyle writer who contributes to national magazines and websites, including Country Living, Good Housekeeping, Well+Good, and more. When she's not writing, you'll find her shopping flea markets, hiking, and going for walks with her corgi.
View Work