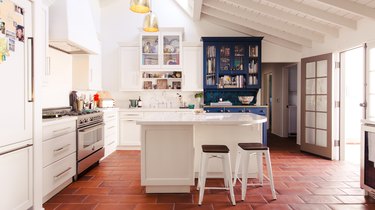 The shape of furniture in any space impacts the way we navigate it, and it is in the most trafficked rooms of a home where such choices will greatly impact your daily life. For the majority of us, the kitchen would be at the top of the list, and these days, a must-have item is an island — that piece of freestanding real estate that's like an oasis from the sometimes chaotic areas in the rest of the kitchen. Depending on the island's size and design, it can fulfill all your dreams. It provides a dedicated prep space and sink, additional storage, and another dining slash social area. Yeah, sign us all up, right? But which kitchen island shape is right for your space to make it a dream destination?
Most designers and chefs alike would recommend an island that supports versus disrupts the flow of your kitchen. Consider the pros and cons of the most popular island shapes — and of course the size of your kitchen and plausible layouts — before you commit. (Thankfully, many islands no
w come on casters to offer you more flexibility!)
Rectangular Kitchen Island
Pros of a Rectangular Island
Unless you live in a dome, it's likely that your kitchen runs along one or more walls, so a rectangular island is generally a no-brainer, placed parallel to the counter(s), sink, and major appliances. And since it's the most popular choice, there are numerous rectangular island options (of all sizes and styles) ready to be shipped to your home — often with built-in storage or shelves, and sometimes with space for seating.
With whatever size you choose, make sure to give yourself ample space around the island to move about (and all your appliances are able to open/close); this means you need to consider the size of the people in your household (or a couple at once) and ensure it makes sense for you. Also think of the kitchen triangle.
Cons of a Rectangular Island
For any household with small and active children, sharp corners are not ideal (parents, insert your kid's owie stories here), especially if the island has a protruding counter or corner. Rectangular islands can also take up a lot of space, so if you have a smaller kitchen, you may not find an existing rectangular island that makes sense for you.
Square Kitchen Island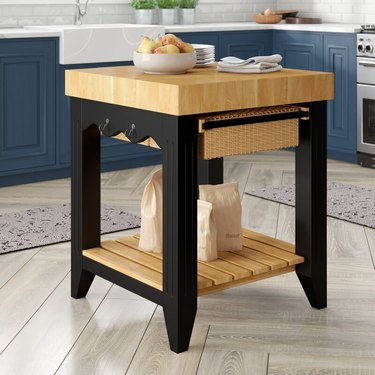 Whether you have a small or large square-shaped kitchen, an island to match can provide endless appeal and allows extra workspace and storage, while still providing a comfortable amount of space to move around. Some custom designs have played with the levels, with one size of the island raised to serve as a bar seating area and the other at sink height.
Due to the shape, you're not likely to have as much space to work on as a rectangular piece, and if you go too large, you or other members of your household may not be able to reach every area of the island. Just as with any sharp-angled piece of furniture, this may not be ideal for homes with kids, and because square islands are not as popular, you may have limited styles and sizes to choose from, or will need to spend more to have one custom-made to fit your specifications.
L-Shape Kitchen Island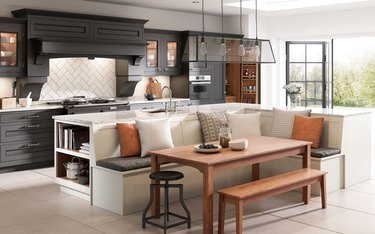 Pros of an L-Shape Kitchen Island
Talk about a dream kitchen island! This custom L-shaped kitchen island from Kedleston Interiors demonstrates the many storage and seating possibilities if you have a sizable kitchen. There's endless counter space and, in this design, the perfect built-in sink as well. For large gatherings especially, the L shape allows for many people to get involved in meal prep and connect. And even in smaller kitchens, the extra strip often serves as a separate eating space adjacent to a prep area.
Cons of an L-Shape Kitchen Island
Of course, to realize such a shape in your kitchen requires a decent amount of space and immediately limits the way you navigate your kitchen. For people new to living with this island shape, it can be a frustrating transition. Unless you're certain you won't miss a chunk of walkway in your kitchen, you may want to avoid it. (This is doubly true of U-shape kitchen islands as well.)
Oval Kitchen Island
Pros of an Oval Kitchen Island
This kitchen and oval island design by Sella for a London co-working space is giving off major Pan-Pacific Auditorium vibes and provides the benefits of a sizable rectangular island — including additional seating and counter space — without the potential bruising from sharp corners or protruding counters. It gets extra style points for its super sleek look.
Cons of an Oval Kitchen Island
Round Kitchen Island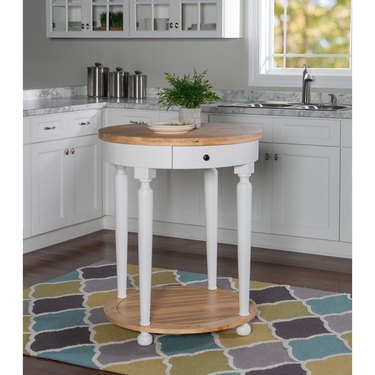 Modest-sized kitchen dwellers and those who never thought they had space for a kitchen island, this size island is for you! Also if you're someone who favors circular furniture in square rooms, a circular island can bring an elegance and softness to your square or L-shape kitchen to break up all the straight lines, regardless of your kitchen's size. Beyond being visibly appealing (to some of us), a round island also makes items more accessible from all sides, and the same goes for people if there's seating. It's an ideal shape for socializing, as everyone is within reach/view! And for parents and kids, this shape means less tears.
Existing styles and sizes of circular islands are limited. And while there are amazing custom circular islands you can browse online, its storage and counter space can only be so large before things become out of reach for the average body size.
Hybrid/Custom Island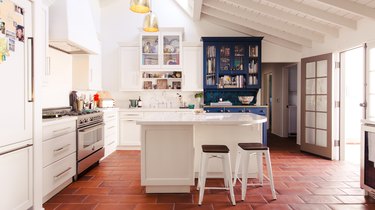 If you have the resources to have an island made in any size and shape you want, how can you go wrong? As long as you're being creative and practical, that's a pro. It may be a great conversation piece to have a counter like no one else's, but only if it works for your daily life. Some designs to consider are rectangular islands with rounded corners or just one cut off corner facing an open area, which is a nice surprise element. This Hollywood home's kitchen island is rectangular on one end and oval on the other end, making it inviting for seating. Other options are variations on that, such as having one long side semi-ovular or rounded off and rectangular on the other, or even just a perfect semi-circle island.
Where there's freedom to dream, sometimes it's hard to, right? So maybe read this piece again; your answer might already be above. It'll likely save you money and time.
Closing tip! When in doubt, give your island shape a trial run by constructing a makeshift island in the size you have in mind exactly where you plan to have one. Use existing furniture or get creative with cardboard to see if it's right for you.