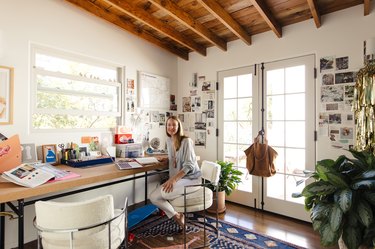 It's a bit baffling to think that the Hollywood sign is nearing its 100th birthday. For the better part of a century, the block lettering has reigned over Los Angeles as an iconic mark of industry. But its origins actually have very little to do with the glamour it still stands for — the sign was erected in 1923 as an advertisement for local real estate. "Hollywoodland" (as the sign read back then), was marketing for a new development north of Franklin Boulevard, and ultimately the neighborhood became an enclave for Hollywood's greatest stars and artists.
For Perri Perry, a prop stylist and stager, the mythology still lingers in her home, a 1920s-era pool house, nestled right under the famed sign. The cozy cottage was originally built by the director Frank Tuttle (whose films featured the likes of Clara Bow, Bing Crosby, and Veronica Lake) as a dance studio for his wife, a Russian ballerina.
Now, the space channels a California-cool aesthetic that brings together bold colors and eclectic finds.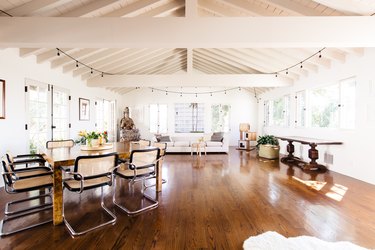 Perry, who has lived in the house since 2014 with her son and two cats, can appreciate the property's history; she grew up in the house next door, where her father now lives.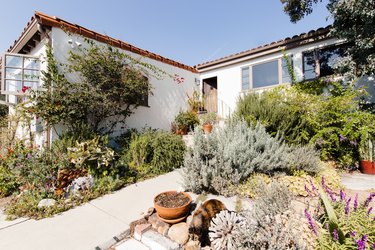 When Perry acquired the house, it required a total renovation: "The entire home was gutted. The only original piece that stayed was the property's footprint," she explains.
The previous owners did, however, leave behind one relic: a ballet barre original to the home when it was a ballet studio.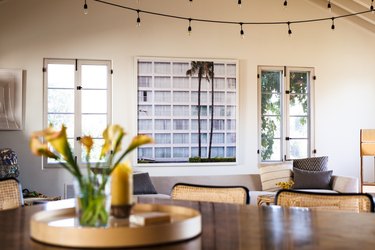 The single-floor construction was a plus for Perry: "I loved that it was a one-level home...there is something so calming about a one story home in my opinion."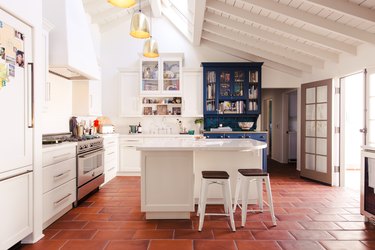 In renovating, Perry admits she had some unusual non-negotiables, one of them being no square tiles. Hence the rectangular terra cotta tiling in the kitchen.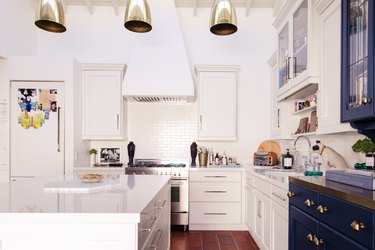 As someone who stages properties for a living, Perry is unafraid of constantly changing up her decor. "The decorating seriously took years, and it is always evolving every day, every week," she says.
Since Perry works with furniture, she frequently sells pieces she's refurbished or designed. But she doesn't mind cleaning out personal items that can go "on to another home for someone else to enjoy and appreciate."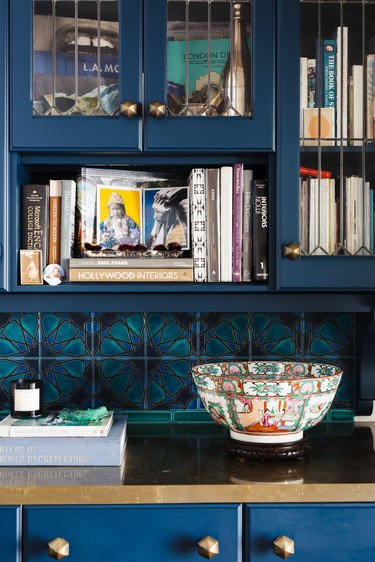 Bold colors mesh well with Perry's eclectic decor finds.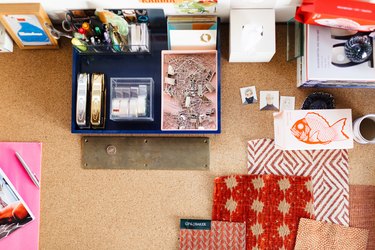 Perry shops mostly at vintage and contemporary shops in Highland Park and on Sunset Boulevard, but also stalks Craigslist and eBay for finds.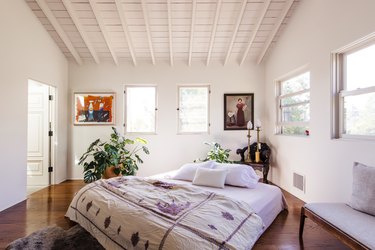 Right now, Perry's favorite room in the house is the master bath.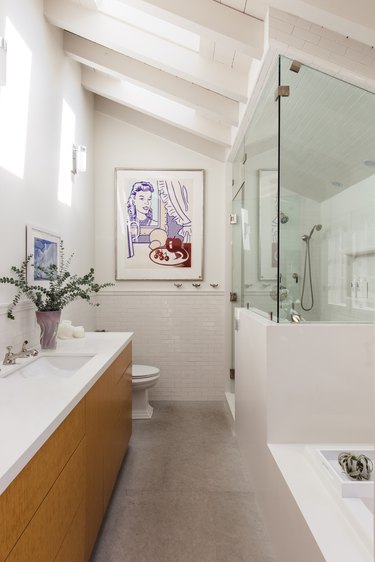 "To be able to have a steam shower and scrub away the day or soak in a soothing bath with a beeswax candle glowing in the evening...yeah, nothing better than a spa of one's own."