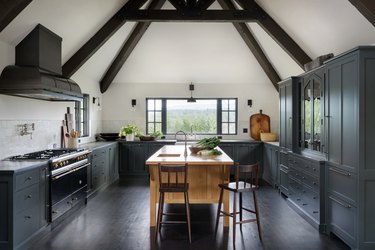 Ahhh ... the kitchen island. It's hard to imagine there was a time when it didn't factor into a functional kitchen layout, and serve as command central for home entertaining. In fact, kitchens began a slow transformation from secluded rooms relegated to food prep to the heart of in-home gatherings starting in the 1930s with the concept of the open floor plan, credited to Frank Lloyd Wright. In the 1980s, food prep, and cooking in general, was newly considered a form of entertainment unto itself and voila: The kitchen emerged as THE spot to hang out.
Today, the island has become ground zero for get-togethers and is one of the most frequently requested features in culinary remodels and redesigns. Islands and farmhouse style, with its emphasis on relaxed and welcoming interiors that beckon you to linger, go together like peas and carrots. If you're looking to create the ultimate country cook space, look no further than these farmhouse kitchen island ideas.
1. Maximize storage.
Take cues from master kitchen designer Shea of Studio McGee and instead of using your island solely as a decorative hangout, outfit it with a bank of drawers for all the storage a home entertainer could dream up. Telltale farmhouse features like lantern pendant lights, a neutral color palette, and wood accessories (not to mention a pantry with a ladder on rails) epitomize the easy, breezy farmhouse style we all love.
2. Jack of all trades.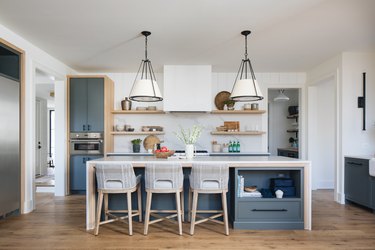 3. Wood on wood ... on wood.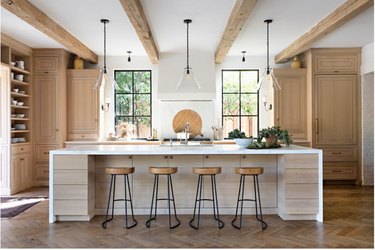 Make no mistake, if you're looking to create the ultimate farmhouse kitchen island idea, look no further than this approach by Molly Britt. The rustic yet refined (no, they aren't mutually exclusive) beauty embraces plenty of wood details — herringbone floors, reclaimed wood beams, and unpainted cabinets — that work together for the ultimate down-to-earth space. A trio of glass pendants illuminate without distracting.
4. Repurpose a table.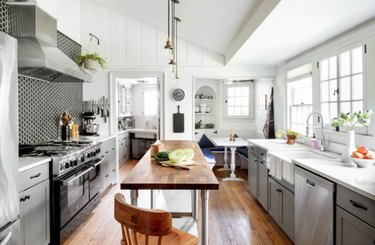 If your home doesn't have an open concept kitchen, or you simply don't have the budget for a custom-built island, it's time to get creative. An industrial table with a butcher block top gets a new lease on life when it's used as a narrow island in this galley kitchen. Quintessential farmhouse details incorporated throughout — including shiplap walls, an abundance of natural light, and a mix of metal finishes — give this space a cozy and lived-in vibe.
5. Go boho.
Find inspiration from this laid-back Cali-style and embrace a boho approach to farmhouse kitchen island ideas with an unsealed wood worktable that doubles as a casual spot to nibble. The folks at the Bodega House (check out the full tour here) infuse an eclectic vibe and plenty of warmth into this kitchenette with a perfectly appointed mix of zellige tile, terra cotta accents, gold hardware, and warm white finishes.
6. Anchor an all-white kitchen.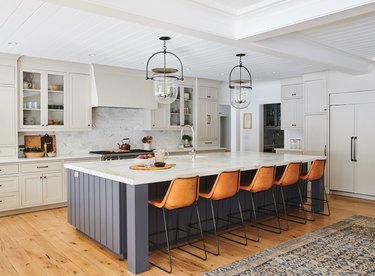 Formal dining rooms are factoring less into new home layouts, and expansive islands like this one designed by Amber Lewis are a natural stand-in for casual meals. A dark coat of paint is an eye-catching choice that grounds the creamy-colored space, while leather stools add warmth and a rustic note. Of course, no farmhouse kitchen island idea would be complete without a set of pendant lights like these in oil-rubbed bronze that add timeless appeal.
7. Opt for traditional details.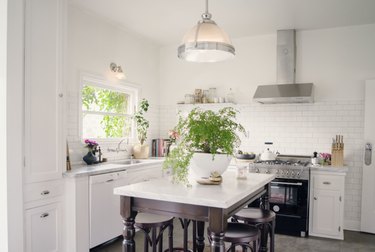 Follow the lead of this farmhouse kitchen island idea and incorporate sophisticated details like a walnut table with hand-turned legs, Carrara marble countertops, and limestone floors for a classic and enduring space. A glass dome pendant light, subway tile, and nickel hardware add an industrial vibe that keeps the look from reading overly traditional. For a full tour of the charming abode, click here.
8. Let your island be the focal point.