Keeping an organized kitchen is something of a pipe dream: The shelves start out nice and neat, but over time they descend into disarray and before you know it, you're accidentally eating from a jar of almond butter that expired when Blue Ivy was but a twinkle in Beyoncé's eye. Even if your shelves are cluttered with products that are half empty and/or long-expired, an organized pantry with a logical layout is closer than you think. Just follow our steps to take back control of your pantry (or kitchen cabinets) and get it back into tip-top shape.
1. Start with a clean slate.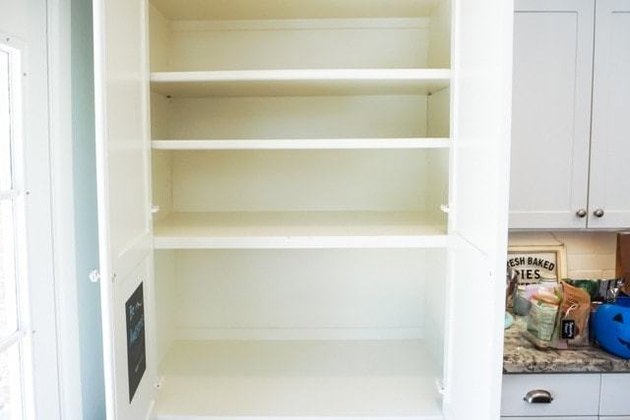 Start by completely emptying your pantry and throwing away expired items (we've already learned that lesson). Then, wipe down the surfaces. If you're wary of using bottled (read: chemical-heavy) solutions to clean places so close to food items, creating a vinegar spray is a cheap, easy, and natural option. Once your pantry is clean and empty, you'll be able to start strategizing.
2. Prioritize prime shelf space.
Arrange your most-used items on shelves that are easiest to access. An organized pantry can quickly become disorganized if you have to rifle through everything in order to find what you need. Keep the items you use every day at eye level, where they can't be missed. Even if those shelves get a little messy from time to time, the rest of your pantry will remain nice and neat.
3. Divide shelf space by category.
Once you've cleared and cleaned your shelves, divvy up the space. After you arrange the things that you use every day front-and-center, assign the rest of the shelves specific categories like "baking supplies," "snacks," and "canned foods." With everything in its proper place, finding that bag of microwavable kettle corn will be a breeze.
4. Embrace baskets and bins.
For pantries (as well as cabinets), organizing with baskets and bins is a game-changer. Not only are they available in a wide variety of stylish options and convenient sizes, but they're also incredibly handy for grouping things together. Don't forget to include a designated "miscellaneous" basket or bin to serve as a catch-all container for the items you have trouble finding a home for.
5. Ditch the packaging, and use pretty jars or containers.
Ditch your food's original packaging and use your own containers instead. Not only will the uniformity look gorgeous, but sealed canisters will do a better job of keeping your food fresh. Additionally, if you opt for clear containers, you can easily keep stock of everything so you know when you're running low. Now you won't end up with three boxes of confectioner's sugar on your shelf.
6. Go on a labeling spree.
As you transfer your flour, sugar, and cereal into their own containers, label them immediately. If you don't own a labeling machine, you can use dry-erase markers like these from Sur La Table to write directly on the jars. Just make sure you pick containers with a writable surface like glass, plastic, or glazed ceramic, so you can wash the marker off whenever you wish.
7. Group like-items on lazy Susans.
Don't let the moniker fool you — when it comes to organization, lazy Susans do some serious work. Like baskets and bins, these spinning beauties are great storage solutions for grouping like-products together in an organized fashion. They're most commonly used as spice racks in kitchens, but the possibilities are endless: condiments, tea, canned goods, bottles of vinegar, coffee, or modify your own DIY lazy Susan that's tailored to your needs.
8. Install pull-out shelves in cabinets.
No one likes having to reach all the way to the back of a cabinet or shelf, where you can barely see, only to realize that you've grabbed the wrong thing. Whether it's a cabinet or a pantry, adding pull-out shelves like Lauren Conrad did, just makes life so much easier. You can find similar options at Home Depot or The Container Store that you can install in a snap.
9. Carve out space for cookbooks and wine (of course!)
If you fancy yourself a foodie, we'd imagine that some of your counter space is dedicated to your stash of Gwyneth Paltrow cookbooks and prized bottles of Merlot. But these can take up quite a bit of space (especially in a small kitchen), so think about how your pantry could accommodate these items. Do you have room for a cookbook shelf? Or an empty square of cabinetry that could be fashioned into a wine rack?
10. Incorporate your pots and pans.
If you cook regularly, it can be a real hassle having to dig through your cabinets looking for your favorite skillet. Instead, try dedicating one wall in your pantry to hanging your pots and pans. This way, you'll always have quick and easy access anytime you want to turn up the heat in the kitchen.
---
Karyn is a passionate wordsmith and creative thinker, currently pursuing a career writing and editing in the media and entertainment industry.
View Work