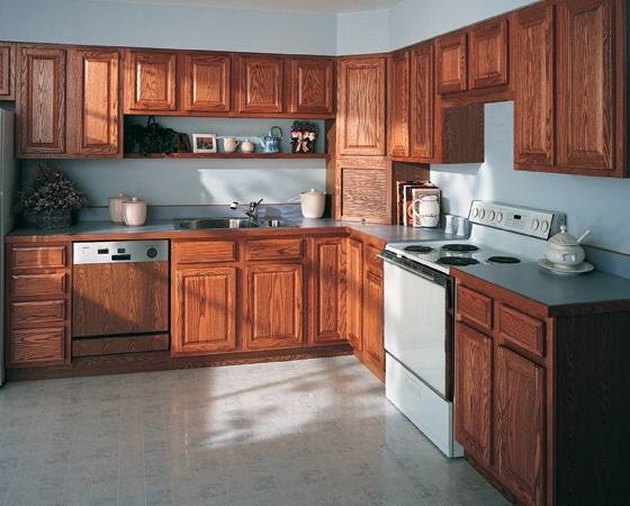 Kitchen cabinets often get spattered with grease and other food residue. Combine that with dust and kitchen cabinets can become to look dingy pretty quickly. Regular cleaning of these cabinets is essential to keeping them nice. Vinegar is one of the best cleaning materials in the kitchen. It's slightly acidic to help with the grime, but with no harsh chemicals to damage anything. Cleaning kitchen cabinets with vinegar is a very easy process that will leave them looking fresh and clean in a matter of moments.
Step 1
Combine equal parts vinegar and water in a spray bottle.
Step 2
Spray the cabinets and allow the vinegar to sit for up to 5 minutes.
Step 3
Spray the cabinets a second time.
Step 4
Wipe the cabinets with a soft clean cloth to remove excess dirt and grime.
Step 5
Dry the cabinets with a soft clean dry cloth.
Tip
Mix a stronger vinegar solution if the grease buildup on the cabinets is thick by altering the ratio to ¾ vinegar and ¼ water.
---
Melynda Sorrels spent 10 years in the military working in different capacities of the medical field, including dental assisting, health services administration, decontamination and urgent medical care. Awarded the National Guardsman's Medal for Lifesaving efforts in 2002, Sorrels was also a nominee for a Red Cross Award and a certified EMT-B for four years.