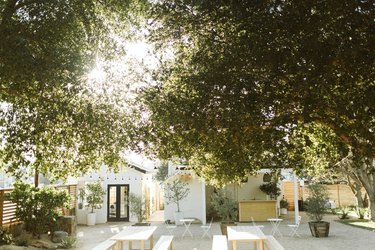 Who: Lauren O'Keefe, of Bodega House
Where: Los Alamos, California
Style: Boutique farmhouse modern
When the group of friends behind what is now Bodega Los Alamos first saw the property, a shaded corner lot on Bell Street, there wasn't anything remotely modern about it. There was a Craftsman-style stone and fence perimeter, a large open warehouse, a greenhouse in disrepair — even an old outhouse, dated back to the 1920s, alongside the small street-front shop and a two-story residence nestled behind it. The property had been vacant; the grass, overgrown. But among the mature California live oaks and simple, farmhouse architecture, they saw what could be.
Some modern fencing, crisp black and white paint, and deft vintage-modern design choices can do wonders. Bodega Los Alamos opened first in the summer of 2018, serving natural wines and unique beers in the garden, curating select home goods in the storefront, and hosting bocce and the occasional wine tasting or pop-up dinner to guests that venture to what they call "Little L.A." And now, Bodega welcomes overnight guests in their new Airbnb, aptly named Bodega House.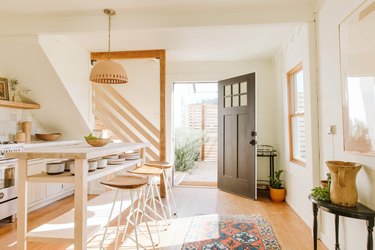 The home, built in the '20s and modified slightly in the '50s, was very much in original condition. There were gorgeously worn hardwood floors and timeless molding, but it was also in need of a lot of love, according to one of the designers.
Before work began on the 882-square-foot guesthouse, they took the first-floor half bathroom and reconfigured it to be used by guests of the wine and beer garden, leaving a smaller footprint downstairs and one full bath upstairs and lots of design issues to be solved.
"We had to restructure the downstairs in a really different way," says Lauren O'Keefe, the on-site managing partner, who, along with Alana Stipech, put together the look and feel of Bodega House. (Their husbands and another local couple, George and April Garcia, join them in all things Bodega.) They focused most of their efforts on the kitchen.
There, they had pieces they wanted to prioritize — a Bertazzoni oven range, the large apron farmhouse sink, and a Smeg refrigerator. "All in that tiny little kitchen — it was a puzzle," she says. "But we knew it would be worth it." Local craftsmen made the open wood island and cabinets.
At nearly 100 years old, they were compelled to keep the wood flooring. "We didn't want to get rid of it or lose the appeal of it, so we just updated it and brought it through the whole house," O'Keefe explains. They even rebuilt the stairs to match.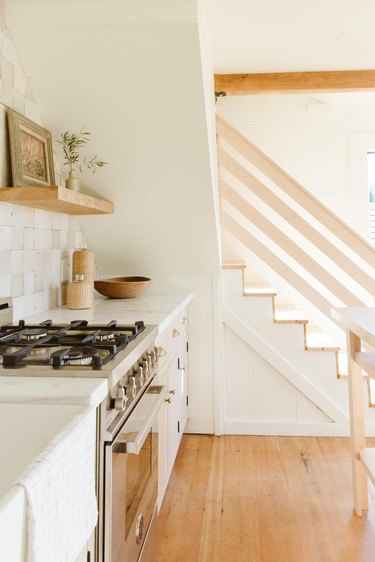 Upstairs, they added a vintage door between the two bedrooms — one leading into the other, each appointed with O'Keefe and Stipech's signature mix of vintage charm, natural materials, and modern, minimal design.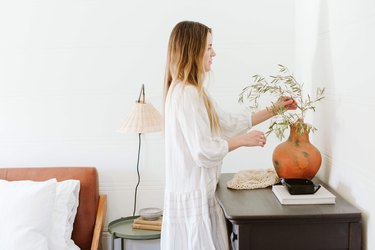 "It's definitely quaint and cozy up there," says O'Keefe. "But it's so beautiful in the late afternoon, with the big windows and the way the light comes through. It's my favorite thing." There, you have a bird's-eye view of the property — which can feel both at arm's reach and, with the private entrance and patio, a world away.
"We like to think that we have a two-bedroom boutique hotel, in a sense," O'Keefe says. They welcome each guest personally — the Smeg, filled with eggs and a cheese and charcuterie plate plus a bottle of something interesting from the storefront. "There's a lot of heart in Bodega," she adds — and that's really what they're trying to share.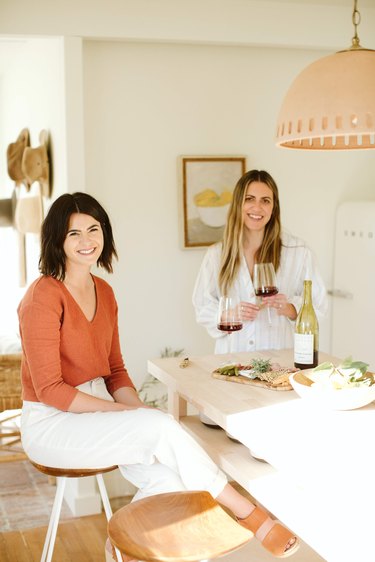 O'Keefe, left, and Stipech worked hand-in-hand to develop the look and feel of Bodega House.
"We got scrappy and redid the entryway mudroom, which was linoleum, with these thin bricks, from Home Depot," O'Keefe says.
The vintage hats on the wall are added to as O'Keefe and Stipech find them. "The goal is to have a few there, so while they're staying at the house, guests can use them around town," she says. "It's part of that Western vibe of Los Alamos."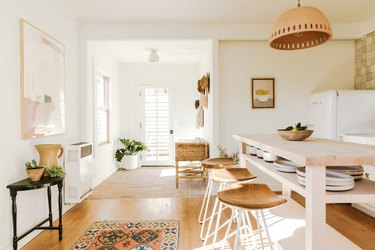 Reconfiguring the downstairs was a puzzle, especially the kitchen. "It truly is the heartbeat of the house," O'Keefe says.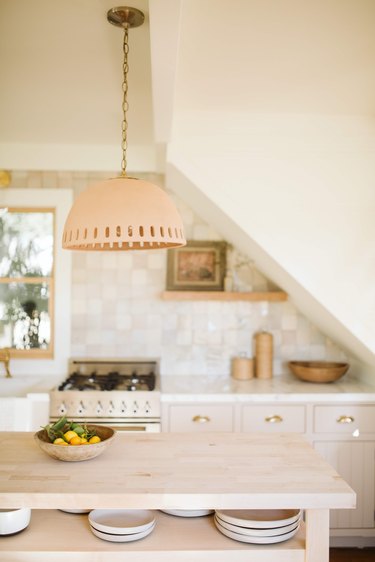 The terra cotta light fixture is from The Blue Door in Santa Barbara and the backsplash, one of O'Keefe's favorite elements in the home, is Cle Tile. The brass faucet (not pictured) is from deVOL, based in the U.K.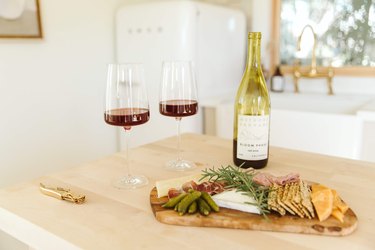 Guests are welcomed, appropriately, with wine and cheese. This selection, from Methode Suavage, is one of O'Keefe's favorite finds. (She also curates the wine and beer on-site.) It's from a younger winemaker near Richmond, California. "All the wines he does are natural in style, organic or biodynamic, minimally processed, and no added anything to alter the wine at all," she explains. "It turns into this really bright and light, chillable red."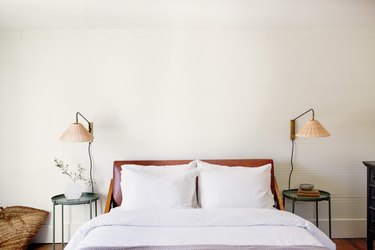 Upstairs, the bedrooms are simply appointed. The lighting here is from Serena & Lily.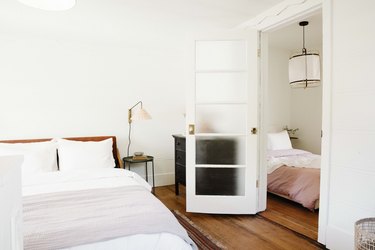 You enter the second bedroom from the first.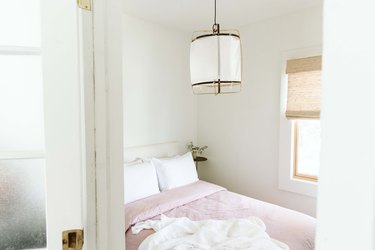 The fabric light fixture in the second bedroom is from Ay illuminate.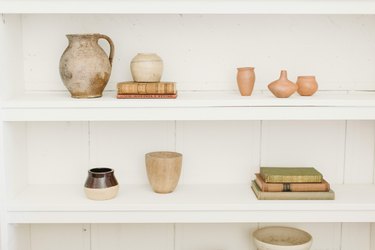 Many of the items throughout the home are shoppable.
The full bath still has the original sink, just with new fixtures, and was painted a dramatic, dark green to contrast with the rest of the guesthouse.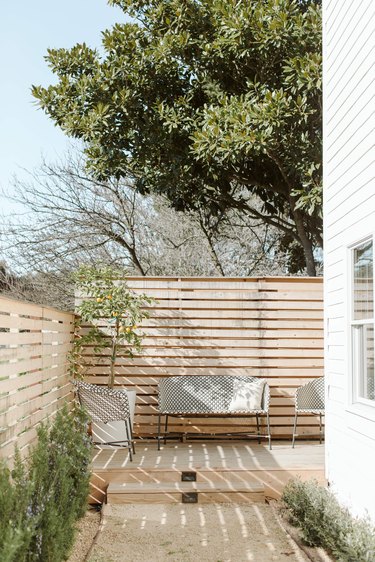 Guests have access to a private patio, away from the wine and beer garden, as well as a private entrance. But, says O'Keefe, they can also access the property during open hours to use it like an extended backyard. "Such a dream to be able to have people stay here," she says.