Want to feel like you're living the simple life? Making the right decor choices alone can bring that vibe to your house — no matter whether you're living in the suburbs or the city. A farmhouse kitchen recalls countryside calm: Close your eyes and you might imagine chickens clucking outside your window.
Farmhouse kitchens come in a variety of shapes and styles. Some are more rustic, with an Americana vibe; others recall the rolling vineyards of Burgundy. But typically, they share a few elements — starting with wood. After all, what's more rustic than a hunk of gorgeous wood? You'll also see shiplap, statement islands, neutral color palettes, and metal touches. To drive the farmhouse vibe home, fill the space with antique finds, like copper roosters and tin coffee holders. Here are seven defining features of a farmhouse kitchen.
1. Industrial-Inspired Details
This neutral kitchen from Blesser House exemplifies everything farmhouse — from wood-topped bar chairs to the rustic, multihued wall accenting the peninsula. But what stands out to us most are the cage-like metal pendant lights, which feel like they were plucked straight from the barn. Indeed, you'll usually see some type of industrial-like metal in a tarnished finish in a farmhouse kitchen.
2. Shiplap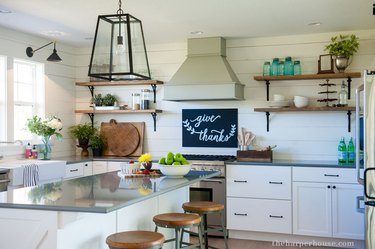 Thank god for Joanna Gaines: Shiplap just feels right in a farmhouse kitchen. In this space from The Harper House, these white-painted panels provide the perfect backdrop to open wood shelving.
3. Subway Tile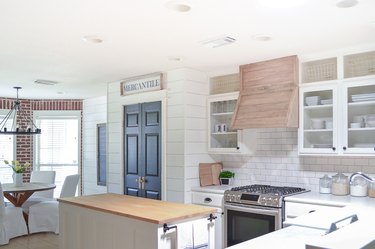 4. Wood Surfaces
Farmhouse kitchens tend to balance industrial style with natural elements and a common natural touch is a wood countertop. This showstopper from Park and Oak Interior Design also brings in rattan chairs to increase the feeling of warmth.
5. White Cabinetry (Often With Silver Hardware)
This simple kitchen from Cherished Bliss showcases a farmhouse kitchen standard: clean, white cabinets. While we love brass hardware, more often you'll see silver-hued hardware or sometimes dark, tarnished metal accompanying farmhouse cabinets. To mix it up a bit more, you could also incorporate some cabinets with glass panes.
6. Open Shelving
While white cabinets tend to dominate the farmhouse look, it's not unusual to see kitchens that mix up their storage options, offering a few open shelves (often made of wood, to bring in more of that country feeling) that can display rustic dinnerware or accents. This beautiful space from Birdie Farm proves you only need a little corner to make open shelving look superb.
7. Farmhouse Sink
And finally, no farmhouse kitchen is complete without a farmhouse sink! This example from Liz Marie is so classic: a roomy basin built into the counter, with a U-shaped faucet to allow for maximum room.
---
Jamie is a freelance writer based in Denver, Colorado, who writes about real estate and interior design.
View Work