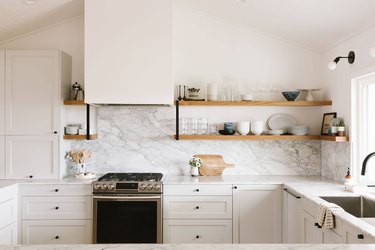 The classic '80s kitchen was all kinds of beige — and, at the time, for good reason. Beige is a flexible neutral, easy on the eyes, and complementary to the typical honey oak and warm-colored tile treatments of that era.
The problem wasn't so much the beige — it was the beige on beige on beige. Luckily, we've learned a few things in the last 30 years. And one of those things is that greige is where it's at.
Below are eight ways to go greige gracefully, in the kitchen.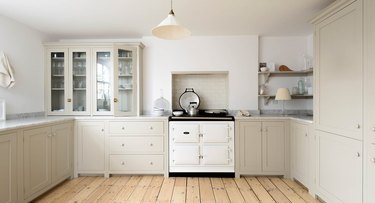 The greige Shaker cabinets seen here warm up this modern-country kitchen, and help the white AGA stove really pop. (Never mind that DeVol calls the color "mushroom" here — there's a lot of debate on the differences between warm grays, mushroom, and greige).
​
​
​2. Pair it with brass hardware and fixtures.
​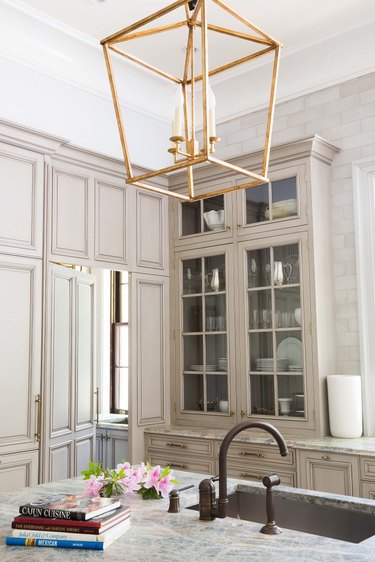 Although greige feels fresh and very of-the-moment, it's not just for a clean-lined modern or transitional kitchens — as you can see here, in this 1920s-era Italian Baroque home in Atlanta.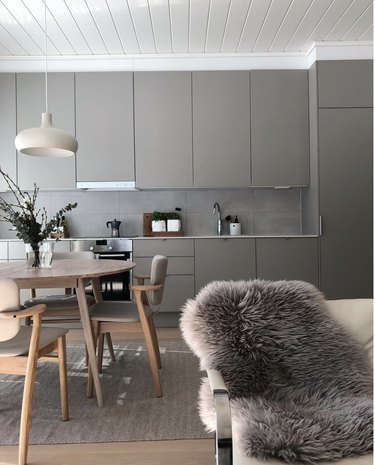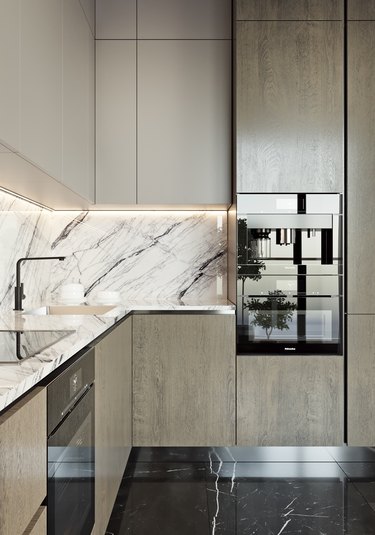 Greige adds a certain warm masculinity to ultra-modern cabinets that are all about clean lines. Here, greige wood grain cabinet fronts coordinate and add texture.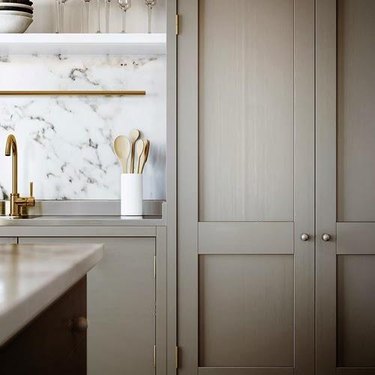 The general wisdom is that marble calls for cool neutrals, but the right shade of greige can be a just-right counterpoint.
​6. Go towards the dark side of greige for a dramatic look.​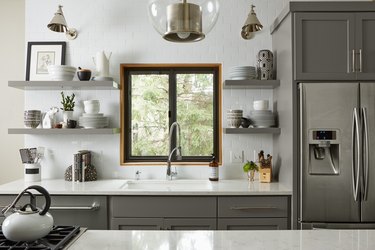 Greige isn't always a light neutral — not if you go with Chelsea Gray, by Benjamin Moore. It's a popular darker greige for kitchen cabinets that adds warmth while steering clear of appearing too brown.
​7. Use it in a kitchen that gets lots of natural light.​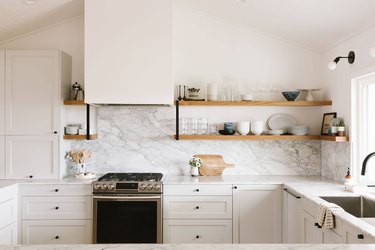 Interior designer Samantha Gluck painted her own kitchen cabinets in Benjamin Moore's Gray Owl. Paired with light, natural wood shelves and marble, her kitchen has a warm, welcoming feeling.