Choosing a neutral shade of paint seems like an easy task until you hit the paint aisle and actually see just how many there are. With each color and its undertones slightly different from the next, this can quickly turn into a daunting assignment.
But what if we told you there is a neutral out there that will easily complement both warm and cool color palettes while still adding dimension to the room? Meet pewter. Like silver and gold, pewter is both a metal and a color. Like the material it's named after, the color falls between light gray and beige. It's not as close to the beige end of the spectrum as greige and not as gray as silver. Right in the middle of all of that is pewter.
Whether you decide to incorporate it through paint or accessories like rugs, pillows, and curtains, this creamy shade can add depth while keeping your color palette neutral and bright. You simply can't go wrong. Even if you haven't heard of pewter, it's a color that you have definitely seen before and will continue to see in interior design. It's a classic that will never go out of style.
Here are 10 color combination that pair perfectly with pewter.
10 Pewter Color Combinations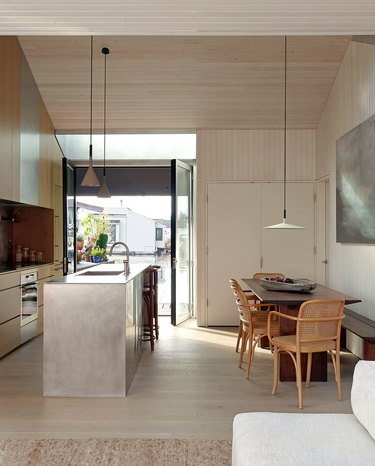 The warm neutral tones in this kitchen by the team from Studio Diaa evoke calming feelings, making for a welcoming space that you'll enjoy waking up to every day. The varied tones in the pewter-colored island add dimension to the monochromatic beige palette and act as a focal point for the kitchen.
2. Pewter and Emerald Green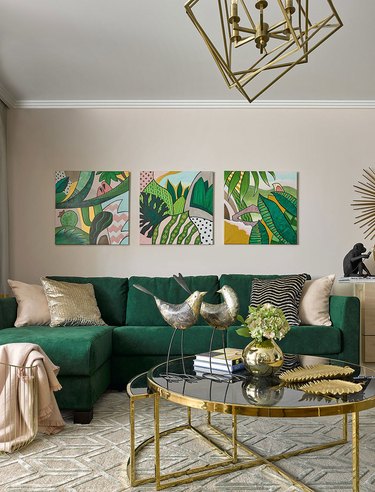 Neutral walls are the perfect backdrop for bright jewel tones like the emerald green in this living room from designer Elena Markina. Choosing a warm pewter paint instead of a bright white adds contrast to the room without making it feeling too stark. Shiny gold accessories give the living room a chic touch.
Blush pink bedding and pewter patterned wallpaper give this bedroom by Tracy Lynn Studio a calm, soothing feeling. The natural light and white ceiling add brightness, while the blush provides a subtle contrast to the neutral color palette. This is one room that will have you counting down the minutes until bedtime.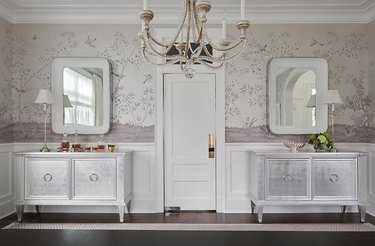 Opting for a pewter wall color will warm up any room in the house without making it feel closed in. Using subtly contrasting colors like pewter and white will help draw attention to the architectural details of your home, like intricate trim or a beamed ceiling. A pop of cool navy blue, like the door in this entryway by Sarah from Life on Virginia Street, adds dimension and personality.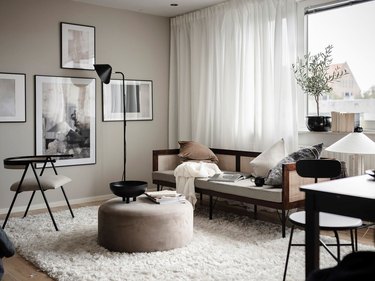 There's nothing more classic than this pewter and black color combo from designer Kvarteret Makleri. The black picture frames and lamp help ground the room. Layer in other colors through accents like rugs and throw pillows, or keep it simple and classic.
7. Pewter and Citron Yellow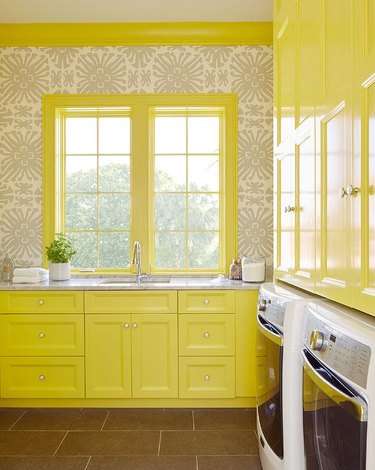 If bold color is more your style, look no further than this laundry room by Andrew Howard Interior Design. Bright yellow cabinets and matching window trim instantly turn a space for chores into the most cheerful room in the house. The pewter patterned wallpaper tones down the bright yellow and brings some much needed warmth to the space.
8. Pewter and Bright White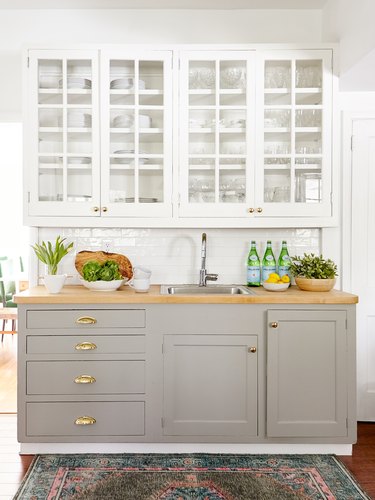 You can never go wrong with a coat of fresh white paint, especially when you pair it with a dark pewter shade like interior designer Stephanie Kraus did in this kitchen. Leaving the upper cabinets white opens up the space and keeps things bright and airy. You can always go back and paint the top cabinets too if you change your mind, but the two-toned approach makes this kitchen look chic and sophisticated.
9. Pewter and Eucalyptus Green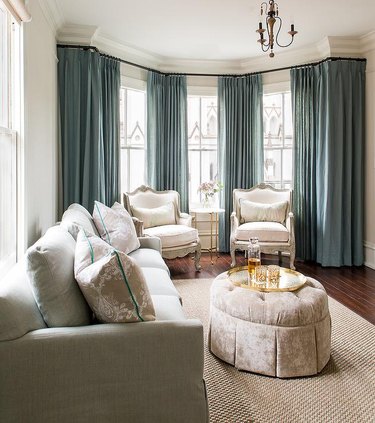 You don't have to paint or completely transform your space to incorporate the pewter trend. Start with accessories, like the ottoman and throw pillows chosen by Rethink Design Studio in this living room. The pewter shade adds dimension to the neutral design and makes the floor-length eucalyptus-colored curtains pop. For a more dramatic look, consider brighter blue-green shades, like turquoise and teal.
10. Pewter and Charcoal Gray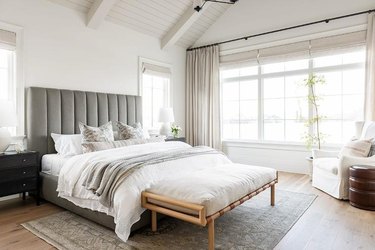 A good room design is all about layering colors and textures to create a visual feast for the eyes. This bedroom by the Studio McGee team does just that. All the elements in the room, from the curtains to the bedding and even the accessories, are in the same color family, yet the variety of tones from charcoal gray to creamy white keeps it feeling fresh and interesting.
Colors That Go With Pewter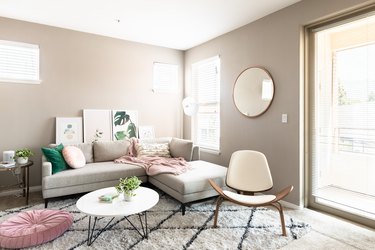 Pewter can easily complement colors with both warm and cool undertones. It's right at home in a neutral palette and can also make bright colors pop. If you plan to go for pewter walls or cabinets, start by picking up samples in classic, no-fail paint colors like Benjamin Moore's Revere Pewter and Pewter Cast by Sherwin-Williams. Then you can begin to experiment with accent colors.
Here is a recap of some of the best colors to pair with pewter:
Beige
Emerald green
Blush pink
Silver
Navy blue
Black
Citron yellow
Bright white
Eucalyptus green
Charcoal gray