If you're looking for ways to bring the outside in, you might want to consider incorporating the color green. It's a timeless choice that can impart a range of emotions depending on the shade and intensity. Hint: Bright green will make you feel energetic while a hue with blue undertones evokes calm and harmony.
Modern interiors in particular, with their emphasis on form and function, really let green take center stage, and because its surprisingly versatile, it's compatible with a range of palettes. But what colors really go with green? Here are eight ideas for inspiration.
1. Keep it in the family.
What goes well with green? More green! If you love the color, but aren't into high-contrast, colorful rooms, keep it in the family by layering varying shades of the hue for a tonal look that's approachable and classic. Artist Sam Gwilt shows us how to rock this idea with a calming hunter green palette resulting in a monochromatic look that still has depth and interest.
2. Opposites attract.
3. All the jewel tones.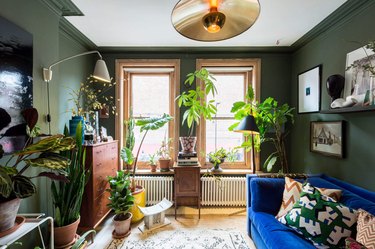 4. Select sunny drapes.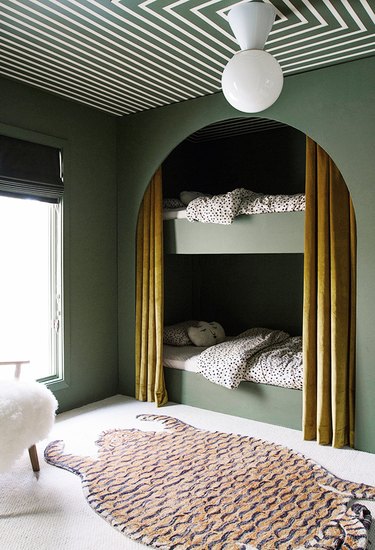 5. Add a dose of orange.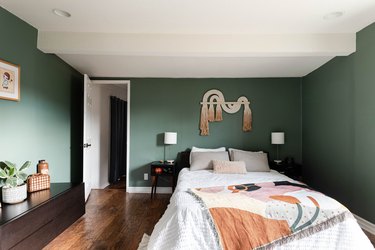 Orange might be a dark horse when it comes to colors that go with green, but hear us out. It IS possible to successfully combine the two without calling to mind fall festivals. The key is to make sure both are in the same tone. Case in point: This charming bedroom that features pine green walls, plenty of white trim and bedding, and a handful of orange-colored pieces of decor, such as a quilt and woven wall hanging.
6. Green and white is right.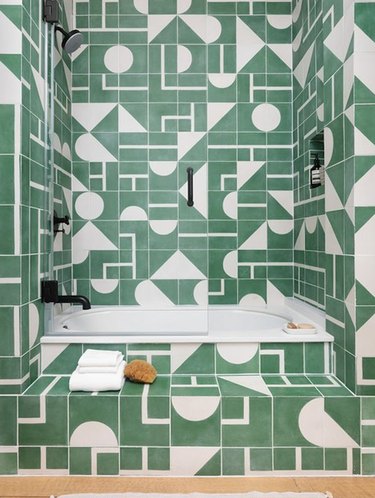 Temper green's inherent vibrancy with white for a no-fail color idea. The ladies at Studio Life.Style cocooned this pint-sized bath/shower area in playful graphic tile showcasing the winning color combo, and then peppered in black fixtures to ground the look.
7. Introduce warm shades of brown.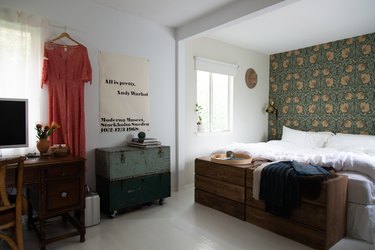 Balance the coolness of sage green by introducing warmth and texture with shades of brown, as seen in this cozy bedroom. Green and brown floral-inspired wallpaper and rich wood finishes are the star of the show in this vintage-meets-country bedchamber.
8. Enhance boldness.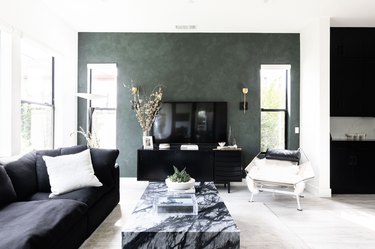 When looking for colors that go with green, black should be on your short list: It brings a bit of edge to green's inherently cheery vibe as seen in this modern living room. The uneven nature of the accent wall's plaster-like finish creates dimension and visual interest that softens the onyx accents throughout.
---
Jaclyn Schatzow is a freelance writer living in Santa Monica, CA