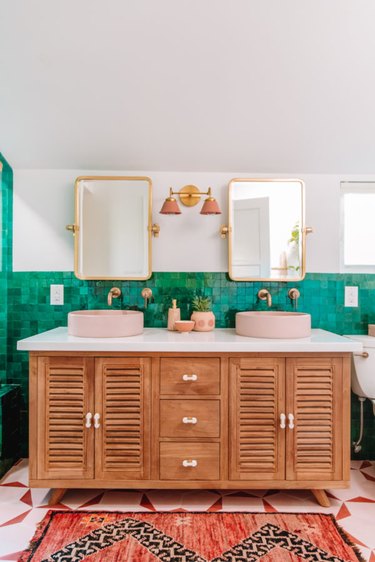 As far as decorating goes, bathrooms are relatively utilitarian spaces. Typically, they come with a list of must-have features that can feel limiting to creative types (think, light fixtures, faucets, and backsplashes). From where we sit, however, the bathroom is an ideal spot to take chances with colors and design styles that you might not feel comfortable risking in more visible rooms. While tile and paint offer obvious ways for infusing personality into the oft-used space, lately we've spotted a brand-new bathroom trend that we're 100% on board with: colorful sinks. Ahead are nine colorful bathroom sink ideas that put traditional white fixtures to shame.
1. Double down on millennial pink.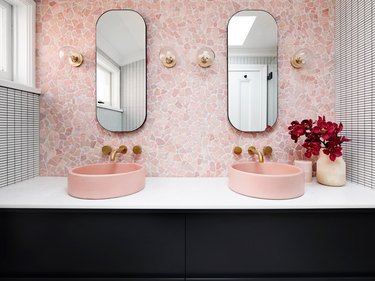 If you can't get enough of millennial pink (you're not alone), then this sophisticated, yet playful, bathroom sink idea by Lynne Bradley Interiors will be right up your alley. Talk about striking the perfect balance of soft, but not too precious; glamorous, but not over the top. The focal point is a show-stopping pair of pale-pink cement sinks. Grid-tiled walls bookend the space and temper the look with a dose of modernism that keeps the room from reading overly saccharine. The blush mosaic wall adds plenty of texture and personality and gold-hued hardware and sconces are feathers in the glam cap.
2. Go retro.
Match your sink to your walls for an updated take on monochrome. The corrugated exterior of this elongated wall-mounted sink adds texture and an art deco vibe that is complemented by a pair of decorative wall lights. Gold hardware and an oblong mirror enhance the simple yet refined look in this space, courtesy of West One Bathrooms.
3. Coordinate your sink with your plants.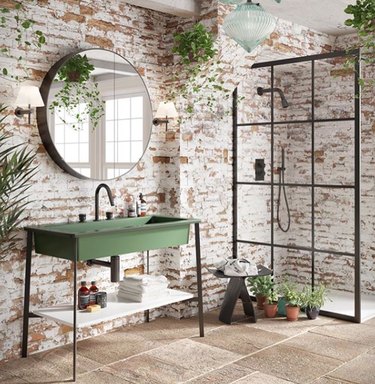 Create the ultimate indoor-outdoor vibe by pairing exposed, weathered brick walls with an oversize green trough sink and an abundance of plants. While your loo might not be the obvious choice for greenery, a plethora of potted and hanging foliage will create a lush greenhouse effect, as seen in this room by C.P. Hart Bathrooms. The black steel-framed shower screen is a practical barrier that adds character without taking up any visual real estate.
4. Pair blue with white for the win.
Blue and white is a classic combination and for good reason. Mandy Cheng creates an understated nautical vibe with this bathroom sink idea, pairing a navy pick with a white herringbone tiled backsplash, while brass hardware adds a hint of glam. The wall-mounted soap dispenser is a genius, space-saving addition that feels luxurious.
5. Embrace bold colors.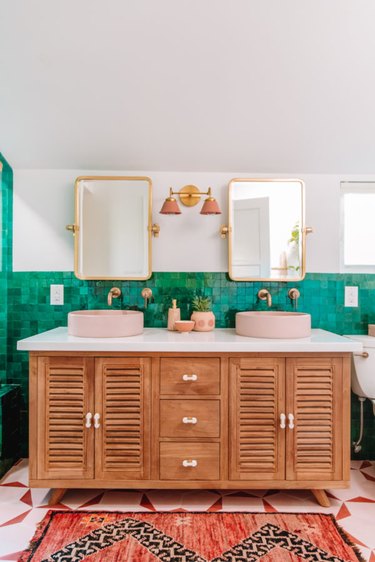 Don't be afraid to layer complementary colors. This eclectic bathroom by Kelly from Studio DIY is anchored by a bold emerald-green zellige tile backsplash that really draws the eye and reflects light, while blush sinks, graphic floor tiles in pink and red, and a vintage rug add further contrast. A wood vanity adds plenty of warmth and tones down the vibrant color palette.
6. Add just a dash of color.
If you're into a less-is-more look, you don't need to make a big visual statement with your sink to add interest to your countertops. Take style notes from Australia-based SilQ Interiors — where they seem to breed great design — and use gray concrete sinks to add a bit of contrast without overwhelming an all-white bathroom. Oil-rubbed bronze hardware adds definition and a contemporary vibe.
7. Create an integrated sink out of tiles.
We love integrated sinks for their seamless look and customizable size (among many other reasons). In this bathroom, Make Architecture installs one made entirely out of small aqua tiles that continue onto the apron and halfway up the walls for a look that's equally modern and retro. Larger white tile adds contrast and tones down the color. A simple round mirror is the only decor needed to complete the look.
8. Mix and match your sinks.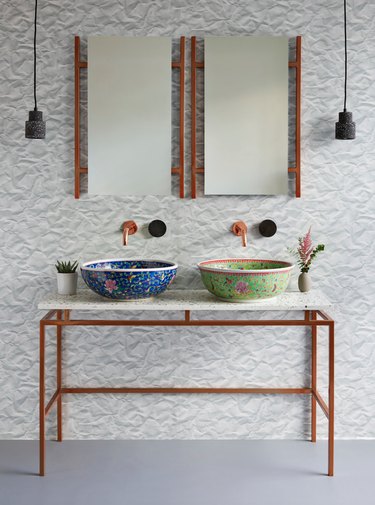 Why not mix and match your sinks for a thoroughly unique and unexpected approach? This bathroom by London Basin Company combines a modern terrazzo vanity with a pair of traditional chinoiserie-inspired bowls, copper taps, and mini pendant lights for a perfectly executed combination of classic and contemporary that we adore.
9. Go for the gold.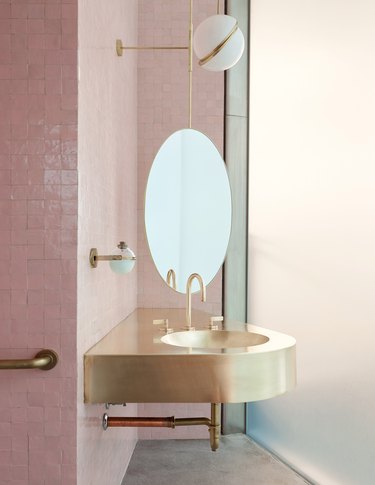 We couldn't resist this over-the-top gold sink in a bathroom designed by Price Erickson for the Seattle-based restaurant Willmott's Ghost. The round pendant light, soap dispenser, and suspended mirror lend a space-age vibe while the gold hardware keeps the look elegant. Concrete floors and frosted glass tone down a floor-to-ceiling accent wall tiled in millennium pink (there's the ever-popular hue again).