A number of tricks can fool the eye into thinking a small bathroom—or any room, for that matter—looks larger. The most important thing to keep in mind: clutter fills a room visually as well as figuratively to make it look cramped. The goal is to minimize the number of items, textures, and colors in the room so as to achieve the largest empty expanses possible. A monochromatic color scheme accomplishes this by unifying the space and expanding the way it feels. Filling the bathroom with as much light as possible also makes it seem bigger, and a white, pale, or neutral color scheme aids with that.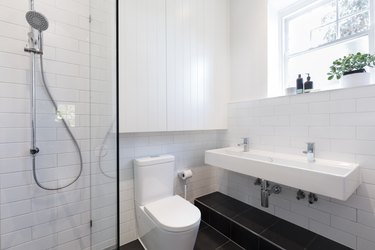 Cost-Free Fixes
These solutions involve little more than reeling in the clutter:
Get rid of bath sets. Fuzzy toilet lid covers and contour mats piled on top of floor rugs stacked on a bath carpet make the bathroom seem crowded. Instead, go with a single low-pile mat.

Remove the knick-knacks that you're displaying on the vanity, take down the art that's hanging on the walls, and put away any stuff that has accumulated on horizontal surfaces and in the tub or shower.
Remove as much from the floor as possible. Store the laundry hamper, the bathroom scale, or bath stool in the bathroom closet or elsewhere.

Keep hanging towels, which look messy, to a minimum. Make sure they're all the same color to reduce the visual clutter.

If you have a shower curtain that's on a moveable rod, move it up closer to the ceiling, and leave the curtain hanging outside the tub when it's not in use. A longer expanse of shower curtain makes the ceiling look higher.

Remove shelves and organizers, if possible. Find other places to store extra towels, TP, and toiletries, and get rid of the wall-mounted bath shelving or the étagère over the toilet. You might consider a more minimalist approach to your routine. Do you actually use all those bath products? Do you really need that many beauty supplies and cosmetics? Can you stop buying 32-roll packs of toilet paper? All those bottles and jars and supplies have to be stored someplace, and in a small bathroom, they're bound to create visual clutter and make the space feel claustrophobic.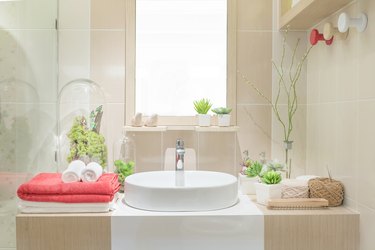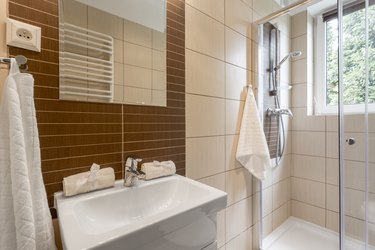 Inexpensive Measures
Light colors make a space seem larger. Paint your bathroom walls, ceiling, <ahref="https: www.hunker.com="" 13710298="" how-to-paint-a-bathroom"=""> </ahref="https:>and <ahref="https: www.hunker.com="" 13710298="" how-to-paint-a-bathroom"=""> </ahref="https:>trim all the same white, or a pale color. This will make the space look unified, and therefore larger. Or, paint the walls the same color as the existing tile—doing so expands the space.
Mirrors give the illusion that a room is more spacious than it is. Hang a large, unframed mirror—the lines of a frame break up a space visually—or use a mirror with an adhesive backing. You might consider putting in mirror wall tile (the peel-and-stick kind is easy to install). If so, get large tiles rather than small ones, and stick to the type with plain edges; edges, especially beveled ones, form lines that interrupt the wide, empty expanse you're seeking to achieve. And don't go overboard: one mirror-tiled wall is all you need.
If you absolutely must have things such as toothbrush holders, soap dispensers, or organizers on your vanity, stick to white or clear plastic accessories—they're unobtrusive and therefore won't make a space look congested.
If you have towels in lots of colors, replace them with a single, neutral shade.

If you have a shower curtain, replace it with one that's clear or white, with no pattern.

Ditch the window curtains. If you have clear windowpanes, apply window film with a frosted or textured appearance to them. This type of contact paper is designed to let in natural light while giving you privacy.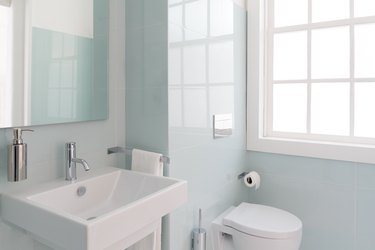 More Costly Changes
If you're remodeling your bathroom, you'll be able to make it look much larger because you no longer have to work with the existing setup to fool the eye.
Toilet and sink: Look for toilets and sinks that have a small profile. If you don't need a cabinet for storage, install a pedestal sink. Because it's smaller, it exaggerates the feeling of space around it. An under-mount sink, which is installed beneath the counter, leaves a large expanse of countertop and creates clean lines. Vessel sinks, meanwhile, sit on the countertop, giving the appearance of more clutter.
Vanity: Install the longest, lowest vanity cabinet you can. It will make the wall space above it look larger. A floating vanity has open space beneath it, making the bathroom appear more spacious. Stick to a cabinet that's white, or pale wood, with a light-colored countertop.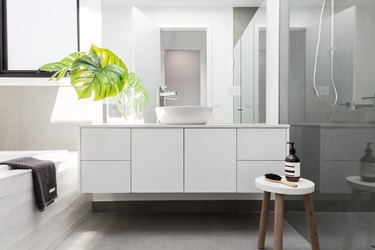 Put in recessed niches: Although doing so requires a little more work, it keeps the items stored in them from encroaching into the space, which—you guessed it—makes it look smaller. You can put these built-in shelves both in the shower and elsewhere in the bathroom.
Tubs or shower: Choose white or light colors for these. A stall carries less visual weight than a tub, so if you don't take baths, you could deep-six the tub in favor of a shower. Clear glass partitions or sliding glass doors require more upkeep but have a sleeker appearance than a shower curtain.
Tile: Keep the different styles of tile to a minimum. Stick to a single, pale shade, and don't put in border tiles or outline the edges of an expanse of tile with a different color. Large tiles make a space look larger. Install them all the way up to the ceiling to make the ceiling seem taller; an expanse of tile on the bottom with plain wall above it visually cuts the wall into smaller sections.
Mirror: If you can install a full wall of mirror, it will make the bathroom seems to double in size.
Lighting: Gloom simply emphasizes the closeness of a bathroom, while brightness feels airy and large. Spend extra money on good lighting. Place it in front of the mirror, to double the impact.
Fixtures: Chrome or silvery fixtures look more weightless than dark ones. While they won't make the room look larger in and of themselves, bright fixtures contribute to the overall sleek look you aim for.
Towel racks: Install bars rather than hooks. Towels folded on bars produce less visual clutter than towels hanging from hooks.