The conventional advice for small-space decor is to get rid of all the excess stuff that's in the way in order to make more room. Though you'd be hard-pressed to find an expert who would recommend holding onto clutter, it's not really the little odds and ends that are making your home feel so confining — it's the overall design of the area in question. Here are a few simple tricks for making the most out of tight quarters, so that you never feel like you have to part with a beloved knickknack again.
Brighten Up Your Floor With a Light Rug
A dark floor may be stylish, but it draws the eye to its confines. The simple solution? Cover it up with a light-hued rug, like the one in the dining room of Cassie from the Hi Sugarplum! blog. Her choice of clear dining room chairs also helps make the space feel more open.
Turn a Corner Into a Nook
If you live in a studio or have an open floor plan, a corner nook carves out a "dining room" or office from an unused area without disturbing the layout's flow. In this nook, blogger Erin Kelly of A New Bloom even added extra storage by creating bench seats with cubbies underneath.
Keep Focal Points to a Minimum
Whether you keep walls white or go for color, use art sparingly in a smaller space. It's all about the focal point: one is fine, but having too many can often lead to a claustrophobic effect. The standout art piece in this interior by designer Tamara Magel makes a statement without appearing like a distraction.
Install Floating Shelves
Placed above a table, the high shelves in this space by Homepolish designer Kristen Montero increase storage options for a variety of cooking necessities or pretty accessories. It's also a great tip for those with kids and pets who want nothing more than to put their hands (or paws!) into small houseplants or all over that delicate vintage bowl.
Select Accent Furniture That's Easy to Move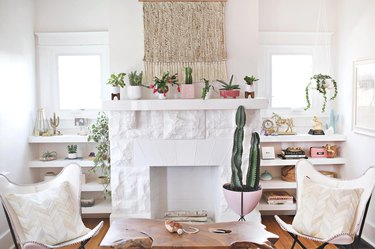 Yes, the butterfly chairs in the lovely living room of country star Kacey Musgraves add extra seating. But the ingenious aspect of this design by Elsie Larson of A Beautiful Mess is that they are lightweight enough to move out of the way when not needed.