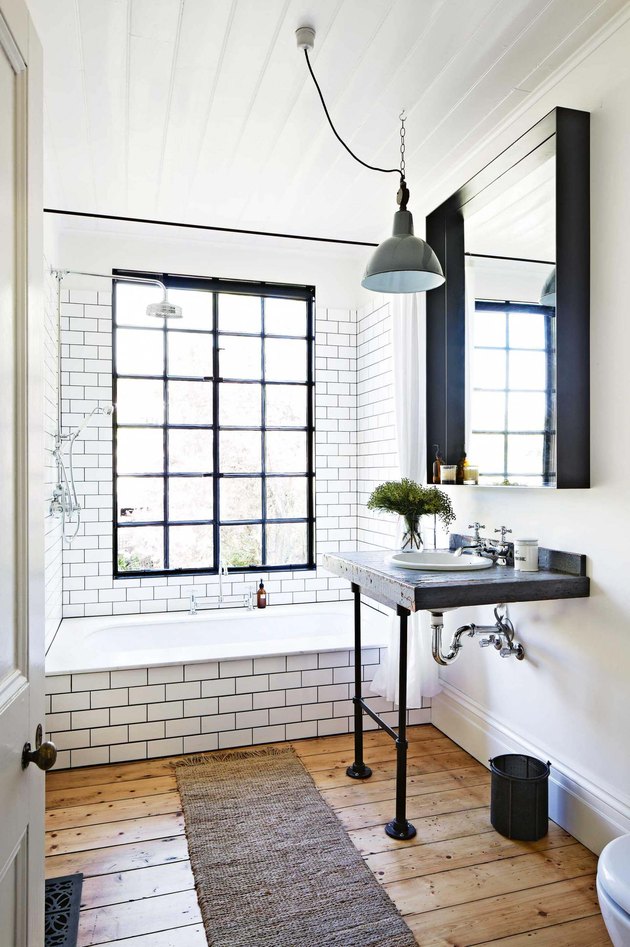 Industrial bathroom style is all about embracing "unfinished" elegance to create a minimalist look that's equal parts rugged and refined. From exposed metal piping to concrete countertops, these sleek bathrooms get the style just right. Here are 11 industrial bathroom ideas worth stealing:
1. Play up contrast.
2. Avoid over-decorating.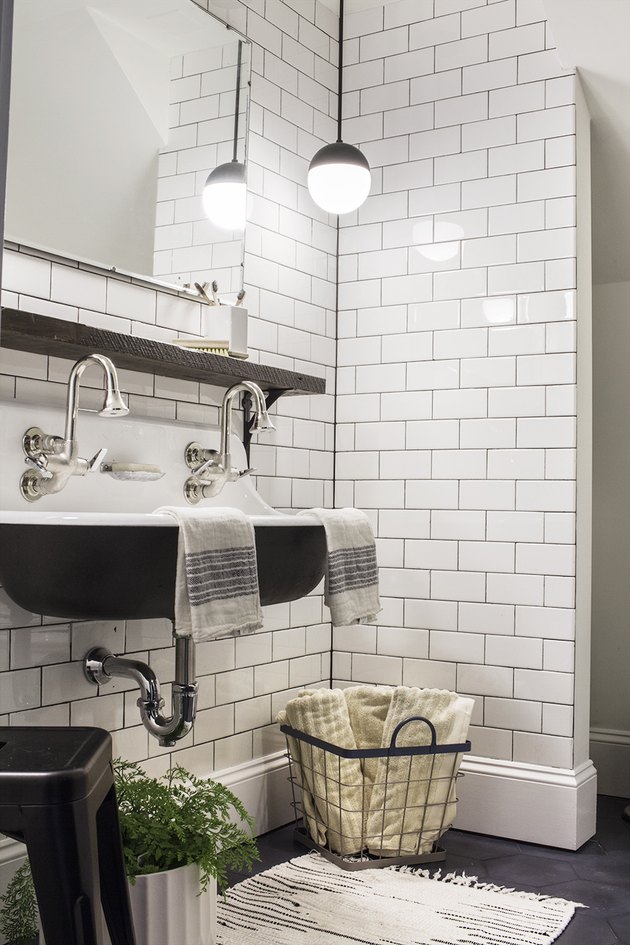 Keep your accents minimal to allow the industrial elements of your space to truly shine. Alison Allen from Deuce Cities Hen House gets it just right in her Minneapolis bathroom by adding a metal stool, wire basket, and a hint of greenery to this vintage-inspired room.
3. Feature lots of raw materials in your design.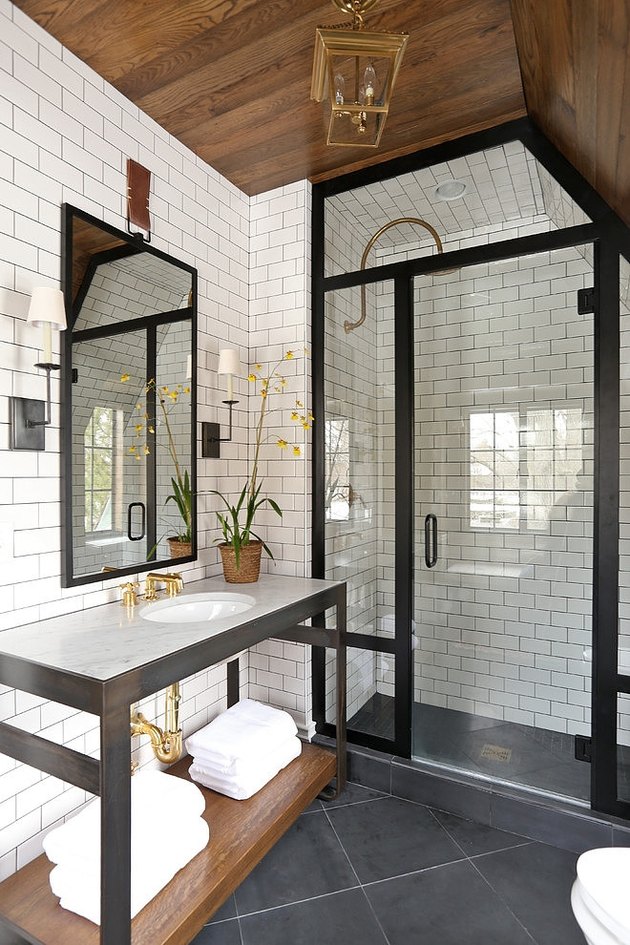 Whether it's a wood ceiling, exposed brass plumbing, or drawing attention to the metal frame of your shower doors, industrial style is all about drawing attention to the raw, unfinished elements of your design. This Chicago bathroom designed by Summer Thornton is an ideal example.
4. And decorate with industrial-style accents, too.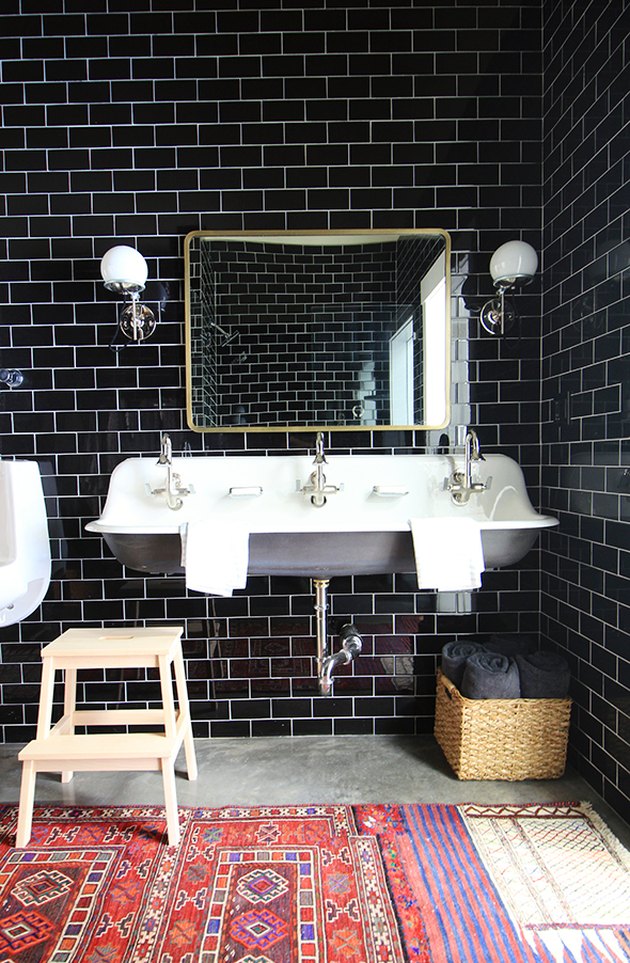 To further play up your bathroom's urban aesthetic, add industrial accents wherever you can. This striking bathroom designed by Jenny from Little Green Notebook gets the job done with globe-style wall sconces, black subway tile, and a wall-mounted trough sink with exposed pipes.
5. Consider a concrete countertop.
6. Or try a galvanized steel tub.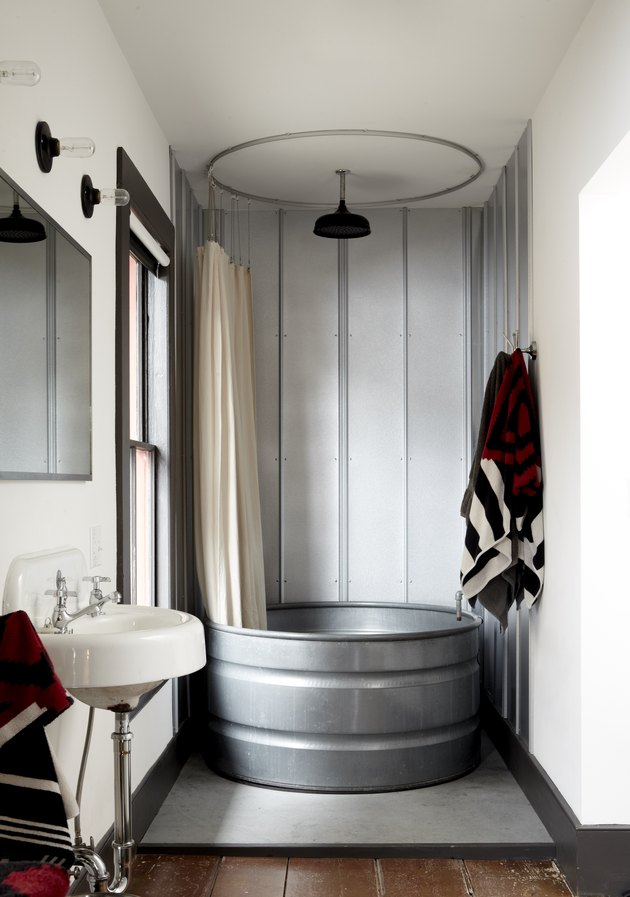 Industrial style often incorporates lots of "unfinished" looking materials and textures. Whether it's exposed pipes beneath the sink or skipping a traditional tub in lieu of a more rustic galvanized steel option, like this one at the Stickett Inn in Barrywood, NY.
7. Consider a trough style sink.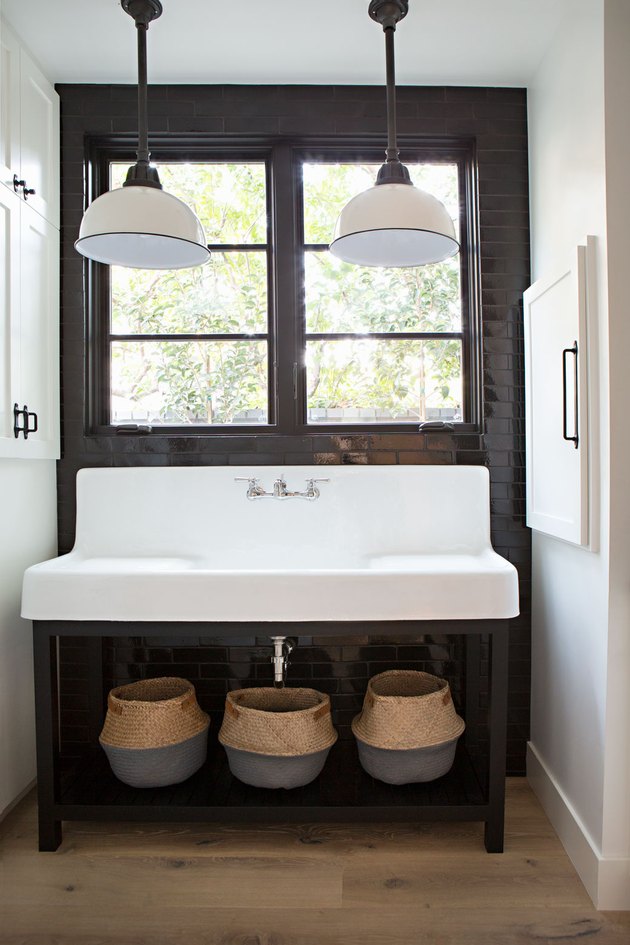 Let the main fixtures of your space speak for themselves by keeping other decor accents to a minimum. Black subway tile is the perfect backdrop for the trough-style sink in this industrial bathroom designed by Raili of RailiCA. Three woven baskets draw your eye to the exposed plumbing below, while providing extra storage space, too.
8. And say no to shower curtains.
9. Exposed plumbing is a must-have.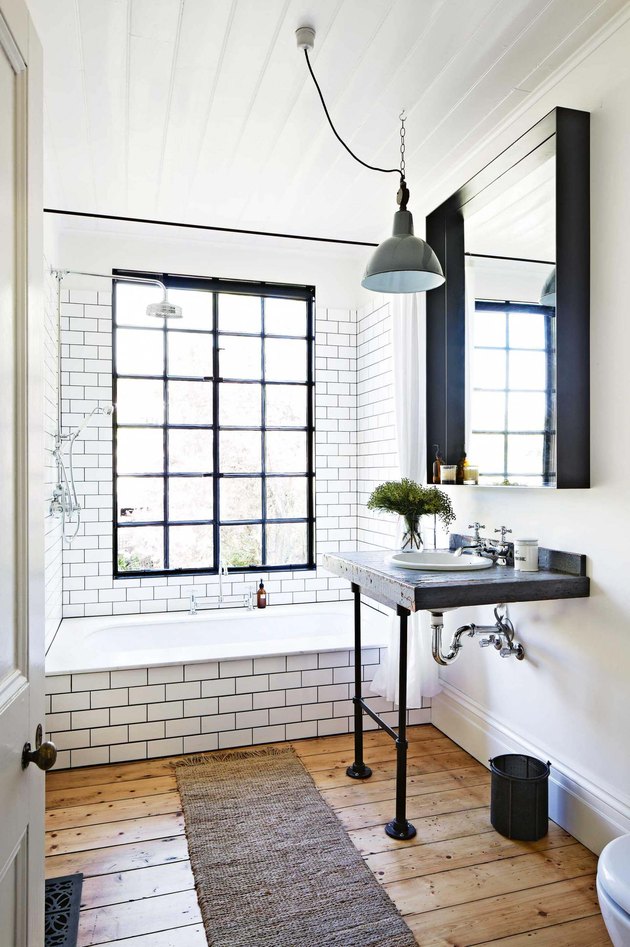 Exposed plumbing and industrial bathrooms pretty much go hand-in-hand. This jaw-dropping bathroom in a miner's cottage from the 1860s designed by Kali Cavanagh isn't shy in the least about putting its shiny pipes on display.
10. Lastly, warm up your look with pops of color.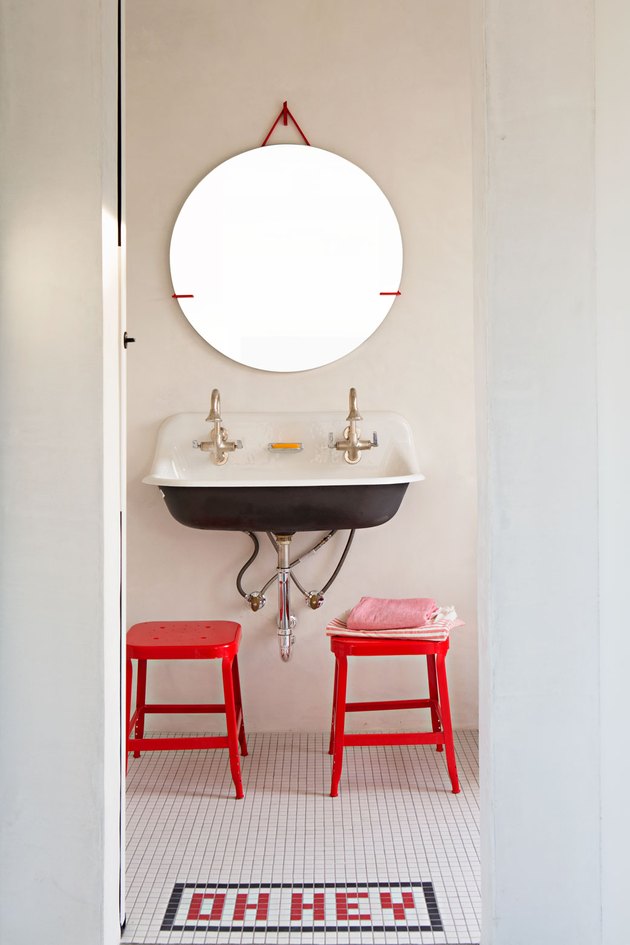 Industrial style can sometimes feel hard and cold. So to keep your look lively and warm by adding pops of color. We love the welcoming "Oh Hey" floor tile, red stools, and round vanity mirror with red accents in this small bathroom designed by Raili of RailiCA. Natural elements like greenery and exposed wood help, too.
---
Maryn Liles, a former NYC magazine editor now living in sweet home Alabama, is obsessed with all things home decor. She believes people's spaces should reflect their personalities — which is why you can find lots of hand-painted furniture, sentimental wall art and playful decor accents around her place.
View Work