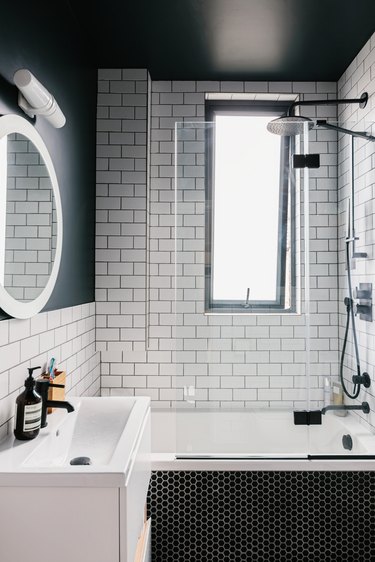 As you're sifting through bathroom backsplash ideas, you might notice that subway tile is a recurring theme, and for good reason — it has a huge list of pros. First of all, it's incredibly easy to clean, which is why subway tile (so named because it's often seen in subway stations) was invented in the first place. It keeps stains at bay and reflects light, which helps to create an airy, sleek atmosphere in any space. If you're planning to purchase standard subway tile, which is typically composed of glossy ceramic, it's relatively inexpensive and can be found for as low as 15 cents per square foot. Installing it is a breeze. Plus, thanks to its rectangular shape, the pattern possibilities are nearly endless — personally, we're big fans of herringbone. And, of course, let's not forget that water splashing from the sink or bathtub will end up on a wipeable, waterproof surface and not on less forgiving wallpaper or paint.
But be forewarned: Ceramic tile isn't as strong as porcelain, which means that subway tile can be prone to cracks over the years. If it does crack, it can be a challenge to find the exact same tile to replace the damaged piece — be sure to keep a few extra on hand so you don't have to waste countless hours trying to hunt down the perfect match years later. And remember, you can always consider materials like stone, marble, glass, and slate, too. These days, subway tile comes in pretty much any color you can imagine (Pink? Green? Aqua? Yellow? They're all possible). Plus the grout can get fancy as well. Sure, you can go with basic white, but we highly recommend gray or even black for high contrast.
Now that you're armed with the basics, here are a few gorgeous ways to incorporate the look in your own bathroom.
1. Carve out insets for bathroom essentials.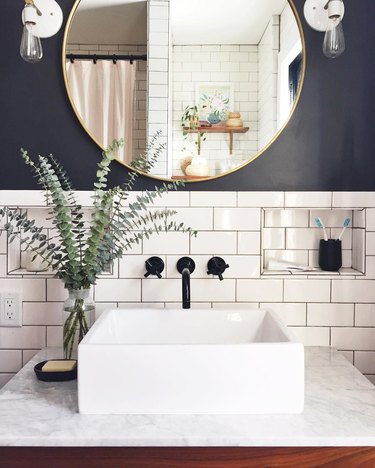 Subway tile is certainly versatile and can be manipulated in a variety of ways. For instance, if you'd love a niche or two for your toothbrush, lotions and potions, and candles, you can carve out insets within your bathroom backsplash — just confirm with a contractor that you have adequate space behind your wall to accommodate the insets before you add them to your design. Whitney Utesch is making full use of the oh-so-convenient nooks behind her vessel sink.
2. Pair subway tile with patterned wallpaper.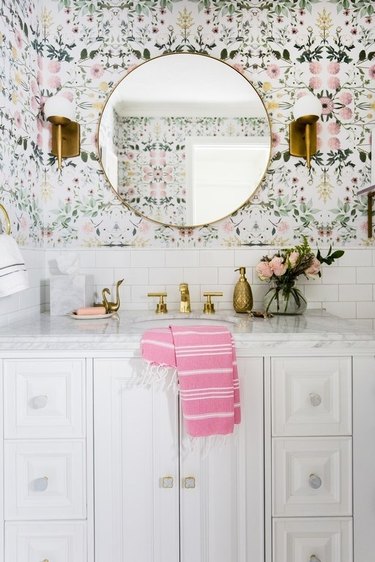 It's hard to go wrong with a bathroom backsplash idea showcasing classic subway tile. It acts as a neutral yet elegant backdrop, which comes in handy when you pair it with your fave wallpaper pattern. But don't take our word for it — Ashley of At Home with Ashley proves our point with this botanical print, white cabinets, and brass fixtures.
3. Curb your bathtub with subway tile.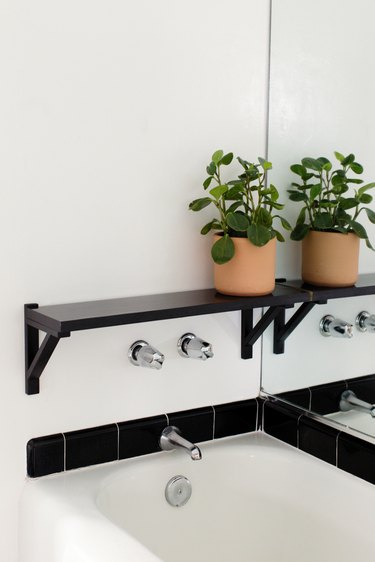 Subway tile bathroom backsplash ideas aren't just for the sink. A backsplash can also be installed around a bathtub, where a lot of splashing understandably takes place. In this setup belonging to Sandy and Evan Wickham, simple black tile creates bold contrast while serving a practical purpose.
4. Why stop at the backsplash? Continue into the shower.
5. Black is always a dramatic choice.
We are so good with white subway tile, but we happen to love it in black, too. It has this air of drama and edgy, too-cool-for-school style that demands attention be paid. So venture out of your comfort zone, and push the subway-tile boundaries a bit by opting for a shade of ebony, like this modern bath at The Harper.
6. Choose a dark grout for a modern look.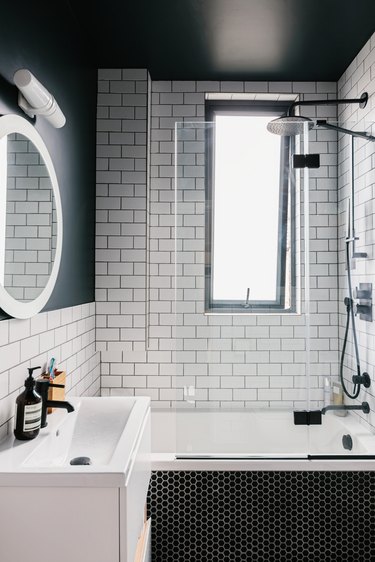 If you don't want your bathroom backsplash idea to just fade into the background, forgo white grout with your white subway tile and opt for charcoal or black instead. It will look oh-so-chic, especially when paired with black walls, ceiling, and fixtures like this situ belonging to Anna Gerber. Positively swoon-worthy!
Where to Shop for Subway Tile
Subway tile typically has a clean, classic look, but if you want to go a little more modern, may we suggest Tile Bar? It has tons of materials, colors, and finishes available for your backsplash, from glossy blue to 3D patterning and everything in between.
Fancy your subway tile in green, rust, or blue? Then look no further than The Tile Shop, which has hundreds of options to choose from.
Drawing from subway tile of yore and 40 historic glazes, Subway Ceramics is your one-stop-shop if you're searching for subway tile that looks authentically vintage.