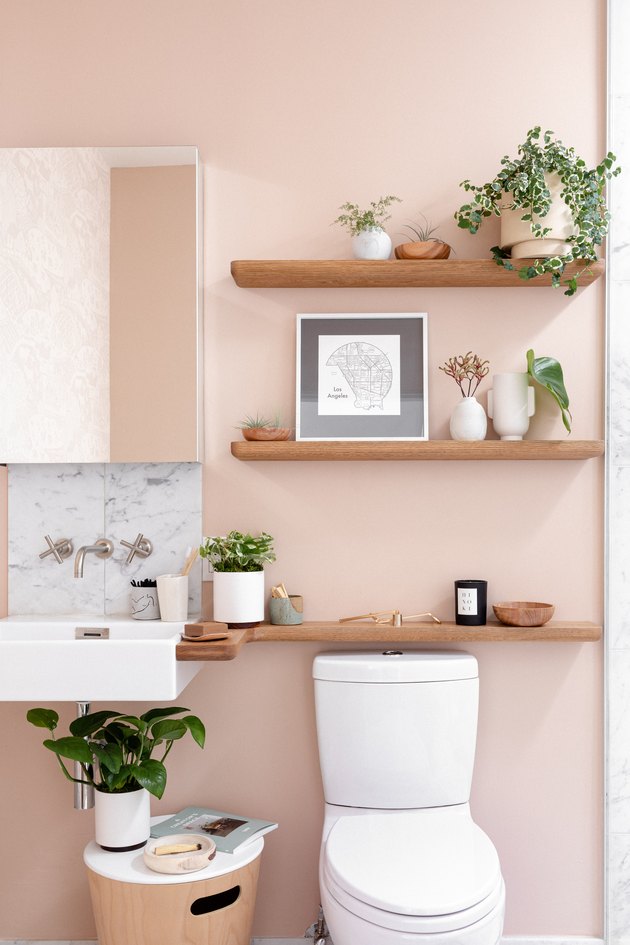 But "choosing the right color" can be difficult. Yes, the room may be little, but you spend a lot of time inside those walls. You want to pick a shade that suits your abode's overall decor or theme, blends beautifully with your hardware and tile, and doesn't make your home feel dated. Do you want neutral walls and bold accents, or bold walls and sleek, minimal decorations? The choice is yours — and it all starts with paint.
Ideas for Bathroom Colors
While you shouldn't let bathroom trends dictate your color choice, knowing what's hot (and what's not) can help narrow down your options. Here are the bathroom color schemes that homeowners are loving today:
Try going full, graphic black and white. Your options are almost limitless: You can lay white tile with black grout, or go all out and paint your walls black. Perhaps you keep your walls white, but choose all-black cabinetry and a dramatic shower curtain. Either way, your bathroom will transform into a to-die-for space.
Neutral shades can be your best bet if you're not looking to make a bold statement in your bathroom.
Beige is delightfully back in style. Add softness to your space by choosing the right shade — from greige, which leans toward gray, or taupes, which embrace earthy tones.
Gray is perpetually in style. A soft, off-white keeps a minimal feel without being too stark. A dark, stormy gray can bring a bit of fun and moodiness.
White, a classic, is the perfect color to build a minimal look around. Paint your walls white or use it as a stabilizing shade against a bold wall.
Want drama? Don't be afraid to go bold.
Choosing an ultra-bright shade makes your space feel fun and fresh. Yes, it might be frightening, but we bet you'll like the results.
Orange gives your bathroom tangerine appeal. Choose vivid, Spanish-inspired tiles for an earthy (yet colorful) space, or color block with a neutral shade for a burst of tango.
Yellow: This sunny shade promises to instantly cheer you up every morning. Pair with other bright neon shades to make a statement.
Pink doesn't have to be millennial to complement your morning routine. Try anything from dusty rose to salmon to magenta.
Other Ways to Add Color to Your Bathroom
Painting the walls is the most obvious way to update your space, but there are a number of different ways to add color in the bathroom: