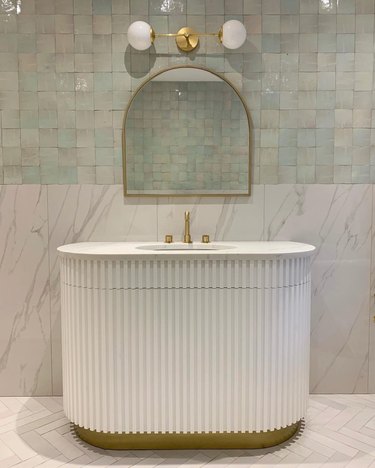 New year, new bathroom design? If you're thinking about an interior design remodel for the year ahead, we've searched high and low for the biggest bathroom trends of 2021.
This isn't about fads that we'll tire of come summer. It's about reimagining classic features that prioritize functionality and help you live your best life. Combining new trends with timeless bathroom fixtures is the way to go.
So take note — we've scoured social media, asked the interior design experts, and revisited our home tours to pinpoint what washroom design trends we can expect to see all 2021.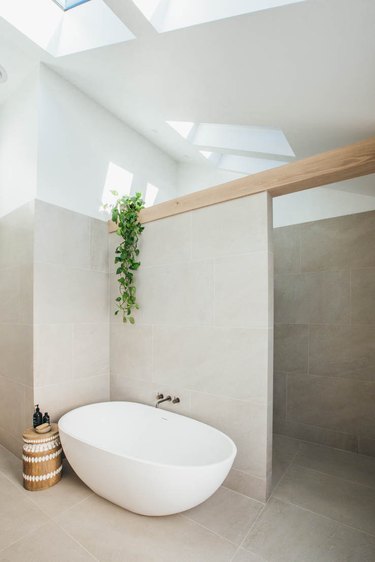 After spending the majority of 2020 at home, people are focusing on self-care now more than ever. And hey, if you can't go to the spa, it's worth it to bring the sanctuary setting (and the soaking tub) to you. Channel the serene ambiance of your favorite health club by opting for neutral tones, organic shapes, and natural materials such as wood, rattan, and wicker. Color lovers can opt for striking green tiles. Remember, your washbasin should play a central role in the design, ensuring it's the only place to spend a Friday night.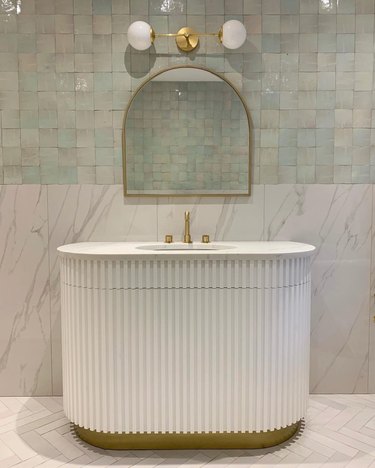 Fluted designs were a standout among the trends Hunker forecasted for fall decor, but this tactile finish will be making its way into trendy washrooms for 2021. Think a bespoke bathroom vanity to add a subtle interest to the sink area as well as reeded glass shower doors to increase privacy but still allow for natural light. If you're looking to give a contemporary twist to art deco style, this is the modern bathroom trend for you.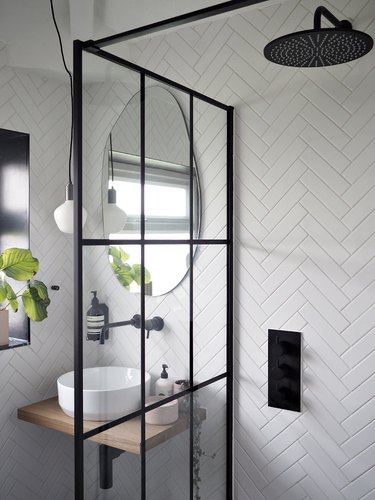 Stuck with a small bathroom? A shower screen with steel panels could just be the solution. And thanks to the increased popularity of industrial Crittall frames — the metal window bars that were originally developed by Francis Henry Crittal in the 1880s — there are plenty of affordable dupes to pick from. Alternatively, if you're feeling DIY-savvy, you could try hacking the style yourself with black vinyl tape. Olivia of Lust Living chose the former option for her bathroom makeover, and you can see how it keeps the space feeling fresh.
4. Unique Marble or Natural Stone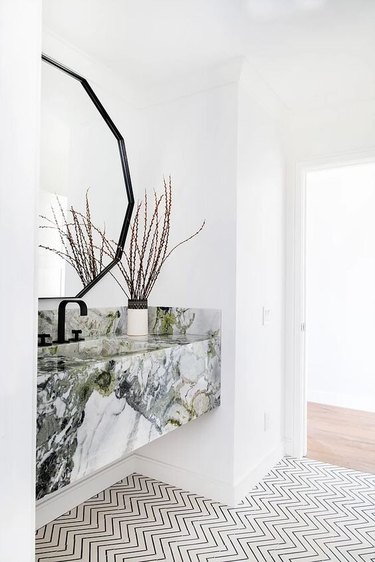 While marble is a timeless and recurring feature in interiors thanks to its luxurious qualities, this year we'll be looking out for unique colors and striking pattern formations in the natural stone. For those looking to achieve the spa setting in their home, green marble is the natural choice for a serene atmosphere, and we love a good marble sink or countertop in a rich verdant hue. The calming shade will bring the outdoors in, especially if used sparingly in conjunction with bright white walls as seen in this bathroom designed by 22 Interiors.
Remember those pastel '70s bathroom suites that everyone got rid of in the late '90s? Well, they're back in fashion, and it's time to think pink! Nab yourself an ice cream-hued set, and pair it with plain white subway tiles and colorful grout, à la Sarah Akwisombe. For those feeling less brave, why not opt for a striking tap in a bright and bold hue (we love any by Vola), or try a sink with a colorful concrete finish such as the Elm Mini from Kast Concrete Basins?
Soft clean lines, natural materials, and functional Japanese-style pieces form the basis of ​Japandi —​ a fusion of Japanese and Scandinavian design elements. Look to nature for inspiration with this one. For example, pair the warm tones of bamboo and rattan furniture with linen textiles and greenery. Add in Japanese-inspired accents such as tatami mats and origami shades to complete the look.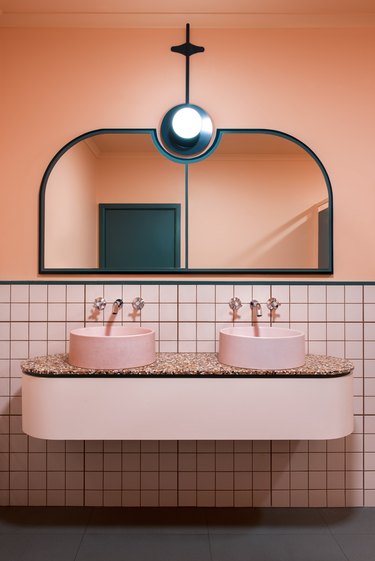 A statement vanity can change the whole vibe of your bathroom, and whether you're a minimalist or a maximalist, a floating option will add style and luxury to the room. We've seen them surge in popularity as homeowners try to replicate hotel luxury with double sinks. And this look also gives the illusion of more space. Go big or go home with a mounted sink, and don't be afraid to think ​above​ the box.
8. Matte Black Faucets and Showerheads
Even beyond 2021, home automation is the future. So if you're renovating the bathroom, think about how to integrate smart technology to make the space work better for you. From tech-friendly toilets, showers, and hands-free flushes, to de-misting mirrors and integrated Bluetooth speakers, there are plenty of ways to enhance your space. The future is now!