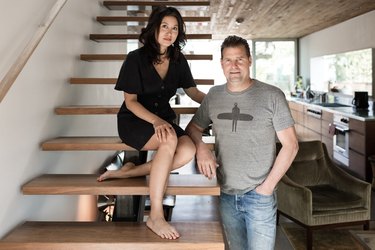 Who: Kurht Gerhardt and Caroline Vu
Where: Atwater Neighborhood, Los Angeles, California
Style: Industrial minimalism
From the outside, the modern-minimalist English Tudor facade blends in unassumingly with rest of the neighborhood, but inside reveals a different story. The open-concept, 1,500-square-feet, Japanese-meets-German interior boasts a gorgeous common area bathed in natural light from sprawling windows, reclaimed wood ceilings, and a floating staircase that leads up to an open, sunlit bedroom.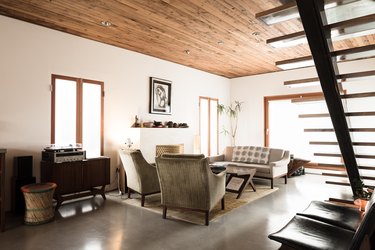 Carefully crafted over seven years, this contemporary oasis was largely inspired by homeowner Kurht Gerhardt's travels, love of minimalism, and a relentless obsession with understanding how things work and what it takes to bring his vision to life.
"It took me seven years to build the house because I wasn't going to shortchange anything. For me, it was more about custom and quality," he says. "I tore the whole house down to sticks, there was no upstairs originally, it was just an attic. I also moved the house out 5 feet so the deck upstairs pushes out. This house was barely 1,000 square feet, now it's 1,500."
Kurht owned the house next door for 20 years before he bought this house. He worked with Vivian Dwyer, an architect friend from San Francisco, to make the house more into a boxcar to make it feel more spacious.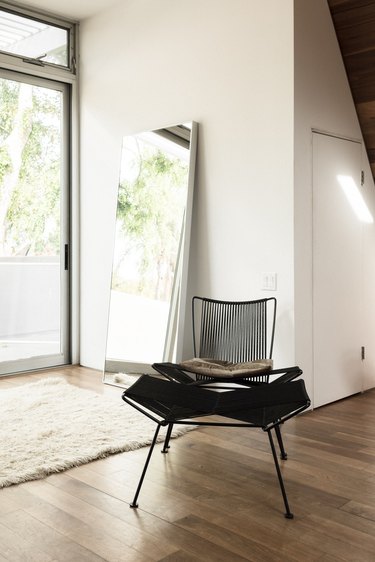 He made the ceilings higher and used reclaimed wood from the garage and original floors. Utilizing natural materials complements and warms the industrial feel of concrete flooring and steel accents.
His design sensibility was born organically; picking up inspiration from places like Greece, Mexico, and Palm Springs. Japanese minimalism is a prominent influence throughout the space, even in the upstairs bathroom, which has no walls. "I just wanted everything open, you can see there's not a lot of doors or privacy when it comes to toilets," he says.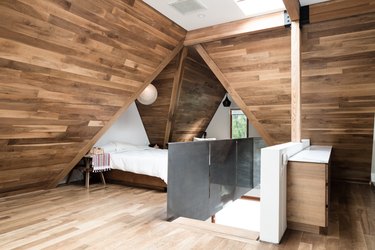 He doesn't just reserve his meticulous consideration to detail for renovations — Kurht works in the aerospace industry, making gears for planes and parts for the Mars rover. He's got a knack for building things. On his off time, he fixes up vintage Porsches; he's been readying one for a six-week rally from Peking, China, to Paris, "I took the car apart all the way down to the nuts and bolts. I don't read manuals, I don't go on YouTube, I just figure it out through friends."
He began by building the garage as his workshop and lived in a trailer in the yard for five years as he worked on the house. His partner, Caroline, met him during this time and her subtle influence is seen throughout the softer, more feminine aspects of the home. She motions toward the front sitting area, "this whole area was empty, nothing was here," she says. "It was very sparse, but he likes it that way. I wanted to warm it up with some color and texture, like the rugs."
Their most recent purchase was a love seat found at Midcentury LA, which fit the front entrance perfectly. "We didn't want anything big and bulky and the fact that they reupholstered it for us was amazing," she says. The sparseness of a space like this means each piece must be both artful and functional, so they spend a lot of time sourcing unique and often vintage pieces.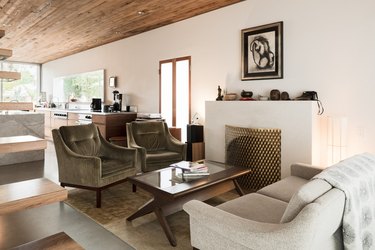 The coffee table and console are both from Sunbeam Vintage, and the fireplace screen covering was picked up from a warehouse and repurposed.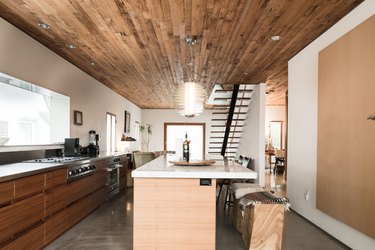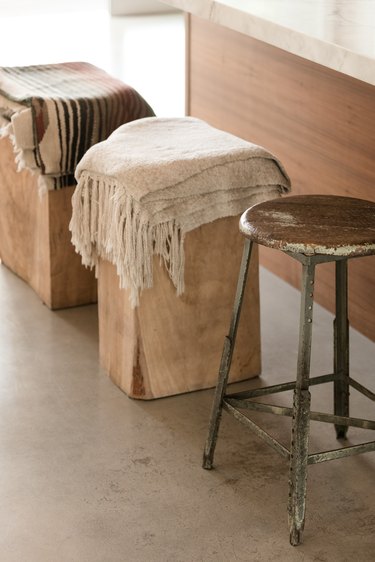 The couple spends most of their time around the communal kitchen island; Caroline loves to cook and the kitchen is something of a gathering place for friends and neighbors. They make use of every room, with Caroline spending a lot of time in the office, and Kurht in the garage, working on his Porsches. They both love the otherworldly sense the space evokes, making it feel like a retreat from the city.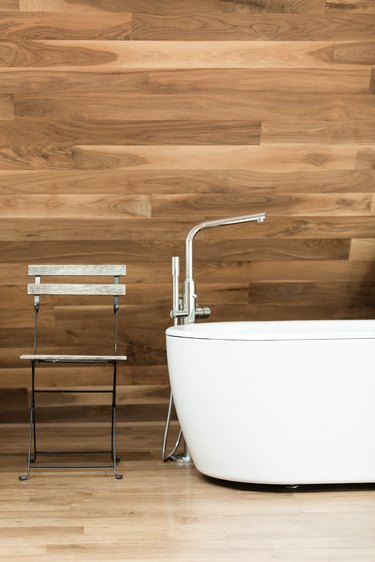 The seamlessness of feeling both inside and outside was an intentional design choice; only a few pieces of artwork from Kurht's collection adorn the walls. Instead, they prefer to let nature paint their walls in shadows throughout the day. "When you're in the tub facing out the window, the light casts shadows through the trees and it's so beautiful, it looks like coins, moving," Caroline says.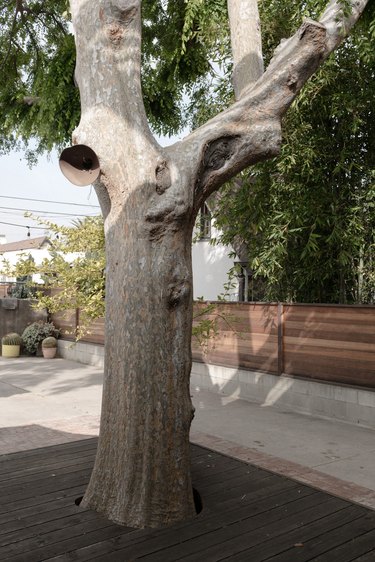 As for their landscaping, they both love drought-tolerant cactuses, more of a modern-desert vibe — an homage to Palm Springs, a place they both find inspiring.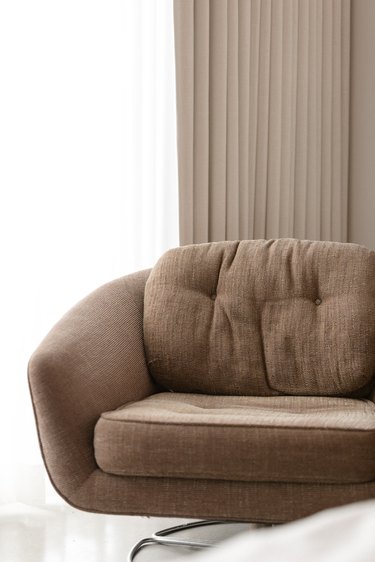 The peaceful atmosphere was especially healing for Caroline, who is a stage 4 cancer survivor. She courageously and generously shares her story on her blog, Good Morning Health, offering healthy living advice and candid stories from her personal journey, inspiring hope in others. The home acts as a haven for her; she often takes long walks around their Atwater neighborhood in Los Angeles, cooks healthy meals, and rests when she needs. It allows her the freedom and solitude to express herself, "I have gone through so much and I've learned a lot along the way. When I hear from other survivors, it's all the same, we go through so much of the same stuff. The purpose is to help other people."