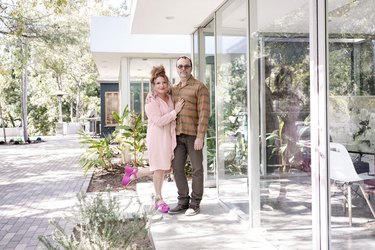 Who: Greg Crawford and Julie Markfield
Where: Glendale, Los Angeles
Style: Contemporary meets traditional
After uprooting from Boston as a young couple and landing in Venice Beach, artist Julie Markfield and architect Greg Crawford eventually moved into a South Pasadena Craftsman. They had kids and came to the area for the public schools. Running her growing graphic design company out of their home while raising two young daughters worked well for a bit, but the time came to take a giant next step. "We were very specifically looking for a project that Greg could put his stamp on," Julie shares. So, they bought a small commercial building in Pasadena where they both could set up offices in their respective fields and set out on a mission.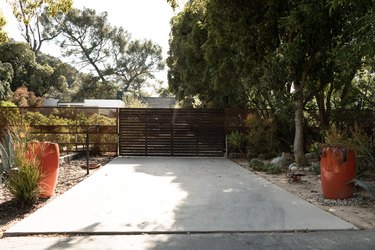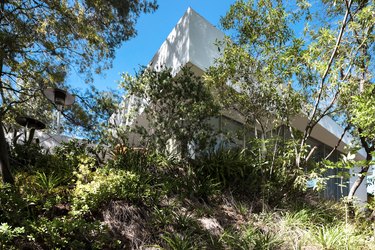 Making your way to the home of Julie Markfield and Greg Crawford is easy, but at the same time, it feels like you've traveled to a remote location that's been kept secret from everyone else in Los Angeles. Located in the Chevy Chase Canyon area, a short drive east of downtown, the house sits up at the end of a series of narrow roads that lands you in the midst of an oak tree forest complete with running creek.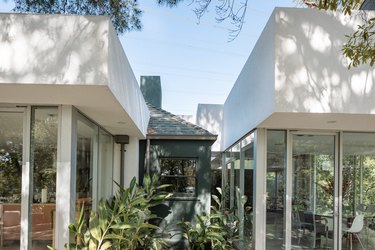 It's the magical setting that drew them to this property almost twenty years ago. "The house itself was unremarkable, but it still was solid," Greg remembers. Yet the outside was so unbelievable to them they just "knew," for the most part, this was the place. "We found it purely by accident," says Julie. "Greg loves to drive, so we were on one of those drives and we came down this hill and saw this rickety sign that said, 'mini estate for sale.' At the same time, it was so hard for me to envision what we could make happen." As luck would have it, the property had fallen out of escrow several times. It came down to basics: Greg's expertise found him discovering that the city would pay for sewer lines (the property was on septic at the time) while other prospective buyers shied away not knowing about this. So, they bought the well-worn traditional-style house, complete with bomb shelter (courtesy of a previous owner who worked at NASA's Jet Propulsion Laboratory in Pasadena) and their mission continued.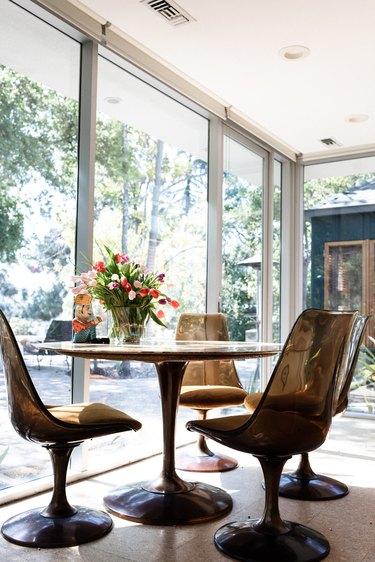 Now at nearly 4200 square feet, the four-bedroom, four-bath house feels both incredibly open and cozy at the same time. "The original house was kept as a shell," says Greg, who begins to describe the flow of the house and the philosophy behind his design as you first enter into the glass-walled living room overlooking a spectacular view of trees and hillside. "The idea is that, this most public room is transparent for a reason. It's extroverted, it looks outward and that's why the colors in here are sort of neutral. Because it's all about what's outside."
As you move from this extroverted, glass box atmosphere into the rest of the house, Greg describes the slight narrowing of space in his design, "You're going from public to private, you're going from extroverted to introverted. It's colorless to colorful."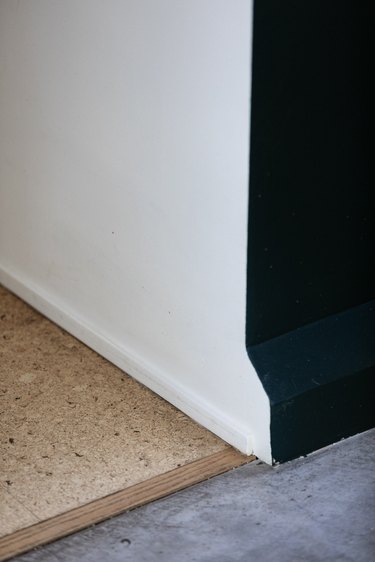 Concrete floors become cork floors and eventually earth tone carpets as you walk through the home.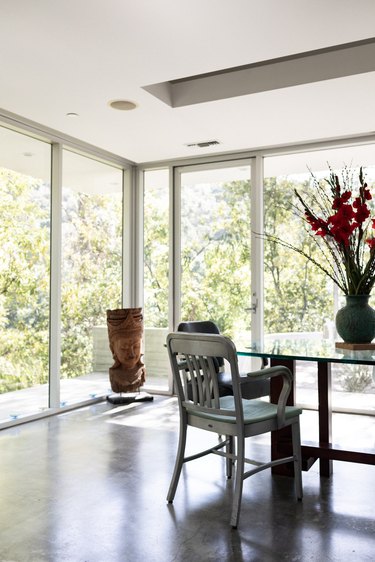 Ceiling heights play an important part of underscoring the tone and feel of the layout. The height is compressed over the dining area in a glass-walled space to create a bit of intimacy and features built-in overhead lighting that can change colors according to mood.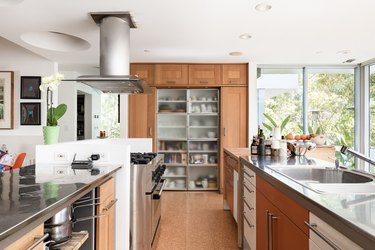 "The family room-kitchen also has the high space that we carved out [from the original home] and it has the lower space for the working areas."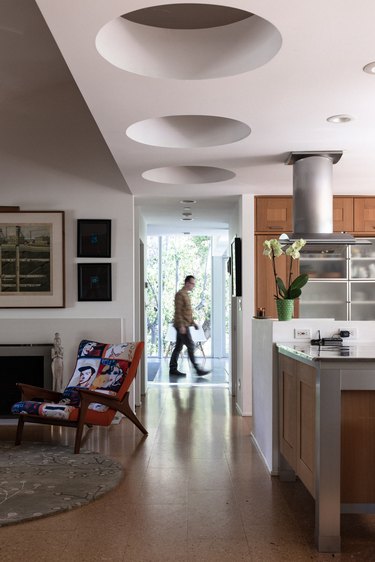 Greg even designed some circular cutouts as the two ceiling heights interface over the kitchen.
"If you look down the hallway from the living room, through the kitchen and off to the bedrooms and more private areas, along that axis, there's glass at both ends. There's nature on one end, there's nature on the other and that sort of links it all together. It's designed to have a series of compression and expansion happening along this axis."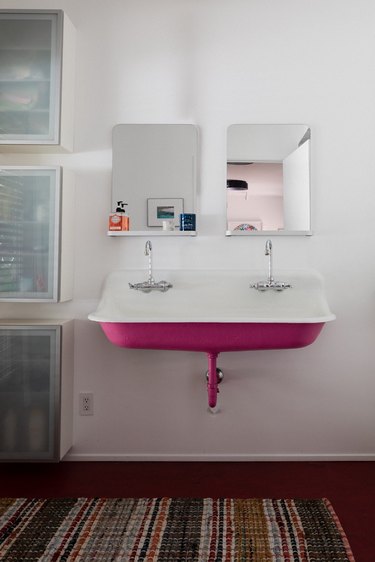 A bathroom that once separated the two kids' bedrooms was moved to where the original main entry was, so Greg could create the unique suite-like living quarters for their daughters, who are now grown and moved out, including a cozy study off the family room that leads into their bedrooms. "It was important to me that the girls had some sort of meaningful growth space."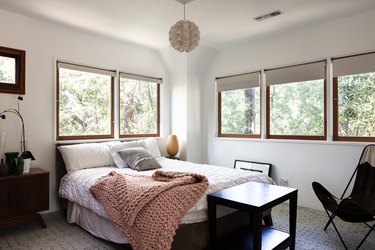 The master bedroom is located on a lower level that was originally a rec room, literally carved out from underneath the house in order to be extended.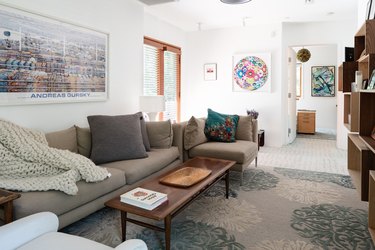 The whole space is nestled into the hillside creating the feeling you're in a well-appointed treehouse, complete with a giant walk-through closet for Julie and bathroom featuring a soaking tub where she loves relaxing and looking out into the woods.
When it comes to decorating, Julie and Greg are both drawn to the eclectic and big fans of vintage. Plus, remember, they love a mission. They've found most of it while traveling, searching online, or scouring flea markets and thrift stores for something they need.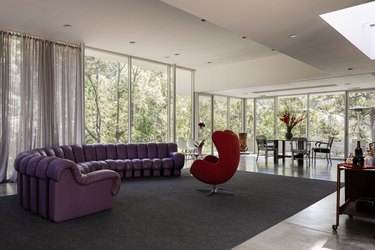 The living room may be neutral like Greg mentioned, but a vintage purple DS-600 sofa found in a used furniture store during one of their many missions seems as though it was designed specifically for them. Floor-to-ceiling drapes were made from athletic jersey material Greg bought in downtown L.A.'s fabric district to cut costs.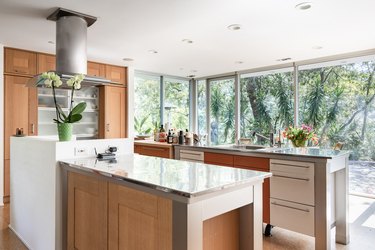 And in a mind-blowing moment, Greg found a complete showroom kitchen from SieMatic on eBay that fit perfectly. "Back before eBay was what it is now, though you can still find treasures, it's just a full-time job."
Adding to the personal vibe of the decor is Julie's artwork. Her large- and small-scale paintings are lovingly displayed throughout.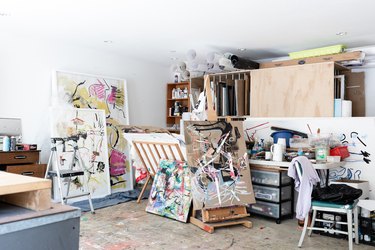 They even recently completed a remodel on what was once a garage and then a play area when the kids were young, transforming it into an art studio with a separate entrance where she spends more and more time creating.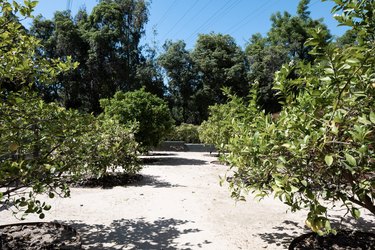 For Julie, indoor-outdoor living was a must have. "We really wanted an entertaining house," she says. The once dilapidated tennis court out front became a sunken citrus and vegetable garden with room to hang out under the stars.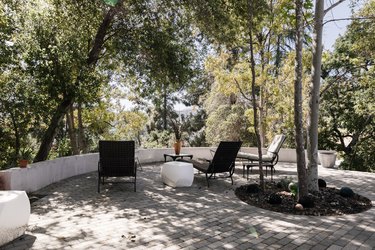 A terrace surrounds most of the other side of the house, overlooking the woods, a pool area, and creek below. The house has 22 glass doors that lead to various outside spaces, so it's pretty clear Julie got her wish.
For Greg, having a kitchen at the heart of his home was important. "Knowing that it had to be literally the fulcrum of the house, it's dead set in the middle. It's the thing that negotiates between the extroverted space and the more intimate areas."
Overlooking the living room, Julie reflects, "Seeing how comfortable people are in here really makes me happy. I love this space for what it does for community. Whereas the other space in the house feels like a big hug. It all reflects our social nature and our warmth … and our love of family and animals. We really love sharing our home."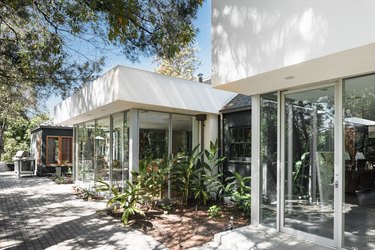 Meanwhile Greg sees the house as a metaphor for their relationship, "I think compositionally the house is reflective of what we've accomplished together, both on the personal and professional level. It reads like a very expensive house, but we were careful and creative. Part of being an architect or a graphic designer is being a creative problem solver. For instance, the reason the house has 22 doors is that we couldn't afford sliding doors. Working with more commercial-level materials in the newer spaces versus residential materials helped as well."
They even left some windows from the original house intact where the living room connects to the kitchen area but painted over them to match the wall color. While Greg says the effect reminds him of a Louise Nevelson sculpture, Julie thinks it's an example of their love for the unexpected.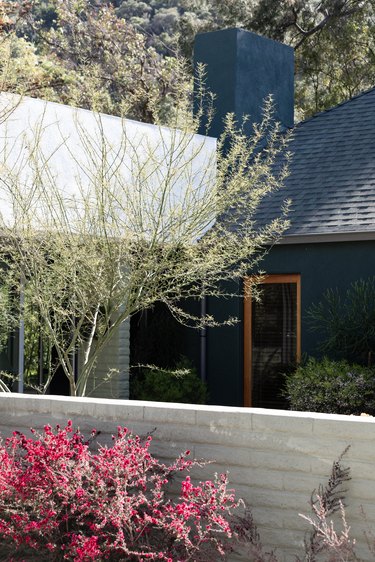 After being married 33 years, and living in this house for nearly 18, their partnership in work and life is still the perfect balance, "We really like each other. He's not as funny as me, but he's really smart."
Locals Know Best:
Favorite piece of design or architecture: The Norton Simon Museum; The Art Center — "They're both somewhat iconic in what they represent to the art world, and they're very nice pieces of architecture we see every day we drive to work."