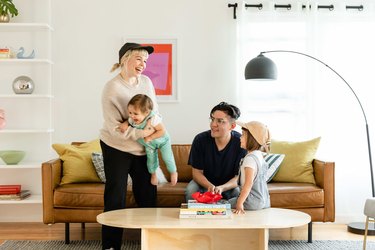 Who: Jorge Cuevas and Bethany Brill
Where: Mill Park, Southeast Portland, Oregon
Style: Midcentury ranch
With a growing family and thriving creative careers, Jorge Cuevas and Bethany Brill needed to find a home that fit not only their budget but also their lifestyle. Enter a listing they saw online in an area outside Portland they'd never heard of. The 1,200-square-foot, three-bed, 1.5-bath home offered exactly what they were looking for. "We wanted a place that felt out in the woods, but still convenient to everything," Brill shares. "And we were dead set on a single-level midcentury ranch. We stumbled upon this little-known neighborhood that was safe, quiet, and 15 minutes to downtown."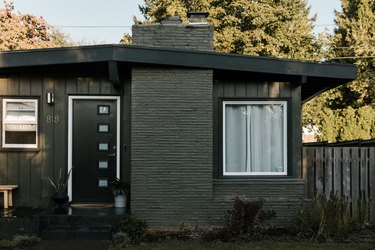 Brill says they didn't exactly come to kick the tires in person: "We essentially bought our house online, so it was purely based on the photos and the description." They fell in love with the lines of the ceilings and how affordable it was. Plus, it offered privacy and a backyard. But it did need some significant work. "The house had this tan vinyl plastic '90s thing going on," says Brill. "Everything felt a little grubby and had to go." The couple wanted to make the home stylish and functional. With two kids and one on the way, plus a dog, the space needed to be opened and lightened up.
"We spend most of our budget renovating the kitchen," Brill explains. "We took out a couple walls that were between the kitchen and living room (said every millennial homeowner ever), which made our main living space one continuous room." She says the goal was to create different zones for cooking, relaxing, and eating. "It makes the space feel bigger than it actually is, and with kids, having unobstructed views of each and every space is vital!"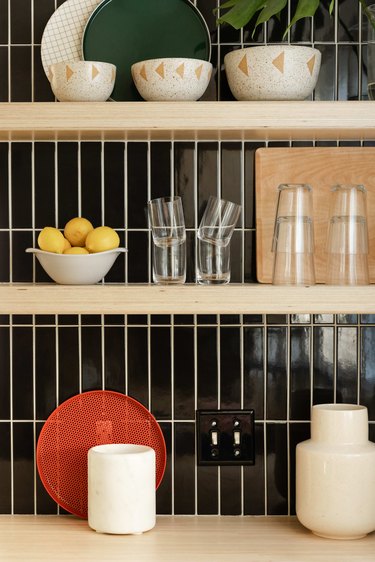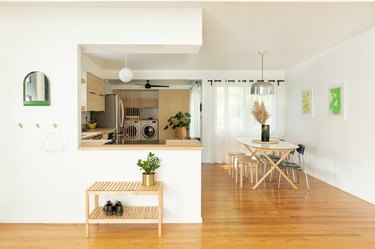 The remodel included splurges like open shelving from Studio Jesse James at their Etsy store, but Brill and Cuevas also did a lot of the painting and changed out hardware themselves. The overall vibe is Scandinavian with lots of white walls and light wood. They installed some birch plywood accent walls to "add a little warmth to the gray Portland winter months."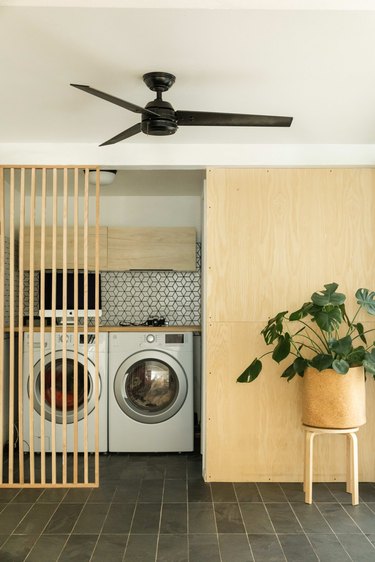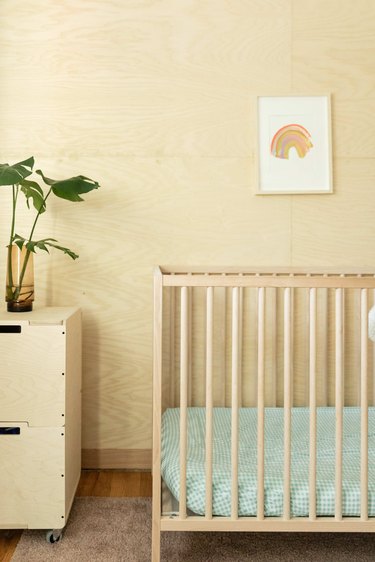 After a trip to a car show in Santa Barbara, they were inspired to pick some chrome accessories like the Schoolhouse Electric pendant in the dining room. "It felt like adding jewelry to the room," Brill remembers. "The chrome details became the missing juxtaposition to the minimalist style and mirrored the era of the home." She says that the pops of color from vintage and thrifted accessories and artwork by Marleigh Culver give the space a playful personality.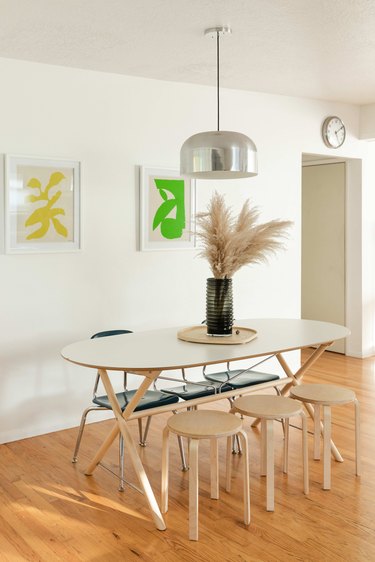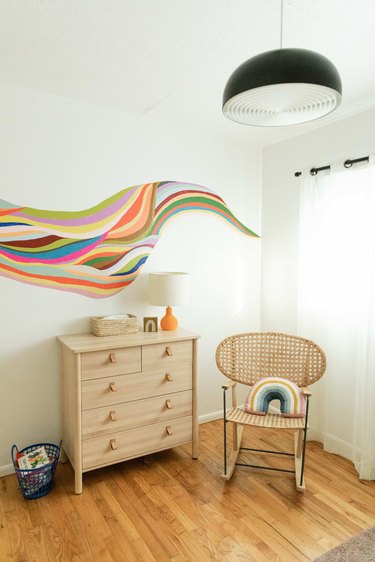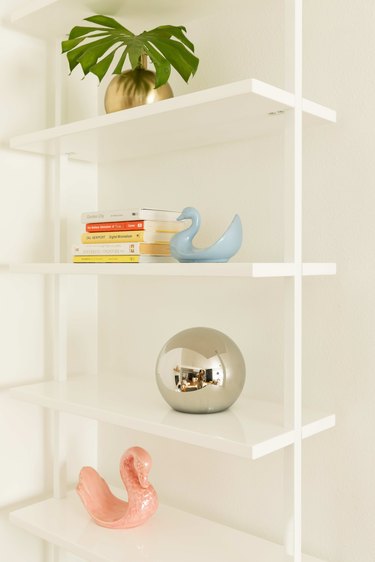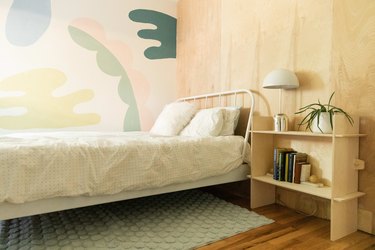 Cuevas is a filmmaker and Brill a hair and makeup artist. Together the couple owns a production company, Teddy Studios, that works with local clients in Portland like Schmidt's. They make use of the garage space, which they are slowly turning into a studio, giving them work flexibility and some breathing room from their cozy home.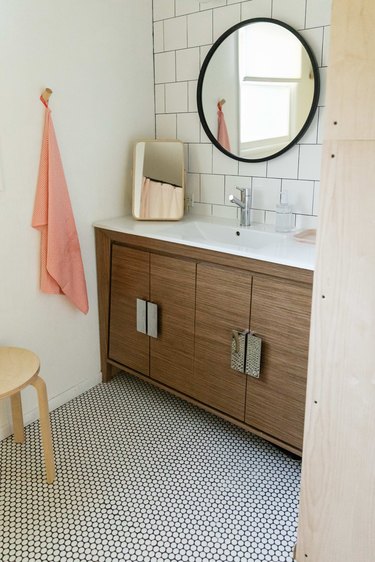 When it comes to where they spend the most time, Brill says it's the living room: "There's a lot of life that happens here!" The space has two giant picture windows and gets south-facing light looking out into the pine trees that populate their neighborhood. "It's pretty dreamy at golden hour," Brill says. "We are both romantics, and dappled light coming from swaying trees just does it for us." It's a favorite spot for the family to spend time on the floor together playing music or dancing around atop the kid- and dog-friendly Peas Rug from Hay. "Some of the best moments of our lives happen in that room."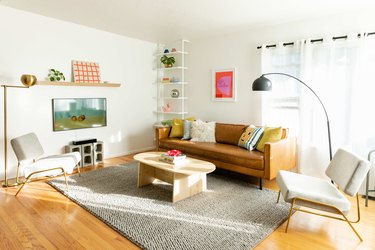 "Since we work from home a lot, it needs to be a reflection not only of our personal style, but a place where we can feel creatively sparked," Brill explains. She and Cuevas feel like their home is an ever-evolving, multitasking, often-messy space that perfectly reflects who they are as a family. "It sounds cheesy, but the sound of kids giggling, the dog whining, the rain when the front door opens, the creak on the floor we have to avoid at bedtime; all the little noises that happen here make it feel like home."
Locals Know Best
Favorite piece of architecture or design in your neighborhood, town, or city: "We love all the little mid-mods in our little pocket. There are also gorgeous pine tree-covered hills that make looking out the windows really enjoyable. We've never been, but apparently there's an awe-inspired hiking trail in Powell Butte Nature Park."
Thrift store finds, antiques, or flea markets: Goodwill in Happy Valley: "There are always some midcentury treasures if you're willing to dig!" | Habitat for Humanity: "Another great place to find things like vintage doors and sinks, even pastel bathroom sets!"
Farmers Market: Montavilla Farmers Market: "Beautiful vegetables and fresh flowers."
Happy Hour: Oven and Shaker: "Amazing cocktails! Get the spicy salami pizza. You'll thank us later."
Cheap and cheerful restaurant: Sizzle Pie: "The rabbit's salad with vegan ranch is so good, even if you're not vegan! And their pizza is delicious and salty." | Thai Carnation: "Their green curry is so on-point!"
When we have visitors, we take them to: "Most of the time we think about food, so we take them to Eem or Tusk."