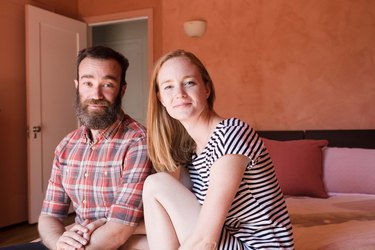 Who: Michael Kaminsky and Mel Keedle
Where: Los Feliz, Los Angeles, California
Style: 1920s Spanish Apartment
When Australian-born Mel Keedle and Los Angeles-area native Michael Kaminsky closed on their Los Feliz home together, they were in France, traveling.
"A lot of that comes through in the decor and color palette, I think," says Keedle, who co-owns Still Life Ceramics in downtown Los Angeles.
Her work comes through as well — Keedle made the ceramic light fixtures that hang symmetrically in the newly remodeled kitchen, with its gorgeous dusky pink tiles and contrasting forest green accents. Indeed, the kitchen, as with the home's overall look, is surprisingly spare, yet elegant, and defined almost solely by color.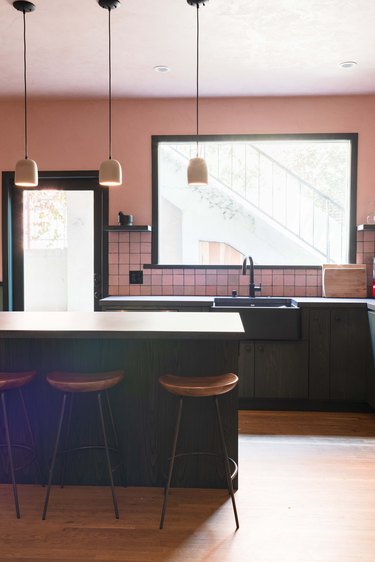 "We felt the paint itself lent enough to the feeling of each room that we didn't need to go crazy hanging all kinds of 'stuff,'" explains Kaminsky, founder of the artist management company KMGMT.
The 1,850-square foot home, part of a 1920s Spanish-style triplex, was overgrown and fraying at the edges, at first. Re-painting was top of the list. Each room features a distinct palette and is lime-washed floor to ceiling. The other non-negotiable was opening up the kitchen, which had originally been three small rooms. And while updating all the plumbing and electrical, Kaminsky and Keedle were compelled to honor the period details — the picture windows and arched doorways — that originally drew them to the space.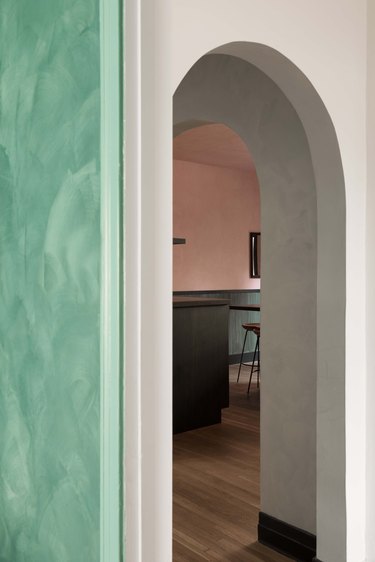 "We were very conscious of holding on the feel that we first fell in love with," says Keedle. (Check out the "before" pics.)
The color-rich, yet relatively blank slate makes it a welcome space for renters — and the home is currently available. "We bought it with the intention of making it our full-time place once we have a large family, but four bedrooms is just too big for two people," explains Keedle. "So we sneak in and pretend to live there when it's not being rented, with the intention of moving in a bit later in life."
1 of 9
Kaminsky and Keedle's home is remarkably free of excess embellishments. Many of the items, such as the living room couch, were handmade by friends.
Image Credit:

Stephen Paul
2 of 9
Parkman Woodworks custom made the dining room table.
Image Credit:

Stephen Paul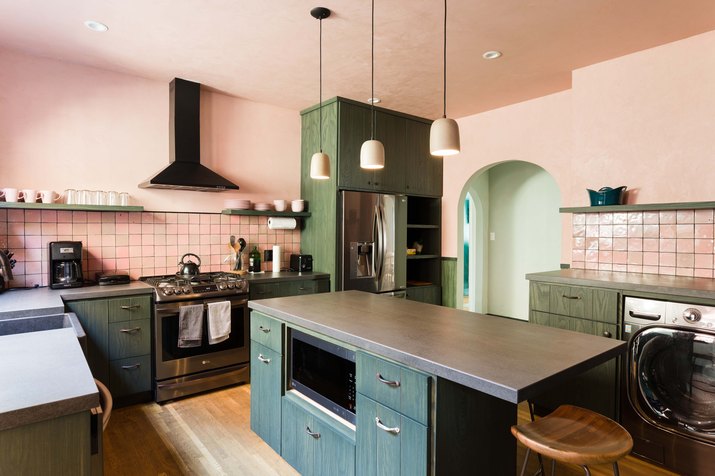 3 of 9
The kitchen is one of Kaminsky and Keedle's favorite places in the home. "Mel likes to cook and I like to keep her company and host, so it's a perfect space for everyone," says Kaminsky.
Image Credit:

Stephen Paul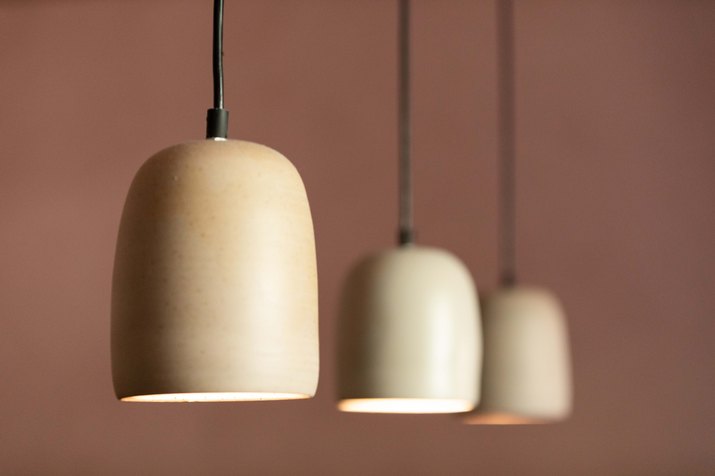 4 of 9
A close-up of Keedle's handmade ceramic light fixtures.
Image Credit:

Stephen Paul
5 of 9
The terra-cotta room has a strong connection to the outdoors.
"The color we chose for that room is so warm and inviting, and one whole wall is windows with a door opening out to the patio," Keedle explains. "It's filled with light and the terra-cotta tiles on the patio make it feel like one big continuous room."
Image Credit:

Stephen Paul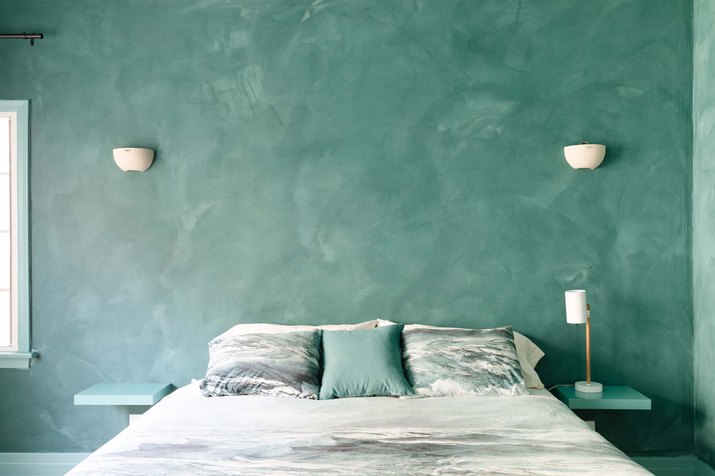 6 of 9
Another bedroom, with another palette — all lime-washed.
Image Credit:

Stephen Paul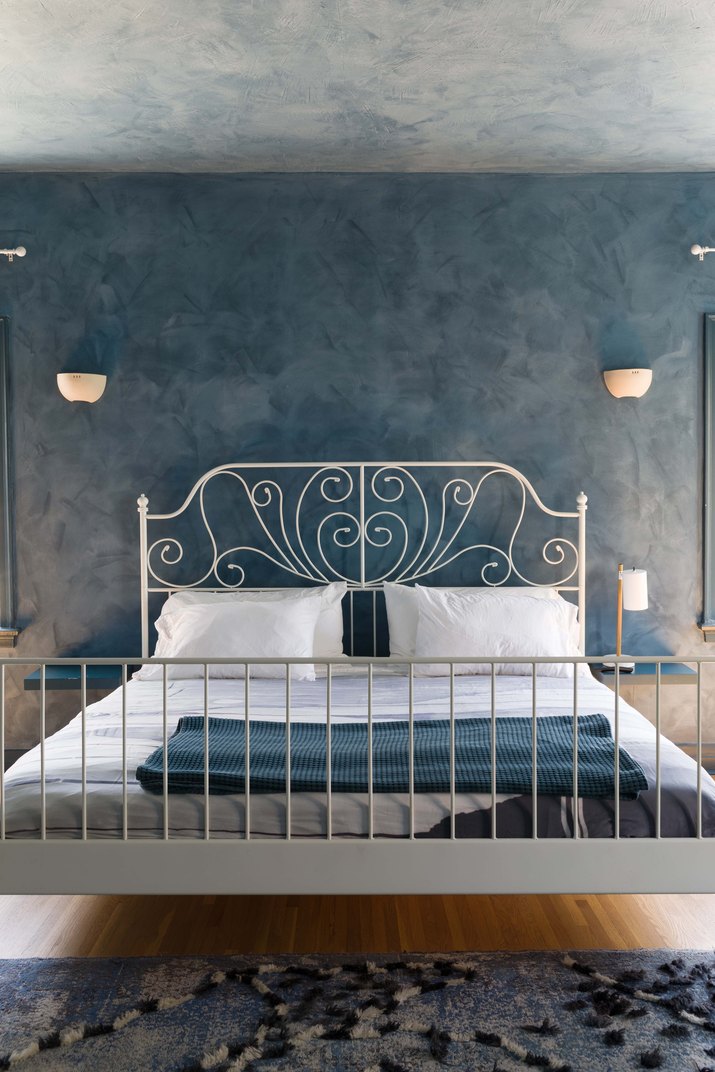 7 of 9
A third bedroom — the master — features a moodier blue palette.
Image Credit:

Stephen Paul
8 of 9
The couch in the bedroom exemplifies the blending of old and modern, which is a hallmark of Taylor + Taylor, the interior design firm that helped with the remodel.
Image Credit:

Stephen Paul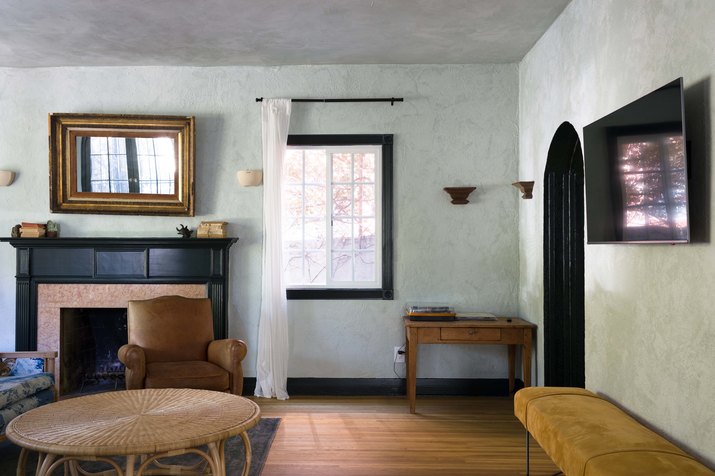 9 of 9
As a whole, the house is a blend of both Kaminsky and Keedle's varied taste. "It's rare that we both love something, and admittedly we both loved different aspects, but the overall look and feel of the building felt like finding a treasure," says Keedle.
Image Credit:

Stephen Paul
---