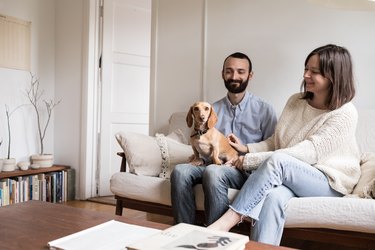 Who: Kelley Burnett and Dylan Brown
Where: Echo Park, Los Angeles
Style: Minimalist with natural touches
Finding a great apartment in L.A. these days is like trying to get into an Ivy League college: Competition is fierce, and legacy definitely gives you an advantage. For Kelley Burnett and Dylan Brown, they had the kind of leg-up that allowed them to bypass the rental market insanity when it came to a gorgeous 1940s duplex in Echo Park — the previous tenants were Brown's parents.
Burnett, a ceramist and ceramic arts instructor, and Brown, a writer and professor at El Camino College, had been on the move for the past few years, with stops in Boston, Portland, and San Francisco. And after arriving in L.A., things sort of magically came together: Brown's family was moving out after a four-year stay, and it's a space the couple always loved for its privacy and character.
"It's built onto the side of a hill which makes for privacy with the neighbors and great views," Burnett explains.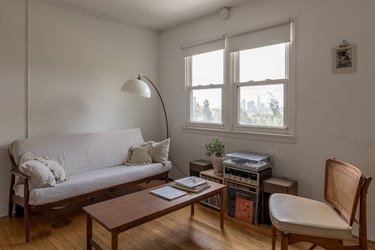 She also loves the period details: "All of the kitchen cabinets are original, and the bedroom has paneling which was left unpainted on the ceiling — it feels in ways like a vacation cottage."
After moving in with their dog, Otto, they've made small and thoughtful adjustments to the space. (This is, after all, still a rental.)
"One thing I always do is take down standard or stock bathroom fixtures or blinds and update with something a little nicer," Burnett said. "I have a handful of brass hooks that are much better for hanging storage, so we like to do small changes like that. We've reused them in every place we've lived!"
The decorating process was straightforward, thanks to the couple's carefully curated collection of furniture.
"Because we moved so much the last few years, our furniture and belongings were really paired down to things we loved and felt were important," she said. "Everything is mismatched or somewhat of a project. Our sofa is vintage Danish from Craigslist, in need of reupholstering, next to a coffee table from County Ltd. and a Finn Juhl chair my aunt and I found in a barn in Montana."
"I really love the feel of vintage furniture, and the look of things already worn in, so for pieces we needed we looked at flea markets and thrift stores," Burnett said.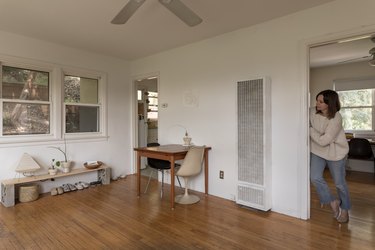 Burnett and Brown also spruced up the kitchen with some minor fixes: "Things like patching paint and removing all of the small additions that have accumulated from other tenants over the years."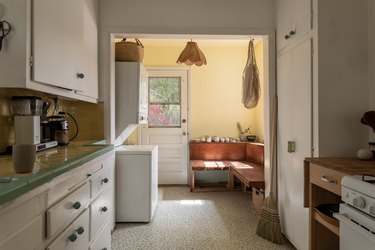 And, of course, there's the benefit of being a talented ceramicist when it comes to outfitting a place. Burnett's wares — minimalist vases, planters, and tableware — can be found in every corner of the home. (Her goods are available at The General Store in Venice, California.)
But, says Burnett, "A lot of our decorating ends up being one-offs or a handful of pieces I bring home, sitting on stacks of books."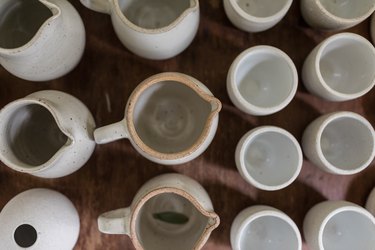 Even luckier than finding a great apartment in L.A. is finding one with ample space, and Burnett and Brown's home also came with a bonus bedroom, which they turned into a shared office space.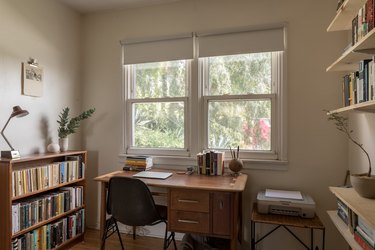 The office's massive shelving unit was inspired by a trip they took to the home of architect Walter Gropius outside Boston.
"He built that home as a teaching module when he moved to the United States, and most of the fixtures and hardware were simple and utilitarian hardware store stock," she explains. "That always stuck with me."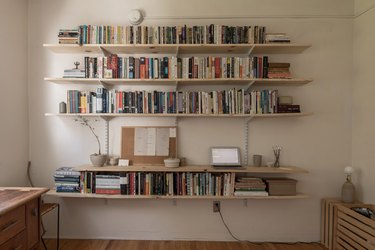 But Burnett's favorite piece in the office is a bench made from a fir plank, sourced and finished by a friend, and breeze blocks, left over from the excavation of another friend's yard.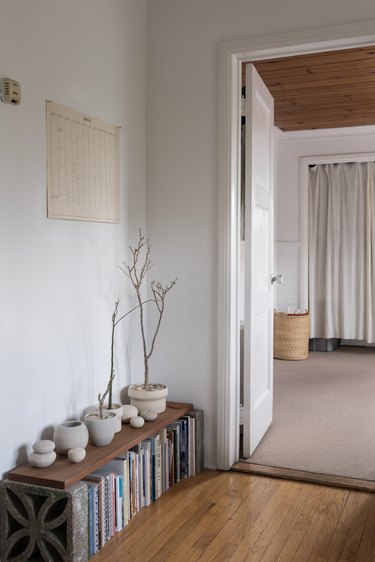 The peaceful bedroom is Burnett's favorite room in the home: "It has the most windows and the best view, and we can wake up to sunlight in the morning. It's really simple, but feels restful and away from all the traffic and noise in the city."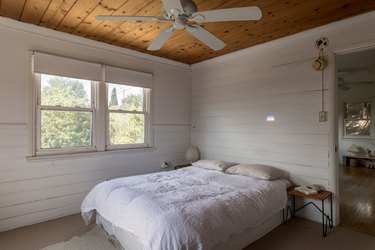 Burnett and Brown kept the palette clean and light throughout the entire space, letting the color come from books and plants.
"Decorating for us has been about making a space that we want to be in, and is filled with our favorite things," Burnett said. "This has always been three things: books, ceramics, and plants."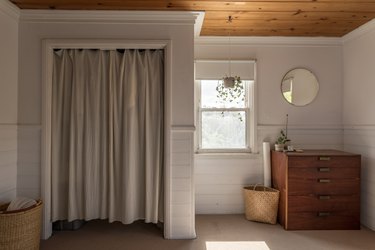 While Burnett and Brown have only been there a short time, they've already made the home their own.
"[It] feels reflective of where we've been, and is a calm place to start and end each day," she said.