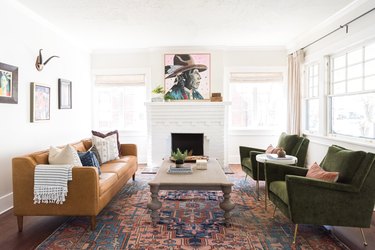 When interior designer Sheree Chamberlain was hired to transform the interiors of a 100-year-old Craftsman in Oklahoma, she used her clients' art collection as a jumping-off point. "They were drawn to saturated hues and some really psychedelic art," she says. "Finding a way to blend that style in with the grandeur of the house in a way that complemented everything instead of taking away from it was both a fun challenge and huge inspiration." Chamberlain incorporated the couple's love of bold color by sourcing vintage rugs for each room — even the bathrooms.
The designer wanted the home to feel collected, so she mixed pieces from West Elm and CB2 with unique items from small businesses such as Garza Marfa and Woven Abode, as well as finds from Ebay and Etsy. "Texture and organic materials were really important to me to ensure a more comfortable, laid back feeling, so we were sure to incorporate natural wood, natural stone, and leather in almost every room," Chamberlain adds. The finished home is a lively mix of art, heirlooms, and modern pieces that are as lively as the family that resides there.
---
Elizabeth Stamp is a freelance writer in Los Angeles. Her work has appeared in Architectural Digest, Elle Decor, and CNN Style.