Pink for girls. Blue for boys. It's kind of a tiring M.O. Especially if you're trying to encourage your little one to create their own opinions about the world and society. So, how do you create a gender-neutral nursery that's still chic and playful? Check out these 9 tips as you start planning for baby's arrival.
1. Consider a pop of design.
If you stick to a white, off-white, or ivory color palette, consider a pop of design as the accent. This black-and-white animal print wallpaper creates a fun but non-distracting pattern behind an otherwise neutral decor. Try peel-and-stick wallpaper for an easy way to change things up.
2. Find pops of color in hues other than pink or blue.
This room uses a largely neutral palette to create a calm nursery. To add in a bit of fun, a wall hanging brings in unexpected colors like orange, red, and brown, while a leather pouf also picks up brown tones.
3. Or, try embracing all colors.
A rainbow-themed nursery is a standard operation, but if you take the tone down a notch, a pastel rainbow theme might make the perfect neutral space for your growing baby.
4. Consider acrylic furniture.
Acrylic furniture can make a smaller nursery seem larger. It also has the benefit of looking ultra-modern. But be warned: Acrylic furniture isn't cheap. This crib by Pottery Barn Kids is $699, while his super-splurge by Wayfair is $4,500.
5. Decorate your nursery as you would any other room.
Here's one easy way to make sure your space feels gender-neutral: Don't think about it being a nursery. Believe it or not, but this photo is of a nursery — the only giveaway is the playset. When you're a new parent, the nursery is, after all, a large part of your day, so create a relaxing room you'd actually want to spend time in.
6. Focus on the mix of materials rather than gendered accessories.
There is nothing inherently telling about gender or theme with finishings like wicker or brass. Mix in a few contemporary pieces and some old-school toys, and you'll have a neutral look without the fuss.
7. Make whimsical art the focal point.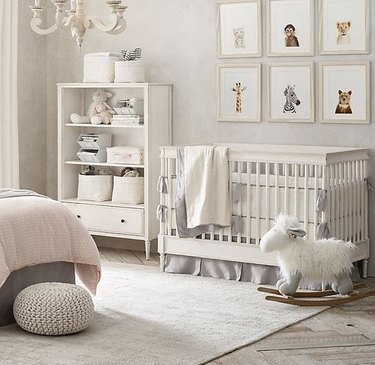 Here's an easy rubric to follow if you really have no clue where to start. Step 1: Build out a monochromatic palette. Step 2: Curate wall art that will create a non-gendered theme. Look for motifs that speak to playfulness in general: Animals, landscapes, geometric shapes, or art that incorporates quotes.
8. Choose the wall color carefully.
A bit stumped on what color to pick for your gender-neutral nursery? Some easy colors to work with: Grey, cream, slate, green, or yellow. If you're intimidated by bold colors, going pastel always lightens the mood.